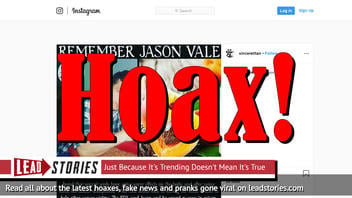 Did apricot seeds cure a man's cancer? No, that's not true: The New York City man, Jason Vale, is again in legal trouble, accused of peddling a bogus cancer cure. Medical experts say the seeds contain a compound that is converted into cyanide, which could be lethal if consumed.
The story appears to have originated from a meme (archived here) published on Instagram by Connecting Consciousness on or around December 21, 2017. It opened:
After being diagnosed with cancer for the second time, Jason Vale of Queens, NY, was done with conventional "treatments." After studying alternative medicine, Jason found that apricot seeds have anti-cancer effects on the body, and after using them, his cancer disappeared.
This is what social media users saw:
The story is a hoax, and in the years since, dozens of memes have been shared and copied word-for-word making the same claims about Vale's miracle "cure."
After claiming that eating apricot seeds healed his kidney cancer, Vale began selling them on the Internet, calling them a cancer cure. According to The Verge, in 2000, the Food and Drug Administration ordered him to stop peddling this unorthodox treatment. Three years later, he was convicted and ordered to spend five years in prison for criminal contempt of the court injunction.
After he was released, he relaunched his business, this time under the moniker "Apricots from God." On October 23, 2019, the U.S. federal government seized the website and shut down the business. NBC News reported that Vale and his mother were arrested at her home in Queens and were later released on bail. The network said the pair made more than $850,000 over the years hawking the fake treatment of apricot seeds online.
Medical experts say the consumption of apricot seeds can be toxic. According to The Verge:
The internet is full of accounts written by people who claim apricot kernels have saved their lives. The seeds contain amygdalin, a compound also called laetrile that some people believe has cancer-fighting properties. But amygdalin is actually converted into cyanide in the body, a poison that can cause nausea, headaches, insomnia, and nervousness. Cyanide can also lower blood pressure to unsafe levels and even lead to death. Laetrile was shown to have no anticancer activity in human clinical trials, according to the National Cancer Institute, and its use for treating cancer is illegal in the US.
Vale's story about beating kidney cancer with seeds doesn't add up. He claims he refused standard treatment and was cancer-free after eating up to 40 apricot seeds a day. However, The Verge reported that while he was incarcerated at the Federal Correctional Institute in Fort Dix, New Jersey, his kidney tumor grew so large that he had to have the organ removed in 2013.
Since the 1970s, some people have believed that apricot seeds could cure cancer. Actor Steve McQueen secretly traveled to Mexico in 1980, hoping for a miracle cure. According to The New York Times, he was given laetrile, "a controversial alternative treatment made from apricot pits."
We wrote about hoaxes on Instagram before. Here are our most recent articles that mention the site: