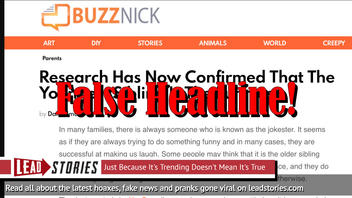 Did new research confirm that the youngest sibling in a family is the funniest? No, that's not true: The viral claim is based on an unscientific Internet poll, not any sort of quantitative or qualitative research method. There are a variety of reasons why people may have responded to the poll the way they did, and the so-called "research" does not account for these variables.
The claim originated from an article (archived here) published by BuzzNick on January 9, 2020, under the title "Research Has Now Confirmed That The Youngest Sibling Is The Funniest." It opened:
In many families, there is always someone who is known as the jokester. It seems as if they are always trying to do something funny and in many cases, they are successful at making us laugh. Some people may think that it is the older sibling who is able to joke around the most because of their extra experience, and they do have their younger siblings as an audience. Research has shown otherwise.

Thanks to a study by YouGov all scores have now been settled, as it has revealed that the youngest sibling are hands down the funniest (win for me). In part, this is due to the older child being overwhelmed with responsibility and that can lead to a more serious tone. We have often suspected that birth order is related to our character, and it appears as if being a comedian goes to the last born.
The story is based on a poll by YouGov, which conducts surveys through online methods. Online polling is on the rise due to the increased costs of traditional telephone surveys, according to The New York Times. Even so, an opinion poll is not synonymous with research involving the scientific method.
The headline claims that research now confirms that the youngest sibling is the funniest. The YouGov poll asked people in Britain who had siblings to rate the qualities of their brothers or sisters to themselves. YouGov found a divide in perceived personality traits among British sibilings:
Younger siblings, on the other hand, are more likely to say they are more funny (46% compared to 36% of elder siblings), more easy going and more relaxed.
At best, the survey suggested that more younger siblings believe they are funnier than their older brother or sister. The research does not definitely prove this to be the case, however.
The poll also does not account for the fact that some people have more than one brother or sister. What if one's middle sibling is perceived to be funnier? Or, what if the oldest sibling is just bad at detecting a sense of humor? Also, this survey is based on British families, and different cultures may yield different responses. This opinion poll does not account for these possibilities.
In an article about online polling in 2015, The New York Times reported on the challenges surrounding these types of surveys:
Random sampling is at the heart of scientific polling, and there's no way to randomly contact people on the Internet in the same way that telephone polls can randomly dial telephone numbers. Internet pollsters obtain their samples through other means, without the theoretical benefits of random sampling. To compensate, they sometimes rely on extensive statistical modeling.
The story has gained more than a million engagements on social media, but the headline does not match the facts of this "clickbait" story. And for those who may have shared this claim with their friends and family, that may be no laughing matter.