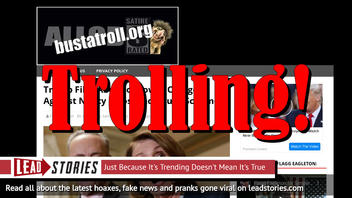 Did President Trump file abuse of power charges against Nancy Pelosi and Chuck Schumer? No, that's not true: Trump has not issued any such charges against the Democratic leaders in the House and Senate. The story is made up and originated on a liberal website that tries to mislead Trump supporters into sharing fictional stories that are clearly marked as satire. The story was published last April, but there has not been any announcement from the White House that Trump has tried to officially sanction the two Democrats.
The story originated from an article (archived here) published by bustatroll.org on April 4, 2019, under the title "Trump Files Abuse of Power Charges Against Nancy Pelosi and Chuck Schumer". It opened:
President Trump has had enough of the antics presented by the Democrats. Rather than allowing our President to lead and make the laws of this country as God and the Constitution guarantee, they have stood in his way at every turn, demanding things no other President has ever had to put up with before.

They want his tax returns, even though he'd be the first President ever to release them. They want to override his National Emergency at the border just because there isn't one right this second. They want to take away his ability to repeal laws and write new executive orders.

So, before they could do any more harm with the overreach of their elected duties and powers, President Trump has taken action.
The story is completely made up and labeled in small print as satire. About a dozen other sites have copied the original article word-for-word but have not included the disclaimer that the story is a work of fiction.
The article quotes a mythical White House Director of Information and Propaganda, Art Tubolls.That is an anagram of Busta Troll, a nom de plume for Christopher Blair. The bustatroll.org site is part of the "America's Last Line of Defense" network of satire websites run by Blair, a resident of Maine, along with a loose confederation of friends and allies.
Every site in the network has an about page that reads (in part):
About Satire
Before you complain and decide satire is synonymous with "comedy":

sat·ire
ˈsaˌtī(ə)r
noun
The use of humor, irony, exaggeration, or ridicule to expose and criticize people's stupidity or vices, particularly in the context of contemporary politics and other topical issues.

Everything on this website is fiction. It is not a lie and it is not fake news because it is not real. If you believe that it is real, you should have your head examined. Any similarities between this site's pure fantasy and actual people, places, and events are purely coincidental and all images should be considered altered and satirical. See above if you're still having an issue with that satire thing.
As noted above, articles from Blair's sites frequently get copied by "real" fake news sites who often omit the satire disclaimer and any other hints the stories are fake. Blair has tried to get these sites shut down, but new ones keep cropping up.
Here is a video of Blair explaining how his process works:
If you are interested in learning more about Blair and the history of his sites, here is something to get you started:
STORY UPDATED: check for updates below. Yesterday Eli Saslow at the Washington Post wrote a fantastic article about Christopher Blair, a man from Maine who has been trolling conservatives and Trump supporters online for years and occasionally even made a living out of it.
If you see one of his stories on a site that does not contain a satire disclaimer, assume it is fake news. If you do see the satire disclaimer, it is, of course, also fake news.
NewsGuard, a company that uses trained journalists to rank the reliability of websites, describes bustatroll.org as:
A site that publishes false stories and hoaxes that are often mistaken for real news, part of a network named America's Last Line of Defense run by hoax perpetrator Christopher Blair.
According to NewsGuard, the site does not maintain basic standards of accuracy and accountability. Read their full assessment here.
We wrote about bustatroll.org before; here are our most recent articles that mention the site: