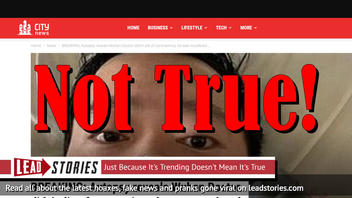 Did an autopsy reveal that a Wuhan doctor did not die of coronavirus but instead was murdered in his sickbed? No, that's not true: The story is made-up, fabricates a quote, and did not offer an on-the-record source for its claim. The site behind this story is known for publishing hoaxes and other falsehoods.
The claim originated from an article published by City News (ab-tc.com) on February 8, 2020, titled "BREAKING: Autopsy reveals Wuhan Doctor didn't die of coronavirus; he was murdered in sick bed - China Hubei News" (archived here). It opened:
An autopsy supervised by the Chinese Police has revealed that Li Wenliang, a doctor who tried to warn the world about the coronavirus outbreak was murdered.

News broke out that the doctor died after contracting the virus while treating patients in Wuhan. His death sparked widespread of public anger and grief in China which called for an independent autopsy to be conducted.

A statement by the police says six heath care officials have been arrested in connection with the doctor's death.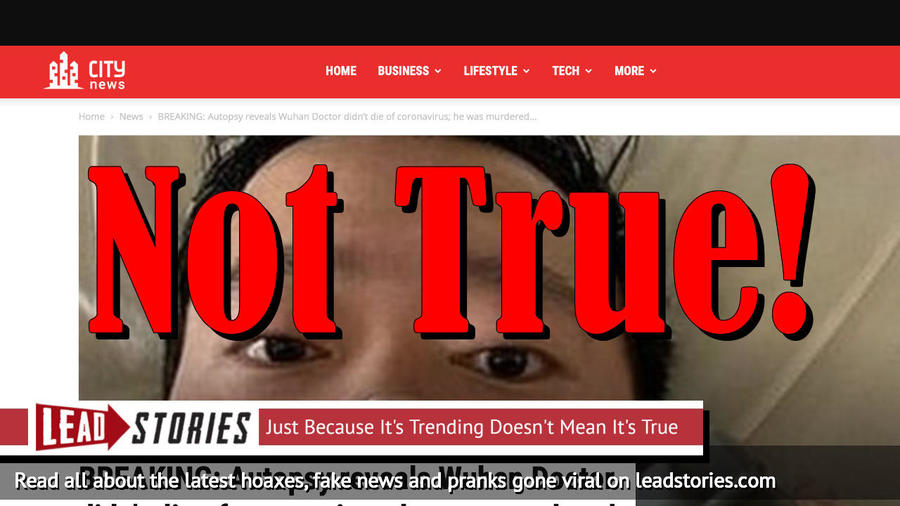 Users on social media only saw this:
The doctor was murdered.
The story made a bold claim that Li Wenliang, a Chinese doctor who had warned about the threat of the new coronavirus, was murdered in his hospital bed. However, the article does not attribute this claim to any official source, and no other media outlet is reporting this development.
CBS News reported that Li, 34, "died from the [coronavirus] illness early Friday," on February 7, 2020.
The City News site fabricated a quote from a made-up individual, David Shangfen. It said Shangfen "told the press" he suspected something was wrong, but ab-tc.com is the only site on the Internet with that exact quote. A Google search revealed only one result:
The article did lift a quote from a BBC article that interviewed Li's father, but that comment had nothing to do with the allegation he was murdered:
I don't think he was rumour-mongering. Hasn't this turned into reality now? My son was wonderful.
NewsGuard, a company that uses trained journalists to rank the reliability of websites, describes ab-tc.com as:
A site whose homepage is titled "City News" that has published hoaxes and fabricated crime stories.
According to NewsGuard, the site does not maintain basic standards of accuracy and accountability. Read their full assessment here.
News-ap.org appears to be part of a network of sites strongly resembling other ones from a Ghana-based fake news network Lead Stories exposed in April 2018.
ab-tc.com
canada-tv3.com
cbtvn.com
news-ap.com
These sites all engage in behaviour that is very similar to sites in the old network:
Repeating the same story with locations/names changed.
Using dashes, "news", "tv" or "radio" in domain names.
Promoting death hoaxes (the same sites published

multiple fake death stories all set in Toronto, Canada).
Using the MGID ad network for monetization.
Filling their front pages with "real" news copied from other sites.
Spreading links to the hoax stories through fake Facebook profiles on various local and buy-and-sell Facebook groups/pages.
By itself, each of these individual methods is not enough to make the connection. But all of them taken together strongly suggest it is the same person or persons.
We wrote about ab-tc.com before. Here are our most recent articles that mention the site: