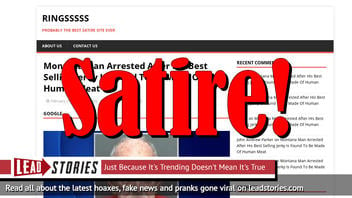 Did a Montana man get arrested after his best-selling jerky was found to be made of human meat? No, that's not true: This story was published on a satirical site called Ringssss, which includes this tagline, "Probably the best satire site ever."
The claim, which has gone viral, originated from an article published by Ringsssss on February 21, 2020, titled "Montana Man Arrested After His Best Selling Jerky Is Found To Be Made Of Human Meat - Ringsssss" (archived here) which opened:
Butte, MT - 72 year old Shep Arnold has been arrested for selling dehydrated human meat A.K.A. jerky at his general store, "Shep's Goods". Well not all of "Shep's Goods" are "Good".

Arnold has been running his store for the last 35 years and over time there has grown a cult following for his distinctive jerky. Most everyone who has had the opportunity to visit Butte, would get a some of Shep's jerky.

It just so happens that an executive from Jack Links was staying in Butte for a family event. He decided to purchase some of Shep's jerky and take it back to work. He wanted to see if anyone there could figure out what it was that made Shep's jerky so special.
Users on social media only saw this title, description and thumbnail:
Montana Man Arrested After His Best Selling Jerky Is Found To Be Made Of Human Meat
The Ringsssss "about us" page is perfectly transparent about the site's intentions and reads:
Ringssss is a fabricated satirical newspaper and comedy website. Ringsssss uses invented names in all its stories, except in cases when public figures are being satirized. Any other use of real names is accidental and coincidental.

Ringsssss is not intended for people under 18 years of age.
While the site that wrote this piece of satire is upfront, the danger is that people will share the story without including a satire disclaimer.
It turns out that the man whose photograph appears in this story as "Shep Arnold" has been lumped into outrageous stories before.
On December 3, 2018, the same man's photograph - this time referred to as "Arnold White" - appeared in a World News Daily Report story, a site that boasts, "Where facts don't matter." The title of this satirical news story: "Texas man admits kidnapping 79 people to anally probe them while disguised as an alien."
Lead stories debunked that piece the next day.