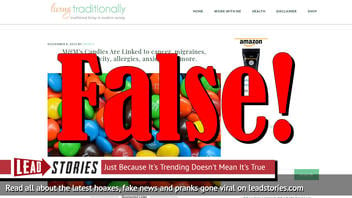 Are M&M's candies linked to cancer and a host of other health issues? No, that's not true: An article warning about the dangers of consuming the popular chocolate candies appears to overstate the health risks, and some of the concerns it mentions are either outdated or outright false.
The claims originated from an article (archived here) published by Living Traditionally on November 8, 2015, under the title "M&M's Candies Are Linked to cancer, migraines, hyperactivity, allergies, anxiety, and more." It opened:
Mars, inc. was founded by Franklin Clarence Mars. He started the Mars candy factory in 1911 in Tacoma, Washington. One of the most popular candies created by the Mars company is, M&Ms.

M&Ms were created in 1941 and are now sold in over 100 countries with 33 different fillings. The candy-coated chocolate was created to allow soldiers to carry chocolate without the worry of it melting. "Melts in your mouth, not in your hand".

The two "M"s represent Forest E. Mars Sr and William F. R. Murrie, the son of Hershey chocolate's president who had a 20% share in the product. This partnership allowed Mars to use Hershey chocolate in their products. Hershey had control of the rationed chocolate at the time.

In 1976, Red candies were eliminated due to consumers health concerns of suspected carcinogen found in dye FD&C Red #2. Red candies were reintroduced in 1986 and Mars, inc. has continued to receive petitions about removing the artificial colors.
Users on social media, who are still seeing and sharing the dated story, saw this:
February 19, 2020
The article claimed that the artificial ingredients and food dyes used to give M&M's their distinctive colors are harmful to our health. It specifically mentioned concerns over soy lecithin:
93% of soy is genetically modified. Soy lecithin can cause breast cancer, has negative effects on fertility and reproduction, may lead to behavioral and cerebral abnormalities.
However, OnkoLink.org, which bills itself as the Internet's first cancer information site, disagreed with this assertion:
Population studies do not link consuming soy with any cancer. In fact, evidence continues to grow showing that eating traditional soy foods may actually lower the risk of breast, prostate, and endometrial cancer.
OnkoLink added:
There used to be concern regarding eating isoflavones due to its estrogen-like activity in the body. However, isoflavones bind to estrogen receptors differently and function differently than estrogen. It is also important to note that the concern was based on findings of isoflavone consumption in rodent studies, and not humans. The human body metabolizes isoflavone differently than rodents. These findings are not true of human isoflavone consumption and metabolism.
As to the claim that artificial colors and food dyes are unsafe, this also appears to be untrue. Healthline observed, "Claims have been made that artificial dyes cause serious side effects, such as hyperactivity in children, as well as cancer and allergies." However, it concluded:
All of the artificial dyes that are currently used in food have gone through testing for toxicity in animal studies.

Regulatory agencies, like the US Food and Drug Administration (FDA) and the European Food Safety Authority (EFSA), have concluded that the dyes do not pose significant health risks.
The Living Traditionally article listed all the food dyes that are included as ingredients in M&M, but Healthline's report confirmed that all of those dyes are approved for use by the FDA and EFSA. (To be fair, Living Traditionally's article did acknowledge that the FDA has deemed the dyes safe for human consumption.)
Another medical source, Health Magazine, corroborated that the public does not need to be concerned. It reported:
• Lab tests prove they're harmless.
Each of the nine man-made dyes used in food went through 5 to 10 years of laboratory and animal testing before receiving Food and Drug Administration approval. There has never been a confirmed health issue related to food coloring in the United States, except for rare cases of allergic reactions.
• The amount used is small.
To determine how much dye is safe to use, toxicologists take the highest dose that did not cause any adverse effect in animal tests and divide it by 100. The resulting number is the Acceptable Daily Intake (ADI)--the amount any human can ingest every day for a lifetime without experiencing problems. Most foods containing dyes have only a tiny fraction of the ADI.
• The FDA monitors food carefully.
If they get a complaint, they investigate. If they believe an ingredient is causing the problem, they may issue a recall and even ban it.
The only health concern linked to these dyes, according to Health Magazine, is an allergic reaction in "rare cases." Because the amount of dye that is used is so small, the risks associated with consuming M&M's appear to be overstated.