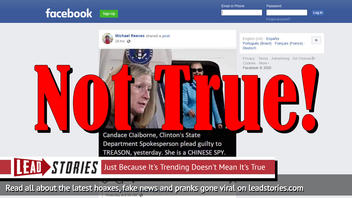 Was Candace Claiborne, a former U.S. diplomat, charged with spying for China after serving as a spokeswoman for the U.S. State Department under Hillary Clinton? No, that's not true: Claiborne was sentenced for accepting tens of thousands of dollars in bribes from two Chinese intelligence agents, not for spying. She began working for the State Department in 1999 and was an office management specialist based at several overseas posts, including Beijing and Shanghai. Claiborne never served as a spokeswoman under the former Secretary of State.
The claim originated from a meme (archived here) published by Michael Reeves on February 28, 2020. It opened:
Candace Claiborne, Clinton's State Department Spokesperson plead guilty to TREASON, yesterday. She is a CHINESE SPY. February 22, 2020 - they're getting closer!
Users on social media saw this:
The meme contains several falsehoods. Claiborne was sentenced on July 9, 2019, for conspiring with Chinese agents - not "yesterday" or February 22, 2020, as the meme suggests. She also was not charged with spying or "treason." A Justice Department press release issued on the day she was sentenced said:
Candace Marie Claiborne, a former employee of the U.S. Department of State, was sentenced today to 40 months in prison, three years of supervised release and a fine of $40,000 for conspiracy to defraud the United States, by lying to law enforcement and background investigators, and hiding her extensive contacts with, and gifts from, agents of the People's Republic of China, in exchange for providing them with internal documents from the U.S. State Department.
In April 2019, Claiborne pleaded guilty to a charge of conspiracy to defraud the United States. In a plea agreement, prosecutors dropped two other charges of obstruction and making false statements to the FBI, according to NPR.
Claiborne had served at several overseas posts. She was never Clinton's State Department spokeswoman, another inaccuracy on the meme. According to the press release:
According to the plea documents, Claiborne began working as an Office Management Specialist for the Department of State in 1999. She has served overseas at a number of posts, including embassies and consulates in Baghdad, Iraq, Khartoum, Sudan, and Beijing and Shanghai, China. As a condition of her employment, Claiborne maintained a TOP SECRET security clearance. Claiborne also was required to report any contacts with persons suspected of affiliation with a foreign intelligence agency.
Finally, the meme suggests Claiborne's arrest and sentencing were part of some "Deep State" takedown by the Trump administration. However, NPR reported that she was arrested in a sting operation in January 2017 - the same month that Trump was inaugurated. So, the investigation into Claiborne's activities had begun during the Obama administration.