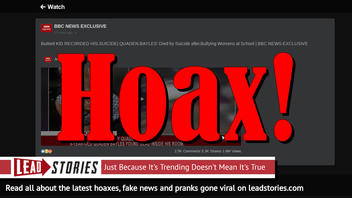 Did Quaden Bayles die of suicide, and did the BBC report on this? Also, did he record his own suicide? No, none of this is true: a gang of hoaxers (likely from the Philippines) has created a string of fake news websites that trick people into sharing the false news on their Facebook timelines by fooling them into thinking they need to share a link to be able to continue watching a video. The links being shared to Facebook are quasi-random, and they ultimately all lead to the same hoax video. The real BBC has made no mention of the "news".
The hoax appears on people's Facebook timelines in the form of a post that seems to contain a link to a BBC News story (example archived here) that goes to a page that contains text that looks like this:
BuIIied KlD REC0RDED HlS.SUlClDE| QUADEN.BAYLES' Died by Suicide after.Bullying Worsens at School. - BBC NEWS EXCLUSIVE
Quaden Bayles became world-famous after video of him devastated about being bullied went viral. The internet and several celebrities ralied behind him to send him to Disneyland:
Bullied at school for his dwarfism, 9-year-old Quaden Bayles sobs uncontrollably in the back of his mother's car -- saying to the camera: "Give me a knife, I want to kill myself."
The video used in the fake story is only a few seconds long and is hosted on YouTube. It consists of a fake still that appears to look like a BBC broadcast, a brief bit stolen from an CBSNewYork news broadcast, and then the BBC still again:
At the time of writing, the YouTube video had over 600,000 views in just one day. An archived copy of the video can be seen here in case the YouTube version is taken down:
Viewers on the fake site were tricked into sharing the story to their Facebook timeline, because, after a few seconds of watching, an overlay appears that would ask them to share the link to Facebook to continue watching. And the actual link being shared was one of several different links that all led back to the hoax page, causing several links to go viral at the same time to make the fake news harder to block.
Earlier, the same network of sites also ran death hoaxes about Will Smith and his son, Duane Chapman, Clint Eastwood, Dwayne "The Rock" Johnson, Tom Cruise and Rowan Atkinson.
The YouTube channel that was being used to host the video was named "Trending TV" and it appears to have only 10 subscribers. And a number of other hoax videos about fake celebrity deaths are shown there: