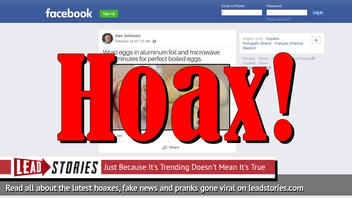 Does wrapping eggs in aluminum foil and microwaving them for two minutes result in perfect boiled eggs? No, that's not true: The post is a hoax. Microwaving aluminum foil can cause sparks and even a fire, so this "egg recipe" is one to avoid.
The post (archived here) was published by Ken Johnson on February 16, 2020. It opened:
Wrap eggs in aluminum foil and microwave for 2 minutes for perfect boiled eggs.
Users on social media saw this:
The post has gathered thousands of shares, comments and engagements. While some users may be in on the joke, here is a look at what can happen when using aluminum foil in the microwave:
On April 3, 2018, Bustle.com wrote an article titled, "Microwaving Aluminum Foil Is A Viral Trend Now & It's Extremely Dangerous." The author wrote:
When microwaves are reflected rather than absorbed, it can lead to some serious consequences. Electrical sparks can burn holes in the metal walls of the microwave, possibly eventually destroying your microwave. In extreme cases, it could start a fire, and maybe even blow up your microwave.

In more simple terms: putting foil in the microwave can result in a fire, and even potentially blow up your microwave.
The photo in the Facebook post was lifted from a website that describes how to decorate foil-covered Easter eggs. Those decorated eggs wrapped in foil were never microwaved.
The U.S. Department of Agriculture posted this advisory on the safety of using aluminum foil in microwave ovens (Lead Stories added the emphasis):
Is it safe to use aluminum foil in a microwave oven?

Always consult the owner's manual of your microwave oven and heed the manufacturer's recommendations for the use of aluminum foil. It can be safe to use small amounts of aluminum foil in a microwave oven.

Microwaves cannot pass through metal but are absorbed by food. No food completely covered by aluminum foil or in a covered metal pan should be put in a microwave oven because food wouldn't be available to absorb the microwaves. Operating the oven empty or when the food is completely wrapped in aluminum foil can cause damage to the oven and the food won't heat.
So, even if using small amounts of foil is safe in microwaves, it is a bad idea to cover the eggs completely in foil and "nuke" them for two minutes.