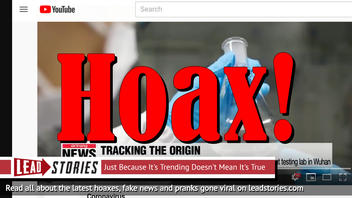 Is there language, only visible with a magnifying glass, beneath your social security card signature that amounts to a contract with the government? And does the number on the back of the card suggest that you are available to be bought and sold? No, that's not true: This is an old conspiracy theory with no basis in fact.
The story recently popped up in a Facebook post (archived here) where it was published by Dee Parker on February 13, 2020. It opened:
Take a magnifying glass and use it to look at the line under your signature on your SS card. You'll be shocked to see that there are little tiny words there. That is a contract! Also, the number on the back of your social security card is on the US Stock exchange. Meaning that any country that America is in debt to can go on the stock market and buy YOU. When you were born and hit with that ss #, you are no longer a human being.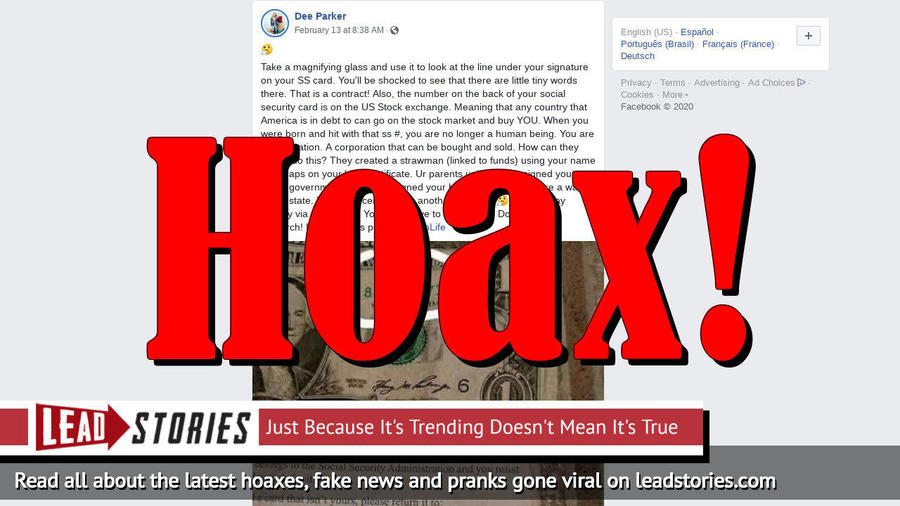 Here's how the post appered on social media:
Lead Stories has contacted the Social Security Administration, and we are awaiting a response. We will update the story when we hear back.
In the meantime, readers can refer to this: A political blogger for Mother Jones, Kevin Drum, delved into and helped debunk this myth on August 4, 2010, when he posted a piece titled, "The Secret Code That Controls Your Destiny."
Here's how his piece of commentary started:In David Corn's piece this morning, Rep. Bob Inglis told a story about meeting up with some constituents who earnestly regaled him about the sinister origins of the number on the back of your Social Security card. "That number indicates the bank that bought you when you were born based on a projection of your life's earnings," they told him.
Good times. But it got me wondering: what number on the back of your Social Security card? I haven't owned a physical Social Security card for decades, so I couldn't check. Luckily, Marian is more conscientious than I am and managed to dig hers up. Sure enough, there's a number on the back. But what's it for?

To my disappointment, a Google search didn't turn up much. However, I did run across a blog post that recounted a few interesting tidbits about Social Security numbers. Interesting, but not what I was looking for. Pay dirt was in the comments. I figure we could all use a laugh now and then, so here it is: the meaning of the numbers. Enjoy.
What followed in the piece were a smattering of theories shared by commenters, including this one from someone known as "Beaver":
I heard an urban legend that the red numbers on the back of the social security card are your EIN, employer ID number. If you're just a regular John Doe citizen, you're an employee of the US Corporation, and are in fact yourself a corporation. That's why you use the number on the front, your employee ID number (SSN). Supposedly, if you have a replacement card issued to you, the number on the back will come in red ink, and you can use it to declare that you're a soveriegn American and not a citizen OF the United States....If you use the number on the back, the "tracking number for blank cards" printed in red ink, you're claiming ownership of the card and the chattel property it represents. You are the chattel property. If you don't, they "own" you. You're their chattel property, and you're being used as collateral on the bankruptcy the US Govt. filed to the international banking houses back in the 1930's, the time of the great depression.
The truth, as Drum learned, is far less interesting, complicated or sinister. He quoted a federal worker who said the numbers found on the back of the cards are simply "inventory control." And he quoted from a speech given "by Donald Walton, a U.S. bankruptcy trustee, on eight 'key signs that can identify a subject social security card as either legitimate or fraudulent.' Here's #7:"
7. Sequential Control Number. On the rear of a legitimate card there is a sequential control number. The control number is a combination of alpha and numeric that bears no relation to the actual social security number on the card. However, the computer records of the Social Security Administration should show a correlation between the control number and the social security number and name on the card.
So when Dee Parker or others like him say, "Ur parents unknowingly signed you over to the government when they signed your birth certificate. You are a ward of the state. Your birth certificate is another contract! 🤔 Modern day slavery via paperwork! You don't have to believe me. Do your own research," you can say that you already did.