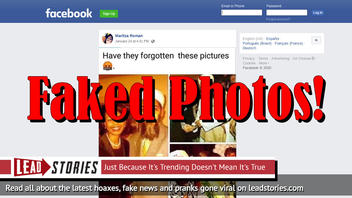 Is a post making the rounds on Facebook showing Barack Obama, Hillary Clinton and Condoleezza Rice chumming with Osama bin Laden real? No, that's not true. The faked photos, arranged in a collage, are poorly altered images. But they are gaining traction on the Internet - even though most commenters have noted they are doctored images.
The post (archived here) is a compilation of three faked pictures featured on the Facebook page of Maritza Roman on January 24, 2020. The text before the collage says:
Have they forgotten these pictures
Users on Facebook saw this:
The photo purportedly showing Rice, the former National Security Advisor and Secretary of State, with the al-Qaeda leader and mastermind of the September 11, 2001, terrorist plot on the United States is a work of fiction, as Snopes pointed out in February 2015.
FreakingNews.com hosted a Photoshop contest on April Fools Day 2008 that asked for images - even pranks and hoaxes - to be submitted, and the Rice photo was among those entered in the contest. At one point, the image appeared on Markosun's Blog in 2014, also on April Fools Day. It read:
A newly declassified photo showing former Secretary of State Condoleezza Rice and super terrorist Osama Bin Laden has been released under the Freedom of Information Act. The photo purportedly shows the two partying at a wine and dine in an American owned bar at Kandahar, Afghanistan just two weeks before the infamous and fateful 9/11.

Unnamed C.I.A. sources say the purpose of the soiree was to drug Bin Laden with truth serum and get him to divulge any impending terrorist plans. According to the sources Bin Laden got very drunk and was whisked away by his bodyguards before the truth serum could take affect.
No, that never happened.
The photo at the top of the collage supposedly showing Clinton wearing a Star of David with bin Laden is also a hoax submitted to FreakingNews.com for a contest. The image dates to 2004 when Clinton was a Democratic U.S. Senator from New York - not when she was secretary of state during the Obama administration. The real photo is of Clinton and Shubhashish Mukherjee, a musician, taken the same year, 2004. Readers might note that the necklace shown in the Facebook post is missing in the actual photo, shown here: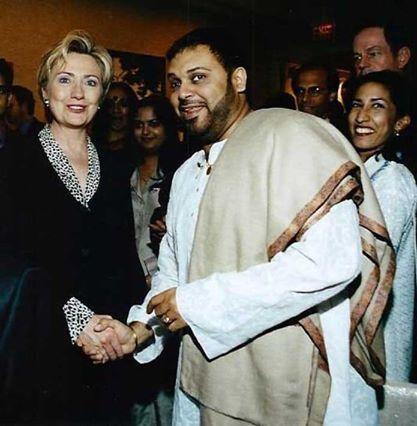 The faked Clinton photo was debunked by the BBC on October 31, 2017:
The claim: Photographs show Osama Bin Laden was hosted in the White House.

Reality Check verdict: An image that has been shared on social media in Russia is fake. There are no known photographs of Osama Bin Laden at the White House and no evidence such an extraordinary event ever occurred.

Maria Zakharova, a Russian Foreign Ministry spokeswoman, was on a chat show on Russian state television on Monday, talking about the US government and its lobbying activities.

"Recall these fantastic, mind-boggling photographs of how Bin Laden was hosted in the White House," she said.
Finally, the photo of Obama, who ordered the Navy SEAL operation that took out bin Laden on May 2, 2011, is also a fake. The fabricated picture of the 44th U.S. President wearing a traditional Hawaiian lei dates to about 2008.
On April 30, 2012, it ran in the site DividedStates.com under the headline "Obama Had to be Strongly Persuaded to OK Killing of Osama Bin Laden - Knew His Whereabouts For Three Weeks." Among other things, the story claims:
A longtime Washington D.C. Insider first outlined shocking details of an Obama administration having been "overruled" by senior military and intelligence officials leading up to the successful attack against terrorist Osama Bin Laden.

Q: You stated that President Obama was "overruled" by military/intelligence officials regarding the decision to send in military specialists into the Osama Bin Laden compound. Was that accurate?

A: I was told - in these exact terms, "we overruled him." (Obama) I have since followed up and received further details on exactly what that meant, as well as the specifics of how Leon Panetta worked around the president's "persistent hesitation to act." There appears NOT to have been an outright overruling of any specific position by President Obama, simply because there was no specific position from the president to do so. President Obama was, in this case, as in all others, working as an absentee president.
Here is another image of Obama similar to the hoax: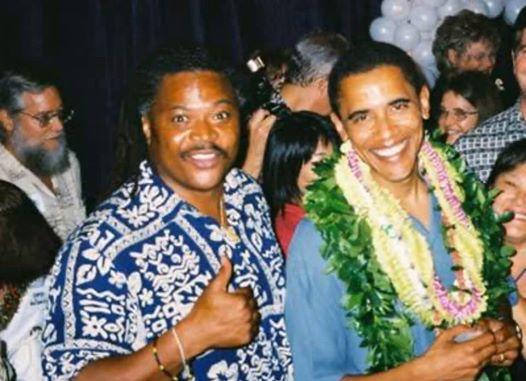 The Facebook collage being shared is nonsense. And yet, it has been spread widely on various sites - many since shut down - over the years. Under the January post by Maritza Roman, many users do point out the fake nature of the images. Still, others attack Obama, Clinton and Rice quite viciously as if they were real despite the earlier posts noting they are fabricated.
Osama bin Laden had a $25 million FBI bounty on his head at the time he was shot and killed. A covert operation carried out by Navy SEAL Team Six in a residential compound in Pakistan ended a nearly 10-year manhunt led by the U.S. The terrorist strikes on the U.S. in 2001 set off the war on terror in Afghanistan and beyond.