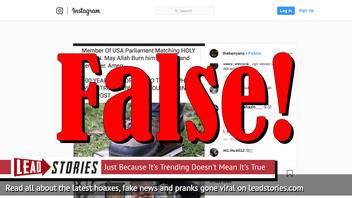 Did a member of the U.S. government burn the Quran? No, that's not true: a viral image on Instagram by @thekenyans claims a member of "USA parliament" desecrated the Islamic holy book, but there are several dubious claims - one being that U.S. doesn't operate under a parliamentary system.
There's also no evidence to suggest any American politician recently burned a copy, or copies, of the Quran. And the photo in the post appears to originate from a separate incident involving a Danish lawyer who defended a man who posted a video to Facebook of a Quran burning in his yard.
The claim originated from a post (archived here) by @thekenyans on Instagram on January 27, 2020. The image text read:
"Member of USA Parliament matching HOLY Quran. May Allah burn him on earth and hereafter. Amen. 100 years of sorrow to those who will stroll down without sharing this post."
Users on social media only saw this description and thumbnail:
The post, which drew likes from - and the ire of - many users, claims a member of U.S. parliament burned copies of the Quran, but the U.S. does not have a parliamentary system. Instead, the U.S. works as a federal system with both state and national governing bodies. Instead of a national parliament, the U.S. has two chambers of Congress: the House of Representatives and the Senate.
The photo in this post can be traced back to similar images posted on Reddit and Twitter. The man in the photo appears to be Rasmus Paludan, a Danish politician who defended a man who was charged with blasphemy in 2016, according to The New York Times.
Paludan has built a reputation among fellow extremists on the right for his anti-Muslim platform. He's demonstrated Quran burnings in Muslim neighborhoods and called for the deportation of the country's Muslim population, according to reports from Al Jazeera. About 5.5 percent of Denmark's population is Muslim.
The Danish government hadn't charged someone with blasphemy since 1956. Denmark also boasts a history of strong free speech protections. The country ranks fifth in the 2019 World Press Freedom Index.
As in the U.S., burning a flag is not a crime in Denmark.
But according to prosecutors, burning religious texts violates a penal code that did detail religious scorn and mockery. However, in June 2017, Denmark officially repealed its centuries-old blasphemy law.
In the U.S., the First Amendment of the Constitution's Bill of Rights - which enumerates citizens' protections from the federal government - creates a wide tolerance for unspoken or symbolic behavior that acts as speech. Generally, incidents like book or flag burning come with a heavy presumption of freedom before the courts. In cases where burning as a form of free speech is limited, it's often because of a fire code violation, incitement of violence or other legitimate public threat.
We wrote about instagram.com before. Here are our most recent articles that mention the site: