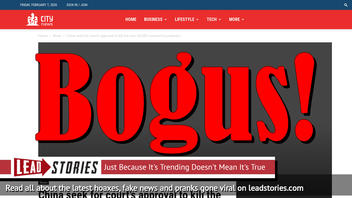 Did China seek court approval to kill the over 20,000 coronavirus patients to avoid further spread of the virus? No, that's not true: This unsubstantiated story came from a website with a long history of publishing made-up false claims. There is no evidence that China - where the exact number of sick and dead is sometimes hard to judge due to the secrecy of the country - has not approached courts seeking such approval.
The claim originated from an article published by ab-tc.com on February 6, 2020, titled "China seek for court's approval to kill the over 20,000 coronavirus patients to avoid further spread of the virus - China Xinhua News", (archived here) which opened:
Deadly approach to a deadly virus.

The highest level of court in China, Supreme People's Court, is expected to give an approval on Friday for the mass killing of coronavirus patients in China as sure means of controlling the spread of the deadly virus.

The State tells the court that China is on the verge of losing its health workers to Coronavirus as at least 20 health workers contract the virus daily.

The State argues that coronavirus patients admitted at hospitals only have their deaths delayed and infect many others while receiving care at the hospital.
Users on social media only saw this title, description and thumbnail:
Deadly approach to a deadly virus.
This story was debunked by Snopes in an article (here). Snopes made the point that none of the specific claims in the story are tied to supporting evidence. Also, BoomLive reported (here) that the claims in the story are not corroborated by reporting from any reliable news outlets. BoomLive highlighted the spread of this false story on several social media channels - as well as the reputation of ab-tc.com as a fake site.

For readers looking for the latest information on the Novel Coronavirus outbreak - which has been centered in Wuhan, China and killed hundreds around the globe - the U.S. Centers for Disease Control and Prevention has a resource (here) with fundamental Coronavirus information for the public. A PDF fact sheet download is available in Spanish as well as Chinese.

And The World Health Organization has been releasing detailed international reports daily since January 21, 2020. Readers can find them here.

NewsGuard, a company that uses trained journalist to rank the reliability of websites, describes ab-tc.com as:
A site whose homepage is titled "City News" that has published hoaxes and fabricated crime stories.
According to NewsGuard, the site does not maintain basic standards of accuracy and accountability. Read their full assessment here.
We wrote about the website ab-tc.com before and will continue to update with what we learn about this fake news publisher. Here are our most recent articles that mention the site: