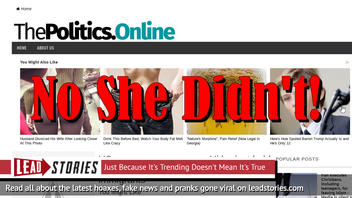 Did U.S. Rep. Alexandria Ocasio-Cortez claim Hitler held Jews in detention camps for being illegal immigrants. No, that is misleading, and the claim seems to be a new spin on a controversy sparked in Summer 2019 by the liberal New York Congresswoman, who claimed the U.S. government is running concentration camps on the southern border. The site running the story is part of a network of websites known mostly for Islamophobic stories.
The claim comes from an article (archived here) published in June 2019 by ThePolitics.Online under the title "US congresswoman says Hitler just held Jews in detention camps for being illegal immigrants". It opened:
Millions of Jews murdered during the Holocaust. Now a senior American congresswoman compares the survivors to illegal immigrants who were just held in detention camps.
This is the result of the failure of the American education system
The story claims AOC, as she is commonly known, "sparked outrage by comparing Jewish Holocaust survivors to illegal immigrants," and that she is comparing the Holocaust survivors to "illegal immigrants who were just held in detention camps."
The story stems from a comment Ocasio-Cortez made on Twitter:
This administration has established concentration camps on the southern border of the United States for immigrants, where they are being brutalized with dehumanizing conditions and dying.

This is not hyperbole. It is the conclusion of expert analysis ⬇️https://t.co/2dWHxb7UuL

-- Alexandria Ocasio-Cortez (@AOC) June 18, 2019
In her tweet, she included a link to an Esquire article, in which a concentration camp historian defines the southern border as "mass detention of civilians without trial."
Since making the Twitter comment, the debate over what constitutes a concentration camp - and when should the phrase be invoked - continues to roil experts and the internet. On one hand, there are Jews and some scholars saying it's not appropriate to use the phrase outside the context of the Holocaust, finding the term too emotionally loaded. On the other hand, some people believe that's exactly what is happening on the southern border, where the administration has been detaining illegal immigrants and where President Trump is constructing a wall to halt the flow of illegal people into the U.S.
AOC said in a follow-up Tweet a few days later:
And for the shrieking Republicans who don't know the difference: concentration camps are not the same as death camps.

Concentration camps are considered by experts as "the mass detention of civilians without trial."

And that's exactly what this administration is doing.

-- Alexandria Ocasio-Cortez (@AOC) June 18, 2019
And in a subsequent Instagram Q and A with her followers, apparently removed from her page, Ocasio-Cortez said this, according to the talk show "The View":
At no point does AOC claim Hitler held Jews in detention camps for being illegal immigrants, a claim that is also not supported by respected history books. According to historians and experts, Nazi officials began the mass arrests of male Jews throughout Germany in 1938, because they were Jews - and for no other reason.
According to The Holocaust Encyclopedia put out by the United States Holocaust Memorial Museum:
From its rise to power in 1933, the Nazi regime built a series of incarceration sites to imprison and eliminate real and perceived "enemies of the state." Most prisoners in the early concentration camps were political prisoners--German Communists, Socialists, Social Democrats--as well as Roma (Gypsies), Jehovah's Witnesses, homosexuals, and persons accused of "asocial" or socially deviant behavior. Many of these sites were called concentration camps. The term concentration camp refers to a camp in which people are detained or confined, usually under harsh conditions and without regard to legal norms of arrest and imprisonment that are acceptable in a constitutional democracy.
In the ThePolitics.Online "About Us" section, it reads that the site is:
Anonymous Blog written by Israelis, this is not a news site. The site presents opinions, thoughts, perspective and personal interpretation of what is happening in our world.
NewsGuard, a company that uses trained journalists to rank the reliability of websites, describes thepolitics.online as:
One in a network of anti-Muslim blogs that regularly distorts information and does not disclose who owns, runs, or writes for the site.
According to NewsGuard, the site does not maintain basic standards of accuracy and accountability. Read their full assessment here.