Did Italy decide not to treat its elderly population with coronavirus? No, that's not entirely true: because of the immense strain being put on the Italian health care system from the novel coronavirus outbreak this year, doctors may be forced to decide to give priority care to patients with the highest chance of survival. As it is, guidelines including rationing care have only been proposed. But, if the outbreak worsens, hospitals may be forced to adopt them to accommodate the influx of patients.
The claim came from a post (archived here) where it was published in a Facebook group called Trump for President 2020 on March 14, 2020. The post read:
"Italy has decided NOT to treat their elderly for this virus!!!! That, my friends, is Socialized Healthcare!!!!"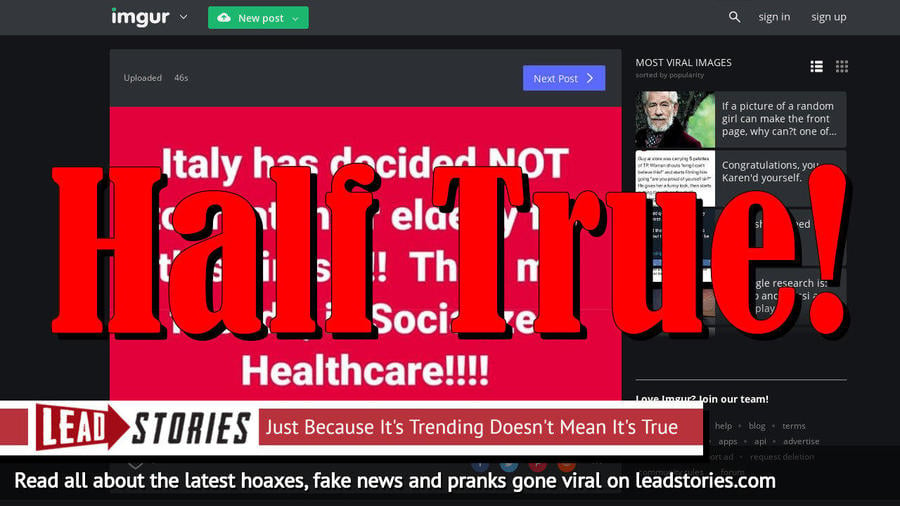 Users on social media saw this: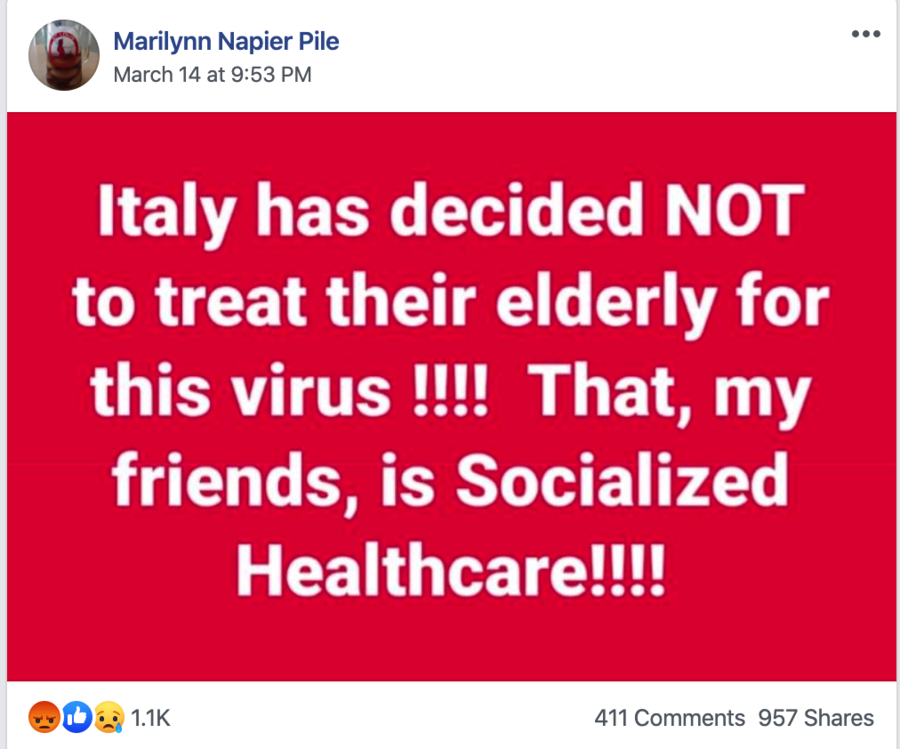 Since coronavirus first broke out in Wuhan, China, Italy has been the hardest hit country outside mainland Asia.
Besides being a major epidemic epicenter for the European continent, Italy is also increasingly threatened because of its large elderly population. With just over 20 percent of its population aged 65 and older, Italy is already expecting a decline in overall population. But since coronavirus first appeared in Italy in January, the country issued new guidelines outlining how doctors - especially those in Southern cities with fewer resources - can allocate care most effectively to quell overall spreading of the virus.
The main issue, and source of recent American confusion and fear in online channels that have memed Italy's crisis, is that doctors will need to consider whether treating a patient who is elderly, severely ill, has preexisting conditions and doesn't have immediate, able family to take care of them during recovery contributes to the greater good.
The Italian College of Anesthesia, Analgesia, Resuscitation and Intensive Care published guidelines to help health care providers mete out staffing and medical resources, which applies to all those in intensive-care units, not just those with coronavirus. And while some Americans took to Twitter lambasting Italy for its decision - often stating its the direct result of a "flawed" socialized system - the decision has not been made; it is simply a proposal right now.
The Guardian reported that Silvio Brusaferro, the president of Italy's Higher Institute of Health, said that the average age of coronavirus victims was 80.3. And the majority of those victims also had other illnesses.
A Twitter translation of the document shared that, while "allocation is a very complex and delicate choice," the choice to prioritize certain patients is "not a value judgments but a way to provide extremely scarce resources to those who have the highest likelihood of survival and could enjoy the largest number of life-years saved."
And if this seems akin to the kind of catastrophe triage of the World War eras, some Italian health officials have said it is. Italian Prime Minister Giuseppe Conte and his government declared an official lockdown of the entire country. This includes strict restrictions on movement for the first time since WWII.
The United States has also turned attention to its health care system, especially with virual urges to "flatten the curve" and refrain from going out in public unnecessarily. And America's aging population is also at risk, though health professionals say that's usually the case anytime there is a widespread outbreak.
Yet, it's also important to note that the Italian and U.S. health care systems are fundamentally different. The Italian National Health Service receives funding directly from the government, which controls distribution of tax revenue. The government also defines a basic statutory benefits package to be available in every region, called the "essential levels of care." Even local health units are run by government-appointed managers to deliver primary, outpatient and hospital care. Private health insurance is limited.
As the issue of the coronavirus becomes increasingly politicized, the spread has pointed American politics toward foundational lapses in its own health system, as well as forced increased pressure on the responses of future political leaders.
With President Trump, who has declared a national emergency, up for reelection in November, the issue of universal health care has been a major issue. Competing Democratic candidates - U.S. Sen. Bernie Sanders and former Vice President Joe Biden - have fallen on different sides of that issue, with Biden advocating for a mixed private-public health care system, and Sanders championing Medicare for all.
Yet, this contentious issue has spurned some misinformation in the wake of the coronavirus among Americans who fear a new, centralized health care system if that's what becomes the replacement.