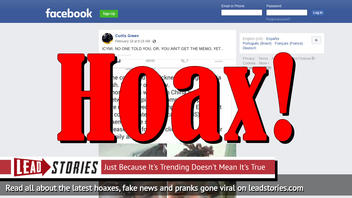 Did a little girl contract a deforming virus from eating Tilapia? No, that's not true: A Facebook post that features the girl's face and has gone viral seems to be a hoax. The little girl did not contract a virus that gave her black sores on her swollen face and eyelids. The photographs were first posted online in December 2019 and do not show a little girl infected from a virus she contracted from a fish - but rather from an insect.
The claim appeared in a post (archived here) where it was published on Facebook by user Curtis Green on February 18, 2020. The text introducing the post read: ICYMI, NO ONE TOLD YOU, OR, YOU AIN'T GET THE MEMO, YET...And the post read:
"She contacted the sickness through Tilapia fish. Pls stay off it now. Those fishes were from China hybrids between Tilapia and Common Carp which are not allowed to be imported to Europe, it is contaminated virus called (VHS) virus hemorrhage species. Please don't forget to click share. Alert your family and friends."

Social media users saw this post
Commenters were quick to call out the post as fake.
Kareem Finch: I don't believe that I eat that fish all the time, fake news
Patrick Mills: If you believe this, you don't know how genetics work.
This appears to be a hoax that steals photographs found on Facebook in 2019. The photographs were found by Lead Stories in another Facebook post in 2019 that does not claim that the young girl contracted a virus from fish, but rather from an insect.
Social media users saw the photographs here last year:
A post with the two photographs of the little girl showing her infected lips and eyelids, as well as photos of a leaf and a fruit with a bug on them, were shared by Liphat Classic on December 6, 2019.
Using Google translate for Kinyarwanda, the main language in Rwanda, the caption claimed the little girl has a virus from an insect:
There is an insect-borne person in the womb, in the womb and in the other plant that is treated for the virus and is infected with the same disease as you see in the pictures.
"please share in bulk to save your relatives," Liphat Classic wrote in the comments, according to Google translate.
Online reports about contracting a virus from Talapia have been published by various outlets, including the Seattle Times. But none of the reports show a connection between people sickened by Talapia and a virus that causes blackened scabs on the lips and eyelids.
A woman in Seattle, for example, contracted a rare, life-threatening bacterial infection after purchasing Tilapia from a Bellevue fish market in late 2016. She contracted Vibrio vulnificus, according to the Seattle & King County Public Health Department. She was hospitalized at the time, but she returned home.
In 2017, the United Nations warned of a highly contagious disease contracted by farmed and wild Tilapia. But the UN noted that there was not a human health risk from the infected fish.