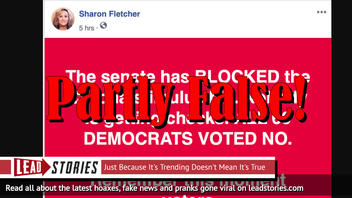 Did 60 Senate Democrats vote against a coronavirus stimulus bill, meaning nobody is getting checks? No, that's not true: For one thing, there are not 60 Democrats in the U.S. Senate. Second, the Democrats voted on March 22, 2020, against a key procedural vote that would have advanced the bill because they said they were unhappy with worker protections. However, even after a second vote failed March 23, negotiations were continuing on a nearly $2 trillion stimulus bill.
The claim originated in a post (archived here) published on Facebook by Sharon Fletcher on March 23, 2020. It opened:
The senate has BLOCKED the Corona stimulus bill. Nobody is getting checks. ALL 60 DEMOCRATS VOTED NO.

Remember this moment voters
Users on social media only saw this: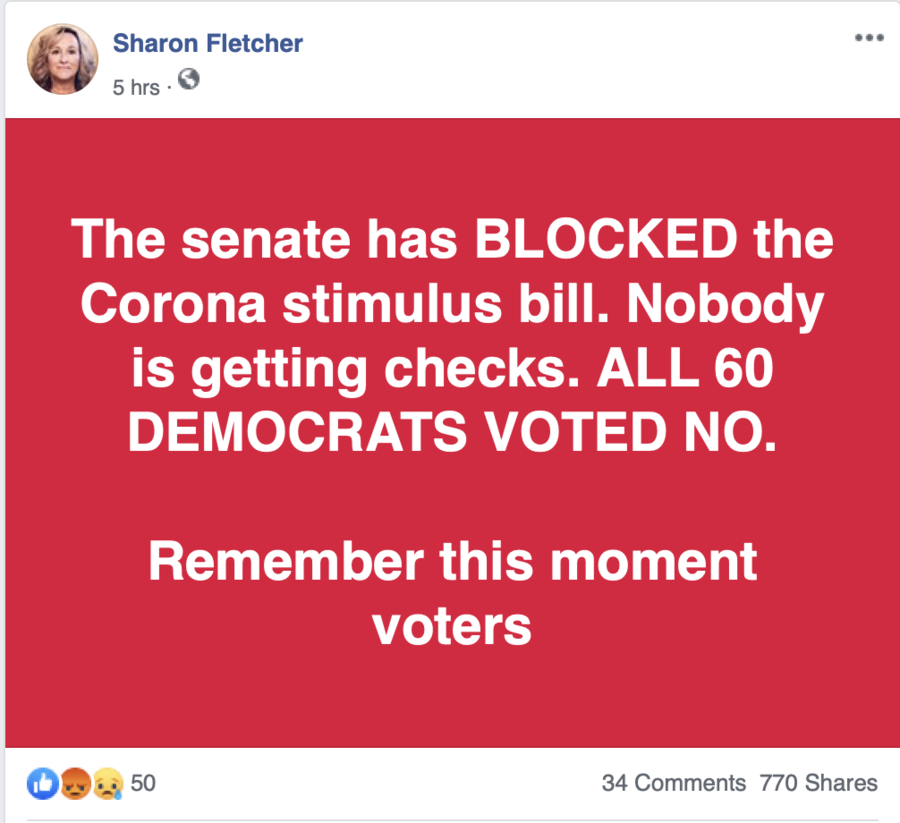 This post contains a factual error and a false supposition. There are not 60 Democrats in the Senate. Instead, 60 votes were needed to advance the legislation from the procedural stage on March 22, 2020.
A day later, a second procedural vote that would have limited debate on the shell of a bill also failed. Democrats said they want to prioritize protections for workers above companies.
Five GOP senators are in self-quarantine or isolation, meaning that the 53-47 GOP majority in the Senate is currently reduced to 48-47. Lawmakers would need bipartisan support to reach the 60-vote threshold to move forward.
The post also suggests that a stimulus package is entirely dead in the water, and that Americans will not be getting any relief because of Democrat opposition. That is not true. Both sides are continuing to negotiate the terms of the deal, and Democratic Senate Minority Leader Chuck Schumer said on the Senate floor that he was confident an agreement would be reached.
All the same, Democrats say they oppose giving corporate interests money without strings attached. According to The Hill:
Schumer said that there were still a 'few outstanding issues,' including hundreds of billions in aid to corporations that Democrats are calling a 'slush fund.' Democrats have also pointed to a provision they say would let [Treasury Secretary Steven] Mnuchin authorize loans or grants but not disclose the recipients for six months.
Senator Elizabeth Warren echoed those sentiments:
The Senate needs to pass a stimulus that doesn't just go to no-strings-attached bailouts for giant corporations. That's why @SenateDems are fighting for real funding this for public health crisis response & serious relief directly for workers, small businesses, & families. pic.twitter.com/hlLI0ExvAL

-- Elizabeth Warren (@SenWarren) March 23, 2020
Even so, Senate Majority Leader Mitch McConnell put the blame squarely at the hands of Democrats for the first procedural vote failing to advance:
Sen. Mitch McConnell: "They ought to be embarrassed." https://t.co/wKhgN0pMEY pic.twitter.com/X9oZI9utAk

-- The Hill (@thehill) March 23, 2020
A bipartisan stimulus package may well put cash into the hands of Americans, but both sides will first need to find common ground.
The coronavirus pandemic has created a sense of urgency for Congress to try to deal with the expected economic fallout. Goldman Sachs has projected that the Gross Domestic Product could drop by 24% in the second quarter of 2020, according to The New York Times.
Lead Stories has debunked many false stories surrounding the coronavirus. Here's a sampling of our stories: