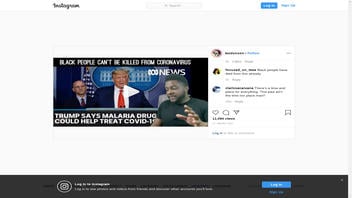 Are black people more resistant to COVID-19 and not susceptible to death from the virus? No, that's not true: News reports and social media posts from those who've contracted the virus, not to mention official documentation gathered by the World Health Organization's regional office for Africa and words from trusted doctors, show that all human beings -- no matter their race -- are at risk during this pandemic.
A conspiracy theory of unknown origin claims black people are safe from the virus. One example of where it appeared is in an Instagram post (archived here) published by a preacher named Leo Dunson on March 22, 2020. It was a video that included these words in the background:
BLACK PEOPLE CAN'T BE KILLED FROM CORONAVIRUS
Here's how the post appeared on social media:
There are a plenty of stories that have come out in recent days that clearly dispute such claims.
Actor Idris Elba and his wife, model and actress Sabrina Dhowre Elba, both tested positive for the virus. So have a number of NBA players, including Kevin Durant, Marcus Smart and Rudy Gobert. And a beloved NBC News employee, Larry Edgeworth, died on March 19, 2020, after he tested positive for COVID-19. All of them are or were black.
The World Health Organization's regional office for Africa has issued information about the growing pandemic on that continent. According to a March 19, 2020, report:
More than 600 cases of COVID-19 have been confirmed in 34 countries in Africa as of 19 March, compared with 147 cases one week ago. Although the region has seen a significant increase in confirmed cases recently, there are still fewer cases than in other parts of the world. "The rapid evolution of COVID-19 in Africa is deeply worrisome and a clear signal for action," said Dr Matshidiso Moeti, World Health Organization (WHO) Regional Director for Africa.
To get further perspective, Lead Stories reached out to Dr. Oliver Brooks, who is the president of the National Medical Association, the nation's oldest and largest organization representing African-American physicians and their patients, including those with pre-existing medical conditions. Here's what he had to say about this bogus claim suggesting blacks need not worry about this pandemic:
There's clear evidence [it] can affect blacks. In fact, as a physician and president of the National Medical Association, I'm even more concerned about the black community because the virus tends to be more lethal to those that have underlying medical conditions, such as diabetes, lung disease, heart disease, kidney disease. So, not only can blacks get COVID-19, but if they get it there's potential for them to have a worse case or worse outcome.
Brooks shot down another claim made in Leo Dunson's post, in which Dunson referenced President Donald Trump's promotion of malaria drugs for treatment. Dunson said, "These malaria drugs were made from the DNA OF BLACK PEOPLE, who became resistant to malaria because of 'Sickle-Cell Disease.'"
While sickle cell "does protect you against malaria," the idea that DNA had anything to do with antimalarial drugs is "totally and absolutely false," Brooks said. "Chloroquine is not made from DNA. It's a chemical compound, not a biologic."
Idris Elba, too, has pushed back on false claims being perpetuated about the lack of danger to the black community. He did this in a Twitter Live video, five days before Dunson promoted the lie.
Here's some of Elba's plea:
Please stop sending the conspiracy theory nonsense about black people not being able to get coronavirus, or COVID-19. It's dumb, it's silly, it's very dangerous. ... People need to know the facts, need to understand the truth, so that they can protect themselves.
This is how the video appeared on Twitter:
March 17, 2020
Lead Stories has debunked many false stories surrounding the coronavirus. Here's a sampling of our stories: