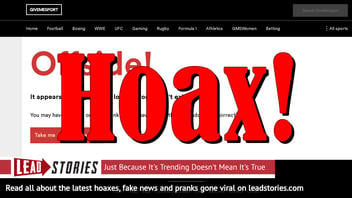 Is Cristiano Ronaldo turning his CR7 hotels Into 'hospitals' to combat the spread of the novel coronavirus? No, this is not true. The Portuguese soccer legend's management company told Lead Stories that the claim - which has already been debunked and was retracted by the original source - was "fake news."
Yet, the claim was picked up with an article (archived here) published by Sporting Life on March 15, 2020, under the title "Ronaldo Turning His CR7 Hotels Into 'Hospitals' To Help Stop Coronavirus". It opened:
Juventus forward, Cristiano Ronaldo, is doing his best to help others during the coronavirus crisis.

After travelling to Portugal in the wake of his mother, Maria Dolores Aveiro, suffering a stroke, the 35-year-old has remained in his native country in order to self-isolate.

The decision comes after his Juventus teammate Daniele Rugani tested positive for coronavirus and was photographed with most of the squad just days before his diagnosis.

Thankfully, there's been no indication that Ronaldo or any of his family has been suffering with the condition and the sporting superstar has used his privileged position to help wage the war."
Users on social media only saw this title, description and thumbnail:
Cristiano Ronaldo is turning his CR7 hotels into hospitals for people with coronavirus
This story is not true. Ronaldo's management company told Lead Stories it was "fake news". And a spokesperson for the hotel denied the claims, telling RTL Nieuws:
We are a hotel. We are not going to be a hospital. It is a day like everyone else, we are and will remain a hotel. We are being phoned by the press. I wish you a nice day."
The Spanish newspaper Marca's website has deleted the original story, but it was picked up by others around the world, including Sporting Life, as it went viral.
Raskrinkavanje.ba swiftly debunked the story. At the time of the debunk, the false article was shared more than 7,000 times and had gathered more than 21,000 likes.
Kristof Terreur, a European football (soccer) correspondent, Tweeted about the mess-up.
Reported as fake in Portugal, in the meantime deleted by Marca (who made it a viral story). https://t.co/Iq7QAkDImD

-- Kristof Terreur 📰🎥 (@HLNinEngeland) March 15, 2020
One of the first Facebook pages to post the story about Ronaldo turning his hotels into hospitals was the respected site Arena Desportiva, which posted a retraction and an apology for sharing the fake news. The Facebook message stated that a trusted source shared the news.
Here is a rough translation of the posting: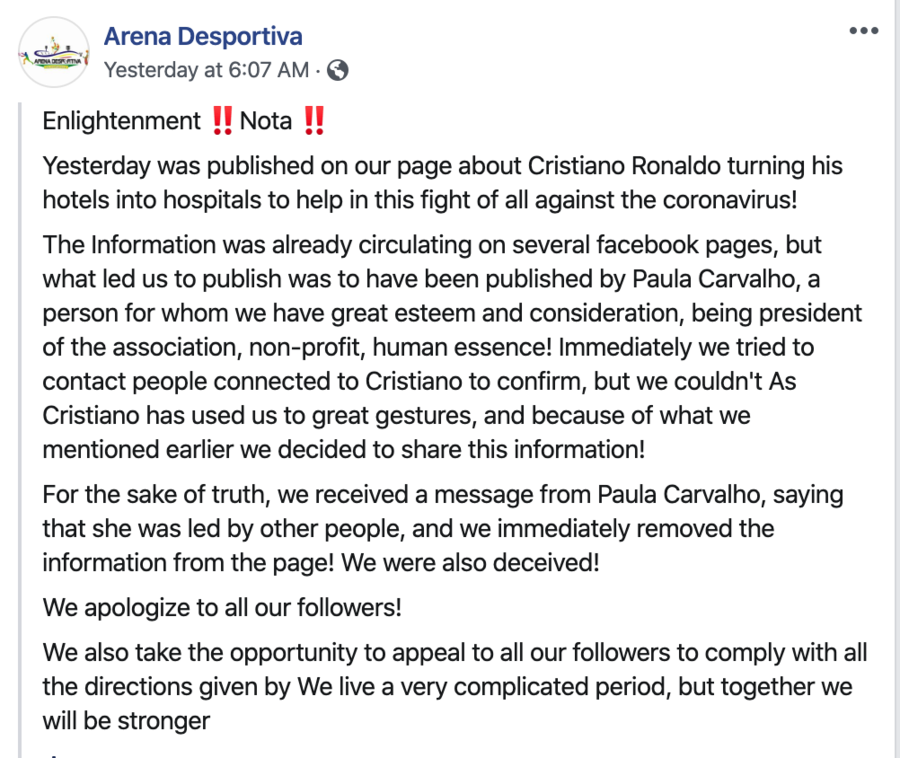 Here is a sampling of recent debunks by Lead Stories concerning the novel coronavirus: