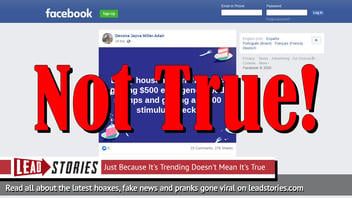 Is every household in the United States receiving $500 in emergency food stamps and a $1,000 stimulus check? No, that's not true: The U.S. House has passed a sweeping coronavirus response package, but the U.S. Senate has not yet taken it up - so, no stimulus package has been officially announced. It is unclear whether the package would give each American a stimulus check, though such ideas are on the table.
The claim originated on a post (archived here) published on Facebook by Devona Jayva Miller-Adair on March 15, 2020. It opened:
Every household in the US is getting $500 emergency food stamps and getting a $1000 stimulus check.
Users on social media only saw this:
The post is not accurate, though U.S. lawmakers may agree on a second response package as early as this week.
Earlier this month, Congress passed an $8.3 billion coronavirus response package, and President Trump signed the bill.
On March 14, 2020, after reaching a deal with the White House, the U.S. House passed additional legislation to respond to the novel coronavirus outbreak. According to Politico, it would "expand access to free testing, provide $1 billion in food aid and extend sick leave benefits to vulnerable Americans."
The bi-partisan vote passed 363-40, and President Trump has backed the measure.
Politico now reports that "major differences" remain between House Democrats and the White House. It said that Democratic House Speaker Nancy Pelosi and Treasury Secretary Steven Mnuchin continue to work out the details. However, this could delay the bill's passage in the U.S. Senate.
There is increasing public pressure for Congress to act. The U.S. stock market has plunged, nearly wiping away all the gains made during the Trump administration, according to Forbes. Schools have been postponed, and sporting events have been canceled. Some communities have closed bars, gyms, and indoor dining at restaurants.
The novel coronavirus has killed at least 65 people in the United States, according to the Chicago Tribune. More than 3,800 infections have been recorded. The World Health Organization has classified the novel coronavirus as a pandemic, and President Trump has declared a national emergency.
According to CNN, Republican Sen. Mitt Romney has suggested giving each American adult $1,000, to ensure economic stability. However, this is merely a proposal and has not been taken up by Congress.
Americans may receive a stimulus check at some point, as economic uncertainty continues to mount. However, the post is not true, as of this writing.