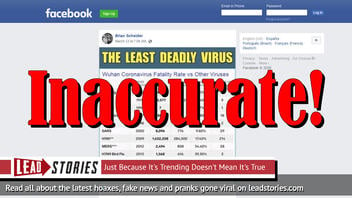 Does a chart that people are sharing online comparing major viruses accurately represent how the novel coronavirus is the "least deadly virus"? No, it does not: The table exaggerates the death rate for H1N1. The source for the chart, a Business Insider article, has since issued a correction, but the wrong information keeps getting passed along.
The claim appeared in a post (archived here) published on Facebook by Brian Scheider on March 12, 2020. It opened:
The Least Deadly Virus
Users on social media only saw this:
The chart that people are sharing contains factual errors. The H1N1 fatality rate was estimated to be .02%, according to a research study published in the journal "Influenza and Other Respiratory Viruses."
The report concluded the so-called swine flu infected at least one in five people worldwide during the first year of the 2009 pandemic, but the fatality rate was statistically low.
The source for the chart, a Business Insider article, has issued a correction:
Correction: A previous version of the chart in this article incorrectly reported the case-fatality rate of H1N1. It is 0.02%.
Business Insider has published a new table: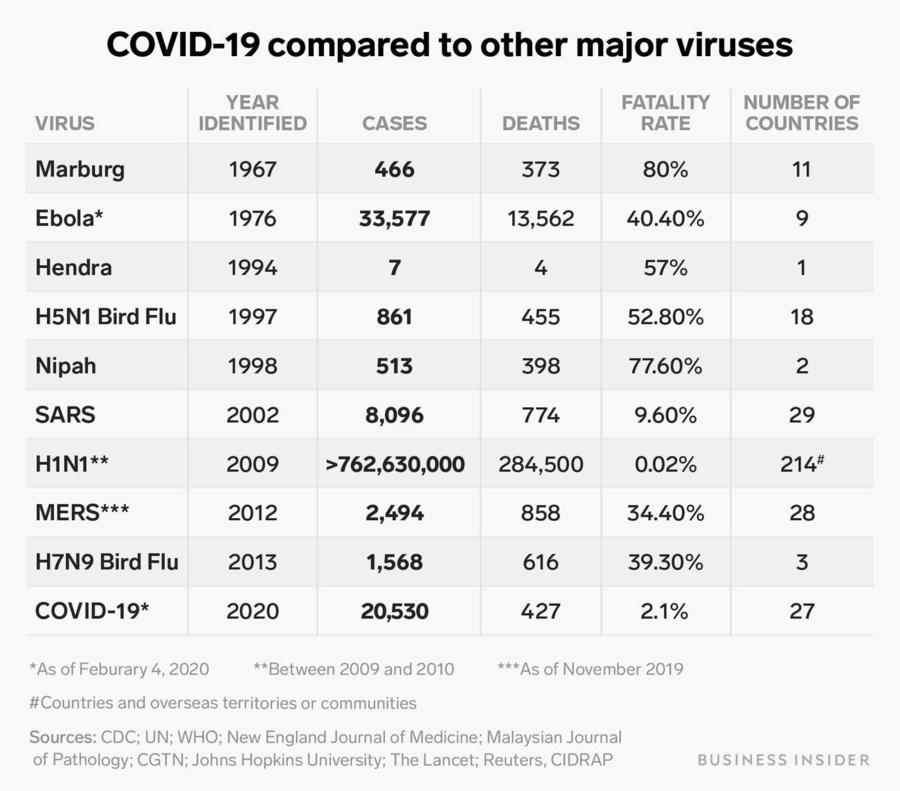 However, the original, inaccurate chart is still being shared online. And the new data changes the narrative. By comparing the fatality rates of the major viruses, H1N1 would be the "least deadly" virus.
The chart was modified in the post to remove the neutral headline in the Business Insider article, "COVID-19 compared to other major viruses," and replaced with a bold yellow headline, "THE LEAST DEADLY VIRUS."
This conclusion is erroneous because the total number of confirmed deaths from the novel coronavirus is already higher than most of the major viruses on the chart.
As of March 16, 2020, more than 6,500 people around the world have died due to COVID-19, the scientific name for the novel coronavirus, according to CNN. The chart shared on Facebook contains very old data, and the new cases and deaths from coronavirus are increasing daily.
It is flawed to compare data from a currently unfolding outbreak to previous infectious diseases that have effectively been eradicated. We will not know for some time just how deadly the novel coronavirus outbreak will be, especially considering widespread testing is not now available. The situation with COVID-19 is dire enough that President Trump declared a national emergency to combat the outbreak, and the World Health Organization deemed it a pandemic.
In the end, the chart contains inaccurate information, and the headline is also untrue.