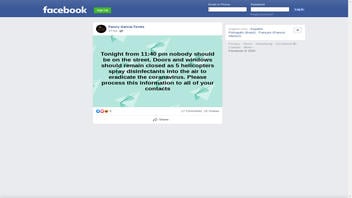 Are helicopters being used to spray disinfectants into the air to eradicate the coronavirus? No, that's not true: This is a false rumor spreading around the world on social media, as well as through popular messaging services. The hoax has prompted authorities in several countries to issue denials.
The claim has appeared on multiple platforms, including a post (archived here) published on Facebook by Fanny Garcia-Torres on March 21, 2020. It opened:
Tonight from 11:40 pm nobody should be on the street. Doors and windows should remain closed as 5 helicopters spray disinfectants into the air to eradicate the coranavirus. Please process this information to all of your contacts
Users on social media only saw this:
The posts have been copied and pasted countless times, and many of them featured the same misspelling of coronavirus (spelled in the posts as coranavirus).
Here is just a sampling of countries and territories in which the posts and text messages have appeared (and the links to official denials in the country's media or on official government websites): Switzerland, Egypt, United Arab Emirates, Malaysia, Nepal, and Puerto Rico.
A spokesperson for the Department of State of Puerto Rico denied the authenticity of a WhatsApp message that has been widely divulged among residents. According to the message, whose origin has not been confirmed, the government had scheduled a mass disinfecting spree tonight by aerial means in order to stop the spread of coronavirus (COVID-19) "Tonight as of 11:00 p.m.
It took a few days, but the false rumor has made its way to the United States, prompting the New York City Emergency Management to issue a tweet:
NYC is aware of a rumor circulating regarding the spraying of disinfectant from helicopters in parts of Brooklyn, including Williamsburg and Borough Park. This rumor is FALSE. Trust Notify NYC for verified information about COVID-19 in NYC.

-- NYCEM - Notify NYC (@NotifyNYC) March 22, 2020
There is currently no known cure or vaccine to prevent the novel coronavirus. As of March 22, 2020, the virus has killed at least 13,000 people around the world, according to CBS News.
The Centers for Disease Control and Prevention advises the best way to prevent illness is to avoid close contact with others. The CDC also suggests cleaning and disinfecting frequently touched surfaces daily.
Still, spraying disinfectants from helicopters would be a highly inefficient exercise and defies common sense. The claim is a hoax.
Concerns about the novel coronavirus pandemic have generated an onslaught of misinformation. Hoaxers are capitalizing on this moment of international concern to spread falsehoods and create unnecessary panic. This is just one of the latest false rumors to circulate online.
Other fact checks by Lead Stories concerning coronavirus misinformation include: