STORY UPDATED: check for updates below.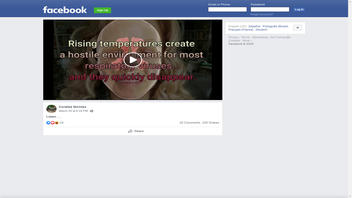 Will spending time in a sauna or aiming a hairdryer towards your nose kill the coronavirus? No, that's not true: This is not sound medical advice. A viral video making the rounds suggests those home remedies. However, doctors say those efforts will not kill the novel coronavirus, and in some cases, could do some damage.
The claim surfaced in a post (archived here) published by Coralee Montes on March 20, 2020. It opened:
How to Kill Coronavirus:
Conquering COVID-19
Presented by
Dr. Dan Lee Dimke, PhD
February 20, 2020
Users on social media only saw this:
The viral video claims that either using a sauna or blowing hot air from a hairdryer could cure COVID-19. The narrator of the video is said to be Dan Lee Dimke. According to his online biography, he is not a medical doctor but instead has a Ph.D. in Education. In the video, he said:
This is remarkably easy to do without harm or risk by simply breathing in hot air. Suddenly, the coolest part of the body becomes the warmest part of the body. And any invading viruses almost literally melt. But what about the patient? Can we survive exposure to these temperatures? People are already doing this everyday all over the world. Daytime temperatures in the world's deserts routinely rise above 56° C or 133° F. And millions of people walk into saunas everyday with temperatures far above this. Breathing deeply for just a few minutes in any of these hot locations will kill a high percentage of any coronavirus that happens to be invading the upper respiratory system. And a second or third exposure about an hour apart will kill the rest. No desert or sauna available? No problem. The common, widely available handheld blow dryer used for drying hair contains a heating element and a fan that instantly deliver forced hot air temperatures that will kill coronavirus even faster, much like a convection oven does.
Lead Stories has previously debunked the claim that spending time in a sauna will kill the coronavirus. Meanwhile, Snopes has rated the hairdryer suggestion as false.
Michael Osterholm, Ph.D., an expert in infectious disease epidemiology, recently spoke to podcaster Joe Rogan about the use of saunas:
Joe Rogan: There was a some sauna facts thing that was being pushed around, that it's great for flu and all sorts of infectious diseases.
Michael Osterholm: Actually, it's great for you. It makes you feel good, but we don't have any evidence that it makes any difference in infectious disease.
Joe Rogan: So it doesn't have any impact at all? The idea was that the breathing in of the very hot air, 180 degree air, for 20 minutes will kill some of the virus.
Michael Osterholm: See if that temperature of 180 degree air got really into your lungs, your lungs would be fried. You'd be dead.
Joe Rogan: Well where does it go?
Michael Osterholm: So what happens is, just from the time you breathe it in and what you mix with the air there, it's kind of like taking a cup of hot water and putting it into a bathtub of cold water. And so what happens is by the time you get done, it's not that hot. And so in this case, your lungs couldn't stand even 110 to 20 degree heat without causing really severe damage. And so it doesn't kill the virus at all.
Joe Rogan: So, the virus would have to be like just in your mouth or something like that. Even then?
Michael Osterholm: No. Nope, Nope.
Joe Rogan: Jesus, Michael. That's unfortunate because that was exciting. I was reading that and I was like--
Michael Osterholm: Don't stop using the sauna. It's a good thing to use for your skin and everything else, but it's not going to help you with this one.
As to the suggestion to use a hairdryer, Dr. Faheem Younus, M.D., the Chief of Infectious Diseases at the University of Maryland Medical System, has been fact-checking medical claims on his verified Twitter account. He advised against using a blow dryer to shoot hot air into your sinuses:
8/10: I've heard that coronavirus thrives in cold sinuses. So if you blow-dry your nose with warm air, it kills the virus. True?

False! Please don't. Our nose carries bacteria, as part of normal flora. Those bacteria may get confused:)

-- Faheem Younus, MD (@FaheemYounus) March 18, 2020
Dr. Jen Caudle, a family physician, told Fox 10 in Phoenix that a hot blow dryer could cause adverse effects to people's sinuses.
There is currently no known cure or vaccine to prevent the novel coronavirus. As of March 22, 2020, the pandemic has killed at least 13,000 people around the world, according to CBS News.
The Centers for Disease Control and Prevention advises the best way to prevent illness is to avoid close contact with others.
UPDATE: On March 30, 2020, Lead Stories came across another viral video posted on Facebook by Toriletta Pannell on March 23, 2020. She claimed that she was told to spray her face with a water bottle and hold a blow dryer up to her nose. She said "water and heat, it kills it," suggesting doing this would help treat or cure the novel coronavirus. This is not true, and following this advice could be potentially dangerous. Here is the video:
These viral videos do not offer sound medical advice, and they join a growing list of online misinformation surrounding the coronavirus. Here are some other fact checks by Lead Stories you may want to check out: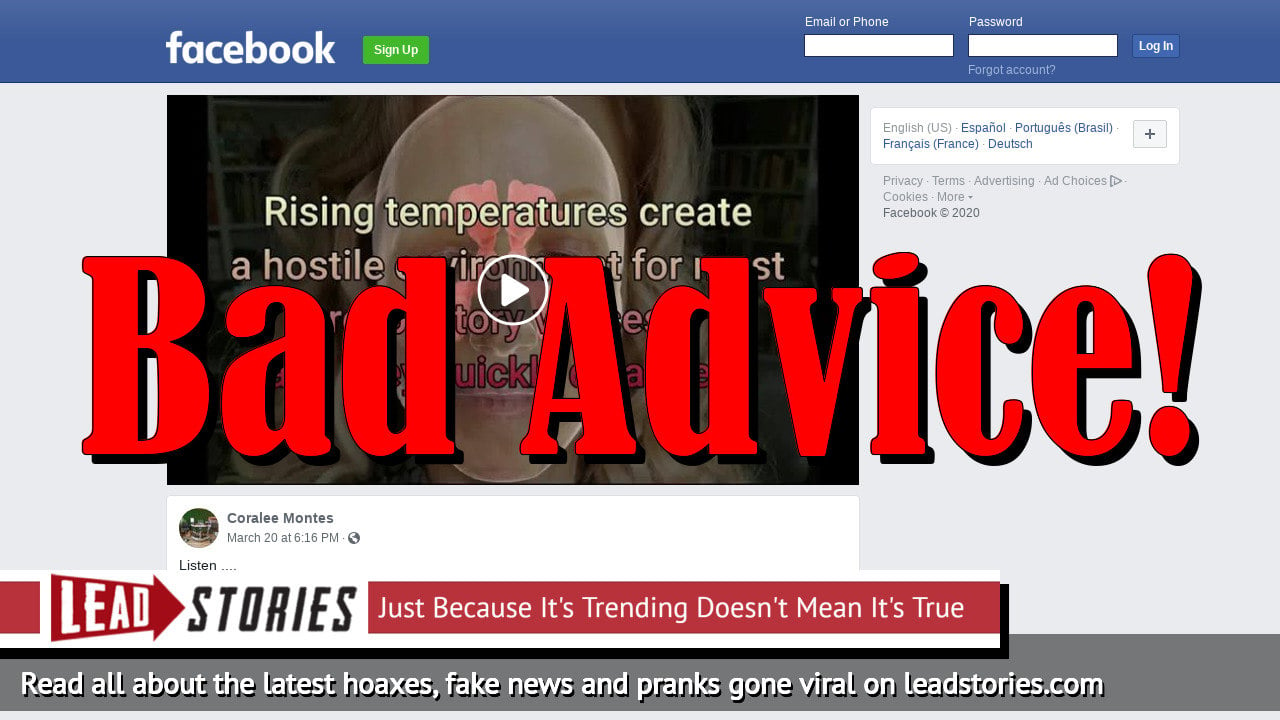 2020-03-30T18:50:25Z

2020-03-30T18:50:25Z

We updated this story with a new viral video that suggests people use blow dryers to combat the coronavirus. This is not sound medical advice.