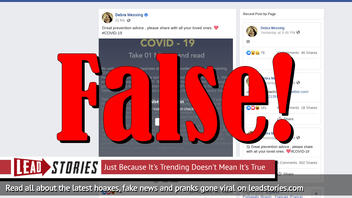 Do memes containing advice for preventing the novel coronavirus, or COVID-19, offer accurate medical information? No, they're not true: The memes are written in broken English and do not provide qualified medical facts. One of them refers to a "lung hospital," which is an awkward reference. Lead Stories spoke with a pulmonologist based in Atlanta, who called the memes "utterly ridiculous."
The most widespread meme is this one, claiming gargling with warm water that contains salt or vinegar will "eliminate the virus":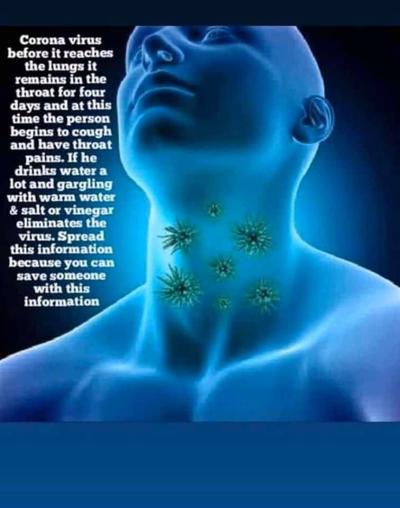 This is not true. The CDC says there currently is no treatment to eliminate the virus:
No specific treatment for COVID-19 is currently available. Clinical management includes prompt implementation of recommended infection prevention and control measures and supportive management of complications, including advanced organ support if indicated.
The CDC does say gargling with salt water can help ease the pain of a sore throat:
How to Feel Better

Some ways you can feel better when you have a sore throat:

Suck on ice chips, popsicles, or lozenges (do not give lozenges to children younger than 2 years).
Use a clean humidifier or cool mist vaporizer.
Gargle with salt water.
Drink warm beverages and plenty of fluids.
Some other claims appeared in a post (archived here) published by Debra Messing, the actress best known for her role on the comedy series, "Will & Grace," on March 10, 2020. It opened:
Great prevention advice , please share with all your loved ones.

❤️

#COVID-19
Users on social media only saw this:
Several similar memes are making the rounds, including another one that Messing posted on her public Facebook account. Noteworthy among all of them is that they never cite any qualified medical professional by name. They are vaguely sourced as "from a CDC worker" or "an international traveler friend." Often, that is the first clue that the posts are fabricated: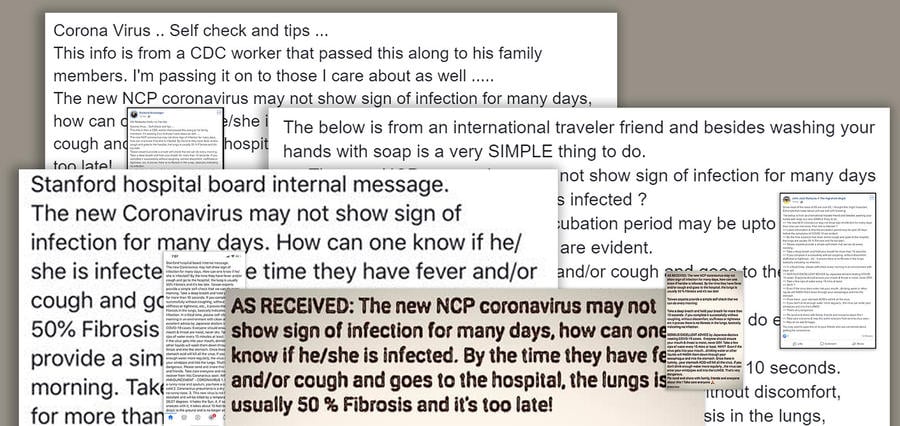 Lead Stories reached out to Dr. Abubakr Chaudhry, a pulmonologist at Northside Pulmonary & Critical Care in Atlanta, to assist in our fact check of these claims. He concluded:
I think it's false information, and I think it's misleading individuals and feeding into the hysteria.
One of the claims in the meme is that coronavirus patients may have "50% fibrosis." The New York Times has already debunked that suggestion, and Chaudhry agreed the claim is not valid:
Coronavirus itself is a respiratory virus.... When you look at the way the viruses affect the lung, they rarely cause fibrosis. They cause inflammation, but fibrosis is scarring, and that is not something that respiratory viruses traditionally cause in the lung. Especially not this specific virus. There's no case studies or reports if you look at this virus or the 8,000+ patients that were infected with SERS that there was fibrosis from the virus itself. So that is a false claim.
Another piece of advice is that people could do their own self-test by taking a deep breath and holding it for 10 seconds. Chaudhry said that is made up:
I don't know where they got that information from, but as a lung and critical care doctor and the director of clinical education for all three Northside (Atlanta) hospitals, that is completely false. That would not tell you if you have fibrosis or if you do not have fibrosis. It wouldn't give you any information except for the fact that you can hold your breath for 10 seconds.
The meme also suggests that people should drink water every 15 minutes. It claims, "If you do not drink enough water regularly, the virus can enter the airways and into your lungs, which is very dangerous to get." Chaudhry also called out that claim:
The virus is already in the airways and the lungs. That's how you would be infected by it. Yes, you should stay hydrated. The recommendations are eight glasses of water a day. That's pretty standard. Obviously, if you feel dehydrated or you get diarrhea symptoms, that volume may increase, but there's no evidence to show that drinking every 15 minutes will do anything but cause you to go to the bathroom more often than not.
The second post that Messing shared purportedly came from Stanford University, but a spokeswoman for Stanford Health Care told Mother Jones that the information did not come from that university medical center.
To show just how widespread and varied in appearance these similar posts are, Lead Stories created this graphic: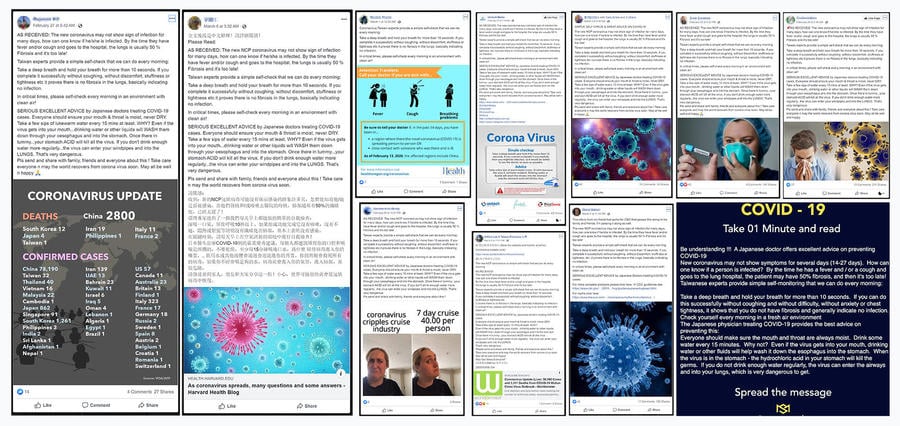 There is a lot of disinformation online about the coronavirus, which has infected more than 115,800 people and killed 4,200 people around the world, according to CNN. Posts such as these are only adding to the confusion. Internet users should exercise caution when reading unsourced medical claims on memes and Facebook posts. Often, they are rife with falsehoods.
Other fact checks by Lead Stories concerning coronavirus misinformation include: