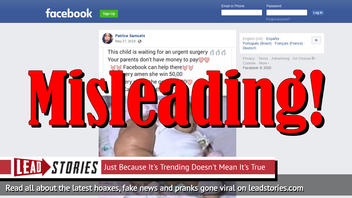 Does a photographed baby with an enormous arm need urgent surgery? And do her parents need help paying for it? No, that's not true: The baby pictured on social media, who did have a disease that caused her right arm to swell, reportedly died in June 2012.
The photograph of this baby resurfaced in a Facebook post (archived here) published by Patrice Samuels on May 27, 2019. It opened with these words:
This child is waiting for an urgent surgery
Your parents don't have money to pay
Facebook can help there
Here is how the story appeared on social media:
Patrice Samuels suggested that, with every amen and share, the family will get money - which is, of course, not the case. But that didn't stop 46,000 people from sharing the post. Here's how Samuels put the pitch:
Every amen she win 50,00
Every share she get 10,0000
People sometimes use tug-at-the-heartstring posts like this to "farm" likes, shares and comments. That may very well be what Samuels was shooting for.
The sad truth is that there reportedly was a baby girl named Nicole from Rocinha, one of the poorest and largest slums - or favelas - in Brazil, who made the news in 2012. The photograph of her with her unusually swollen right arm, the result of a rare lymphatic malformation, appeared in MidiaNews, a news site out of the Brazilian state of Mato Grasso, on June 24, 2012. The headline, translated from Portuguese, read, "Baby with giant arm dies at 6 months."
Here's how the story opened, also translated from Portuguese with the help of Google:
The baby with a giant arm died last Friday (22), in Rio de Janeiro, at the age of six months. According to the mother of little Nicole, Ana Patrícia Vieira, the reason would be a complication after a vein ruptured in the arm affected by lymphangioma - a disease that prevents the flow of oxygen and causes the growth of benign tumors.
Despite the tragic loss, people still seek to profit on social media by sharing this deceased baby's image.