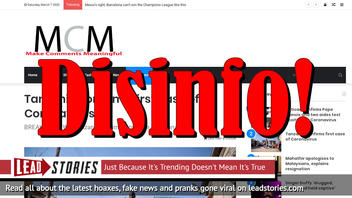 Did Tanzania and Zambia confirm their first cases of novel coronavirus? No, that's not true: These made-up stories were published by a website known to spread disinformation. According to the World Health Organization, neither African country had recorded any cases of the rapidly spreading global virus as of March 7, 2020.
The claims that the first cases of coronavirus had been confirmed in Tanzania and Zambia appeared in two articles published by MCMNT.COM in the first week of March 2020. "BREAKING NEWS: Zambia confirms 10 more cases of coronavirus" (archived here) was posted on Wednesday March 4, 2020. A second article, titled "Tanzania confirms first case of Coronavirus - MCM" (archived here), was posted and shared on social media on March 7, 2020.
The Zambia article opened:
Zambian Health Ministry has in a statement on Wednesday morning that 10 more people, all Zambians have tested positive for the coronavirus.

The statement said the government is finding ways to deal with the issue. "The cases, which were confirmed on the 4th March 2020, are the second to be reported in Zambia since the outbreak in China in January 2020. "The cases involved ten Zambians who came into contact with others who had returned from Italy.

"They fell ill on the 1st March and were transferred to the University Teaching Hospital Facilities for isolation and testing. COVID-19 infection was confirmed by the Virology Laboratory of the Zambia University Teaching Hospital, part of the Laboratory Network of the Zambia Centre for Disease Control.

The patients are clinically stable, with no serious symptoms, and is being managed at the Infectious Disease Hospital. " The commissioner said the state government through the Ministry of Health, had put measures in place to ensure that any outbreak in Zambia was controlled and contained quickly in collaboration with the multi-sectoral Coronavirus Preparedness Group, led by the NCDC. "We have immediately activated the State Emergency Operations Centre to respond to this case and implement firm control measures.
The Tanzania article opened:
Tanzania has registered its first case of COVID-19, becoming the tenth country in Africa to have a confirmed case of the virus.

Health officials in the country announced the case on Friday, 11:45PM (EAT), saying the patient is a 36-year-old man who is a resident of the capital, Dodoma.

"Given the rapid spread of COVID-19 around the world, I am not surprised that the virus is in our country," said Mr. Ummy Mwalimu, Tanzania's Minister for Health, & Community Development.

He, however, cautioned the public against misinformation and assuring them of the Tanzanian government's ability to curtail the situation at hand.
Users on social media only saw this title, description and thumbnail:
Tanzania has registered its first case of COVID-19, becoming the tenth country in Africa to have a confirmed case of the virus.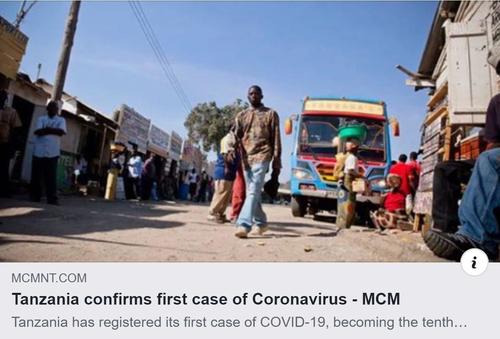 Tanzanian MP Ummy Ally Mwalimu posted a tweet directly addresing this MCMNT.COM disinformation:
FAKE: So far, No Corona (COVID-19) Case in Tanzania. However we remain on high alert to the rapid spread of the virus in various countries pic.twitter.com/LDOKqZ3JpF

-- Ummy Mwalimu, MP (@umwalimu) March 7, 2020
Lead Stories recently wrote about several other coronavirus hoaxes from this network and - once again - they displayed the same pattern to put their links into large local Facebook groups for wider distribution. For example, a profile named Elvis Kafui, from Accra, Ghana, spread these two stories. (The same username had previously spread a hoax claiming Pope Francis had coronavirus, as well as a false story spreading disinformation about the number of confirmed coronavirus cases in Iran.)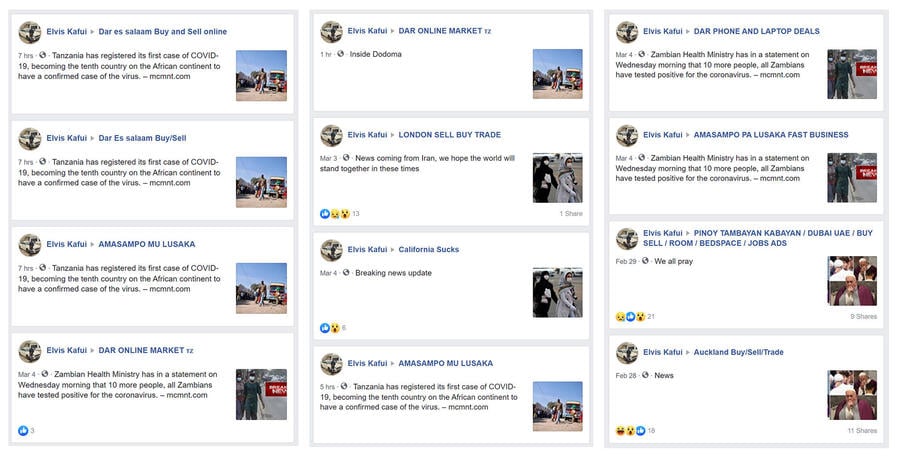 The World Health Organization's daily coronavirus situation report, Report #47, for March 7, 2020, listed six African countries where confirmed cases of the novel coronavirus were found. Those countries are Algeria, Senegal, Cameroon, Nigeria, South Africa and Togo. On March 7, 2020, there were a total of 26 confirmed cases in those six countries - and 17 of the cases were in Algeria.
Neither Tanzania nor Zambia had confirmed even a first case, according to the WHO.
But, as is their pattern, when MCMNT.COM puts links to its false stories into Facebook groups, they turn off the commenting on the posts so people are not able to warn others about the hoaxes. You can see other examples of this tactic featured in a death hoax fact-check here.
These buy-and-sell groups that were targeted are quite large and, in some cases, Kafui posted more than one time to gain even more traction. The group "Dar es salaam Buy and Sell online" has 146,043 members and the other groups have a combined 160,000 members.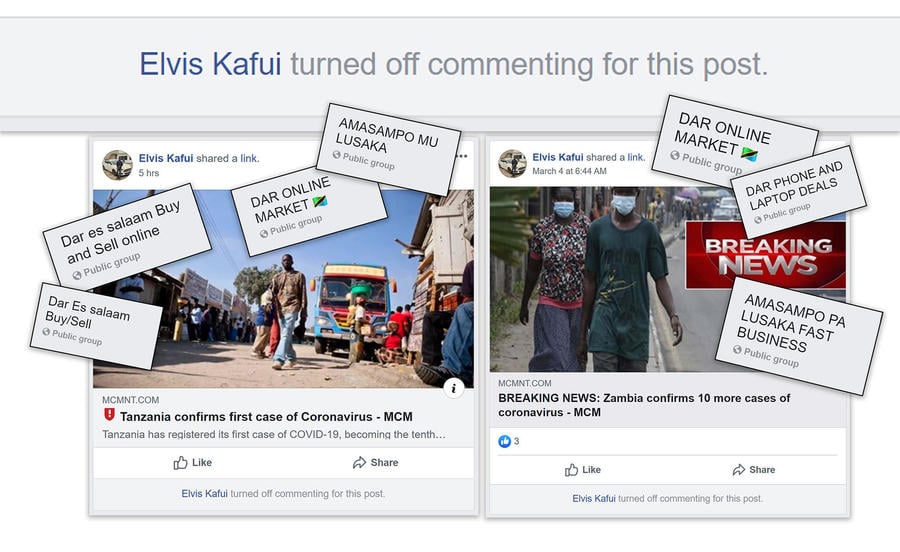 Another profile from Ghana, Frimp Eunuch, also posted the same false stories into several of the same groups and turned off the commenting.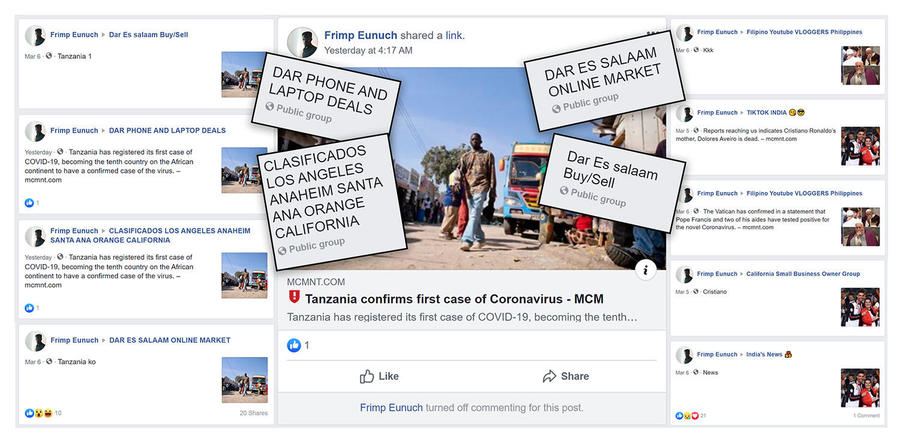 We wrote about mcmnt.com before. Here are our most recent articles that mention the site:
NewsGuard, a company that uses trained journalists to rank the reliability of websites, describes mcmnt.com as:
An anonymously operated website that published a false story claiming that Pope Francis has been infected with the Wuhan coronavirus.
According to NewsGuard the site does not maintain basic standards of accuracy and accountability. Read their full assessment here.