STORY UPDATED: check for updates below.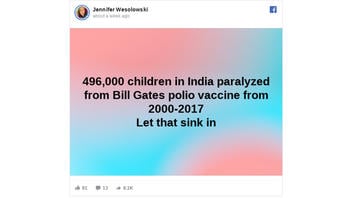 Were 496,000 children in India paralyzed from "Bill Gates polio vaccine" from 2000-2017? No, that's not true: Posts being shared on social media are filled with false claims about Gates and the vaccinations in India. Further, the claims grossly overstate the numbers, while seeking to discredit the fact that polio was eradicated from the world's second most populated country due to vaccinations.
The Bill & Melinda Gates Foundation denied the claims to Lead Stories.
The social media posts generally read like this one (archived here) posted on Facebook on April 12, 2020. It opened:
496,000 children in India paralyzed from Bill Gates polio vaccine from 2000-2017




Let that sink in
This is what the post looked like on Facebook at the time of writing:
The viral post cited no evidence or sourcing for its numbers-based claim, but it is possible the dubious meme was based off a 2018 study examining acute flaccid paralysis -- limp, floppy paralysis often associated with polio - from 2000 to 2017 in India.
The authors of the study found there were 491,000 paralyzed children "above our expected numbers" during that span -- a time when India was conducting widespread vaccinations of children under the age of 5. The authors also noted a decline in the numbers of paralyzed children after 2012, when mass vaccination efforts were less intense.
The authors, however, were keen "to note that a mere association with regression analysis does not prove a causal relationship." They wrote:
Although more studies are needed to confirm a causal association, the dose response to de-challenges makes a causal association more likely."
The authors were slammed after the study was published for what some critics called questionable findings and inferences.
In response, the original authors defended their work, but noted a few key caveats, including "it is possible that new neurotropic enteroviruses colonizing the gut may induce paralysis." They also pointed out they did not conclude vaccines were the cause of the paralysis:
We did not say that the NP AFP reported in our paper were cases of vaccine induced paralysis. Non-polio AFP, by its very definition, excludes polio vaccine induced paralysis."
It must be noted that some children in "very rare" cases do become paralyzed after receiving the oral polio vaccine, according to the World Health Organization. However, the condition, known as "vaccine-associated paralytic polio," or VAPP, occurs in about 1 in 2.7 million doses of the oral vaccine worldwide, WHO says.
From 2005 to 2015, WHO says, more than 10 billion doses of the oral polio vaccines were administered to over 2.5 billion children, preventing more than 10 million polio cases during that period.
Using that 10 billion doses as a benchmark and WHO's figure of 1 paralyzed child for every 2.7 million doses equates to about 3,700 children paralyzed worldwide over a decade -- still a tragic number, but far from the hundreds of thousands used in the false social media posts.
The Global Polio Eradication Initiative says acute flaccid paralysis has causes far beyond polio, from Guillain-Barré syndrome to transverse myelitis to snake bite:
In 2013, the World Health Organization received reports of over 100,000 AFP cases worldwide, of which only 404, or less than 0.5%, were confirmed as polio.
Below is an illustration of the figures from the Global Polio Eradication Initiative: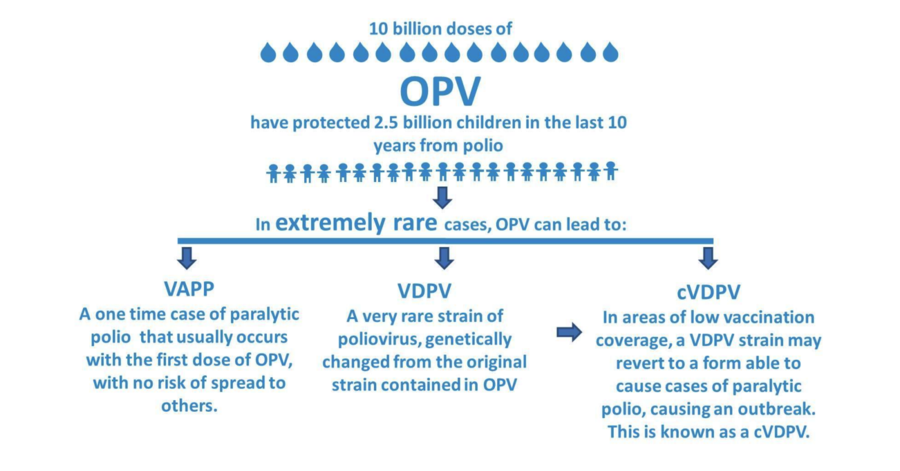 The Gates Foundation told Lead Stories in an email the social media posts are "false" and it notes on its site that the Global Polio Eradication Initiative has "prevented 18 million people from being paralyzed by polio, with hundreds of thousands more prevented every year."
2020-04-26T14:34:17Z

2020-04-26T14:34:17Z

Adds additional background information on 2018 study looking into paralyzed children in India, with the authors saying no conclusions can be drawn and more studies are needed.