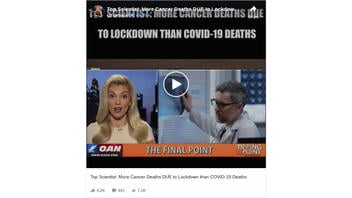 Is it true that all non-emergency or so-called elective surgeries are banned due to the lockdowns put in place to help prevent the spread of the novel coronavirus? No, that's a massive misreading of executive orders to step up priority patients during the COVID-19 pandemic. In fact, many surgeries -- including to remove brain tumors, for for organ transplants, breast cancer biopsies and many more being claimed in a viral Facebook video as blocked -- are allowed and going forward.
These are life-saving operations that are excepted under executive orders issued by many states in the United States -- orders that have been taken far out of context here.
The claim appeared in a video (archived here) by the OAN Network's "Tipping Point" and was posted to Facebook late on April 22, 2020, under the title "Top Scientist: More Cancer Deaths DUE to Lockdown than COVID-19 Deaths." The title hints that the three-minute video hosted by Liz Wheeler, who put the video on her page, is all about higher cancer deaths due to lockdowns -- something predicted, not proven by a U.K. cancer center director. But the video switches gears to claim a list of ciritical care surgeries are being banned -- "not just cosmetic nose jobs and butt lifts."
This is what the post looked like on Facebook at the time of writing, with the video included:
Here's part of Wheeler's message to viewers:
To put it simply, politicians in the UK and here in U.S. have banned non-emergency surgeries and procedures. But don't be fooled by the phrase non-essential surgeries. We're not talking about a cosmetic nose job or a butt lift. The definition of non-essential surgeries just means any surgery that's scheduled in advance. So operations to remove brain tumors. Non-essential and prohibited. Organ transplants. Non-essential and prohibited. Biopsy operations. Non-essential and prohibited. Mastectomies for breast cancer. Non-essential and prohibited. Pain management surgeries, also non-essential and prohibited. I could go on and on."
Note Wheeler confuses "non-essential" and "elective" surgeries here and gets the definition wrong. According to SurgeryEncyclopedia.com:
Essential surgery is an operative procedure that is considered to be vitally necessary for treating a disease or injury. Postponing or deciding against an essential procedure may result in a patient's death or permanent impairment.

Essential surgery may be performed on either an elective or emergency basis. Elective surgery is defined as surgery that can be scheduled in advance and is not considered an emergency. Some elective surgeries, however, may be considered essential.
(Lead Stories' emphasis)
Wheeler goes on to claim that "120,000 elective pediactric surgeries are perfromed every year in the U.S. That's 10,000 kids every month who are being denied the care they need thanks to these lockdowns."
That's not entirely true: many of these elective surgeries are non-essential and can be safely postponed a few weeks or even a few months, so these kids will be getting the care they need eventually. And the ones that are essential (and elective) are still allowed in most states. As KidsHealth.com explains, there are several types of elective surgeries:
A wide range of surgical procedures can be considered elective. Cosmetic surgeries fall into this category, but so can things like ear tubes, tonsillectomies, and scoliosis surgery. Although these procedures may be done "electively," they can be significant and potentially life-changing operations.

Another category is an urgent procedure. This is something that usually must be done that day (for example, an appendectomy).

Some surgeries (such as when someone is bleeding a lot internally) are considered emergency procedures. These must be done right away.
What is not included in the video, which highlights Arizona and Minnesota, is that these same states make exceptions under their laws to allow critical care surgeries to go forward.
Consider this order in Arizona from Gov. Doug Ducey, a Republican: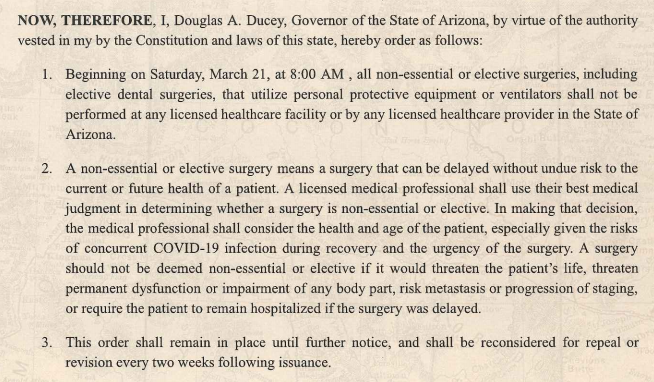 Point No. 2 clearly states that the law refers to "surgery that can be delayed without undue risk to the current or future health of a patient. ... A surgery should not be deemed non-essential or elective if it would threaten the patient's life, threaten permanent dysfunction or impairment of any body part, risk metastasis or progression of staging ..."
Now, let's take Minnesota, whose governor is Tim Walz, who is Democratic-Farmer-Labor Party member: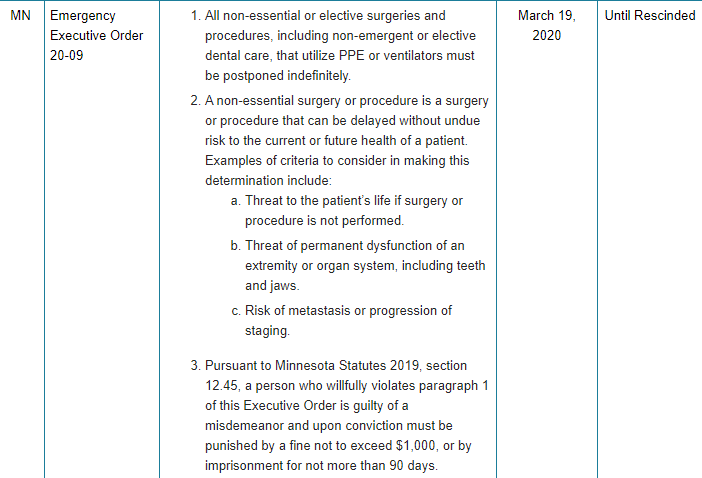 Just like in Arizona, there are exceptions here to make sure there is no "undue risk to the current or future health" of a patient.
Readers can find where their states stand on elective surgeries by checking this list (April 23, 2020, version archived here) from the American College of Surgeons. A quick scroll through this list shows that in most states in America, exceptions are made when a life or severe health issues are at stake.
Let's take a sample of some states, which shows the allowances are very similar (in blue and red states): If a person's health or life is at risk, procedures can move forward.
In Alabama, where the governor, Kay Ivey, is a Republican, her order from March 28, exempts:
Dental, medical, or surgical procedures necessary to treat an emergency medical condition. For purposes of this order, "emergency medical condition" is defined as a medical condition manifesting itself by acute symptoms of sufficient severity (including severe pain, psychiatric disturbances, and/or symptoms of substance abuse) such that the absence of immediate medical attention could reasonably be expected by a person's licensed medical provider to result in placing the health of the person in serious jeopardy or causing serious impairment to bodily functions or serious dysfunction of bodily organs.
Dental, medical, or surgical procedures necessary to avoid serious harm from an underlying condition or disease, or necessary as part of a patient's ongoing and active treatment.
In Colorado, Democratic Gov. Jared Polis stated in his March 23 order:
A voluntary or elective surgery or procedure means that the surgery can be delayed for a minimum of three months without undue risk to the current or future health of the patient as determined by the guidelines developed by the hospital, surgical center or other treating medical facility.
In Florida, where lockdowns are easing and people are flooding beaches, Republican Gov. Ron DeSantis ordered:
All hospitals, ambulatory surgical centers, office surgery centers, dental, orthodontic and endodontic offices, and other health care practitioners' offices in the State of Florida are prohibited from providing any medically unnecessary, non-urgent or non-emergency procedure or surgery which, if delayed, does not place a patient's immediate health, safety, or wellbeing at risk, or will, if delayed, not contribute to the worsening of a serious or life-threatening medical condition. Accordingly, all health care practitioners licensed in the State of Florida, including dentists, shall immediately cease performing these elective services.
And in Louisiana, where Gov. John Bel Edwards is a Democrat, the order exempts medical and surgical procedures to treat an emergency medical condition, as well as time-sensitive medical conditions and medical and surgical procedures are allowed to avoid further harms from underlying condition or disease.
Note: If you or someone you know was denied essential life-saving surgery or surgery to protetct future health that can't be postponed, definitely check the list of executive orders for your state -- and if you believe the surgery should have been allowed under the rules, you should check with the relevant authorities.