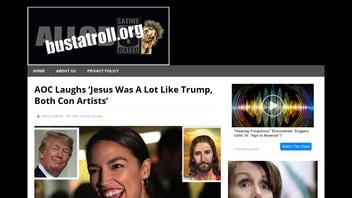 Did Democratic U.S. Rep. Alexandria Ocasio-Cortez say that both Jesus and President Trump were con artists? No, that's not true: This fictional story was designed to anger conservatives.
The quote originated in an article (archived here) published by Bustatroll.org on April 4, 2020, under the title "AOC Laughs 'Jesus Was A Lot Like Trump, Both Con Artists'." It opened:
We all know the Democrats laugh in the face of God through their atheism and Satanic ways. That is their right as citizens, but it makes them unsuitable for government, being the Christian nation that we are. They fight to remove Christianity from our lives and we fight back. It's a constant battle of good versus evil, light versus dark.

President Trump is a gift from God, sent to bring our country back to glory as God's chosen land. He embodies many of the qualities of Christ and spreads His word throughout America. In these times we need that word more than ever and we are thankful that we have this president to deliver it. It is so obvious that Trump is Jesus' messenger before His return.
The site is part of the "America's Last Line of Defense" network of satire websites run by self-professed liberal troll Christopher Blair from Maine, along with a loose confederation of friends and allies. Blair has been in a feud with fact-checking website Snopes for some time now and has also criticized other fact checkers in the past who labeled his work "fake news" instead of satire. In reaction to this, he has rebranded all his active websites and Facebook pages so they carry visible disclaimers everywhere.

Blair also has a Satirical Fact Checking Website called "Freedom Fictions," where stories produced by his network websites can be further muddled by tongue-in-cheek in-house "fact-checking." FreedomFictions.com produced a fictional fact check for this AOC story. The URL gives a clue that this fact check is not real: freedomfictions.com/no-its-not-true-but-you-believe-it-is

The fact check began:
Recently an article has been circulating online which accuses Alexandria Ocasio-Cortez of blasphemy in that she called both President Trump and Jesus "con artists." She was said to have laughed uproariously as she made her comments.
The satirical fact check continued by not just reinforcing the original fictional quote but pretended to clarify with a corrected fictional quote that was even more outrageous than the original. The fake fact check concluded with this:
So AOC did speak viciously about the two, just not in quite the same words used in the article that's become a viral sensation. It's fair to note that both the fake quote and the true fake quote don't actually appear anywhere, but we heard that they did.

That article was sanitized so that all could read it all the way through without being offended and sick to their stomachs. Unfortunately, moral people still were.
Two Facebook pages used this fictional AOC quote to make stand-alone posts. The page Trump2020 made a post (archived here) that has been shared 124 times. Shelby County Politics posted into their Facebook group (archived here), and that post has been shared 77 times. Without the satirical context of the Bustatroll website -- and now supported by a Facebook page they trust -- readers had little to go on. Most of the comments expressed outrage, although a few readers found the quotes so unbelievable they wanted proof AOC had really said this. Several commenters offered links to the Freedom Fiction Fact Check as proof.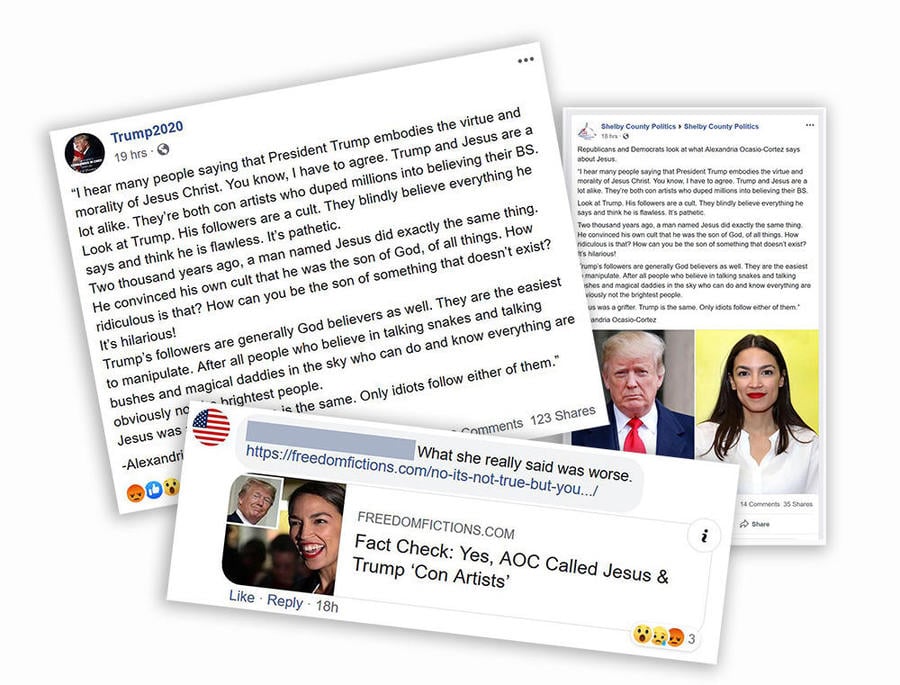 Every site in the ALLOD network has an about page that reads (in part):
About Satire
Before you complain and decide satire is synonymous with "comedy":

sat·ire
ˈsaˌtī(ə)r
noun
The use of humor, irony, exaggeration, or ridicule to expose and criticize people's stupidity or vices, particularly in the context of contemporary politics and other topical issues.

Everything on this website is fiction. It is not a lie and it is not fake news because it is not real. If you believe that it is real, you should have your head examined. Any similarities between this site's pure fantasy and actual people, places, and events are purely coincidental and all images should be considered altered and satirical. See above if you're still having an issue with that satire thing.
Articles from Blair's sites frequently get copied by "real" fake news sites that often omit the satire disclaimer and any other hints the stories are fake. Blair has tried to get these sites shut down in the past, but new ones keep cropping up.

A Mormon news aggregator blog, styled like the Drudge Report and called "Say to Them", shared a link to the article. This link pointed to a website called ZoneNews-24.com (archived here).
ZoneNews-24 is a new website that was first registered on February 28, 2020. It is part of a network of websites from Macedonia that also published Politicodailynews.com (many people confused Politicodailynews with the unrelated Politico.com). Politicodailynews was banned from Facebook in mid-February for violating the social media giant's terms of service. The plagiarized Bustatroll article appeared on ZoneNews-24 without any credit or disclaimers that it was satire.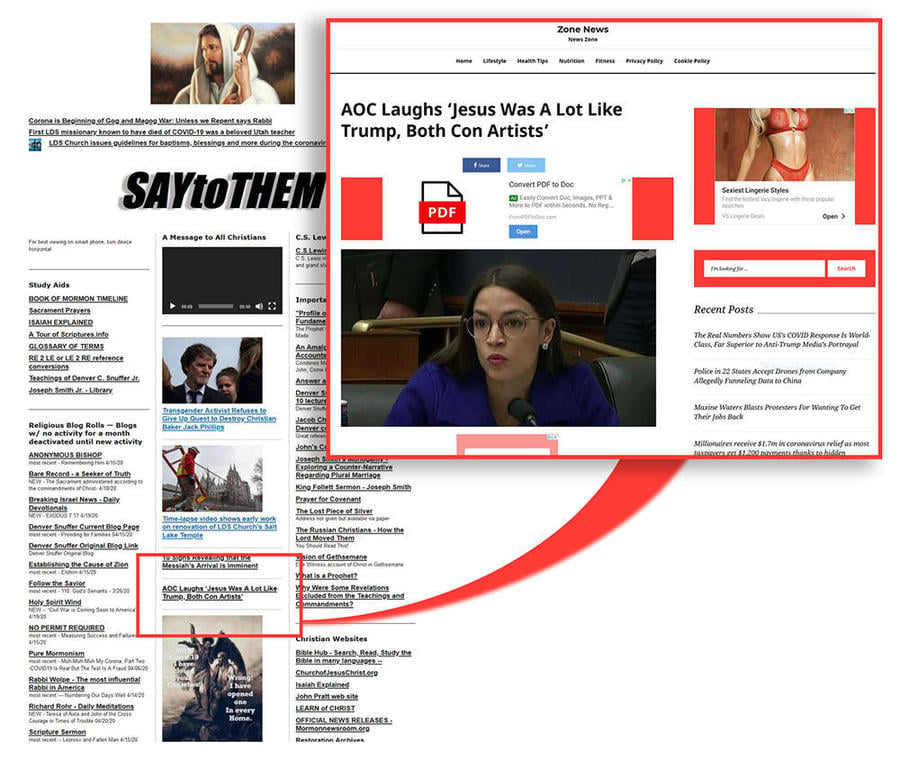 On Facebook, ZoneNews-24 links were also spammed into groups using hijacked Facebook accounts. Frequently, the ZoneNews-24 URL was obscured with a redirecting link. In this example, the link "Dailyworld-update.tumblr.com" will redirect to zonenews-24.com/aoc-laughs-jesus-was-a-lot-like-trump-both-con-artists.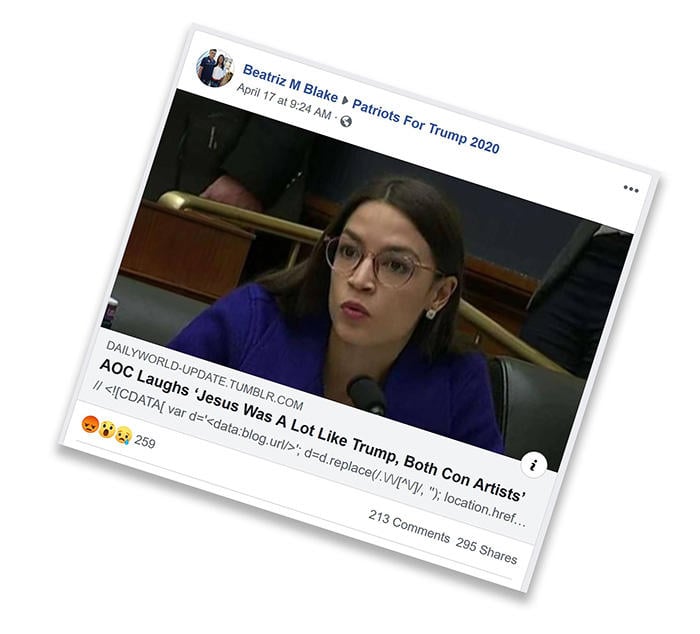 On April 17, this one version of the plagiarized article -- with a link pointing to Dailyworld-update.tumblr.com -- was posted into 21 groups by network spammers. This seeding gathered 4,779 interactions on Facebook. A post by "Beatriz M Blake" was shared 295 times by members of the Patriots for Trump 2020 group. Beatriz is one of hundreds of accounts of Brazilian people that has been hijacked to post spam for this network.

Friends of the woman who once owned the account now called "Beatriz M Blake" have discussed in Portugese on her timeline about the account being hacked. Ever since Facebook started cracking down on "fake" accounts, many bad actors have started to use accounts of real people that were hacked. The member rosters of many U.S. politics Facebook groups have a questionable number of Brazilian accounts that always are posting links to the same handful of unknown websites.

A program called an "autoposter" can keep track of hundreds of accounts, and the scheduling of posts going into many groups. The illustration below shows posts that the autoposting bot Beatriz put into "Patriots for Trump 2020" between April 14 and April 20. On one day, it posted 15 articles. This is not the only group that this bot is spamming, and this is not the only bot pushing these zonenews-24 links.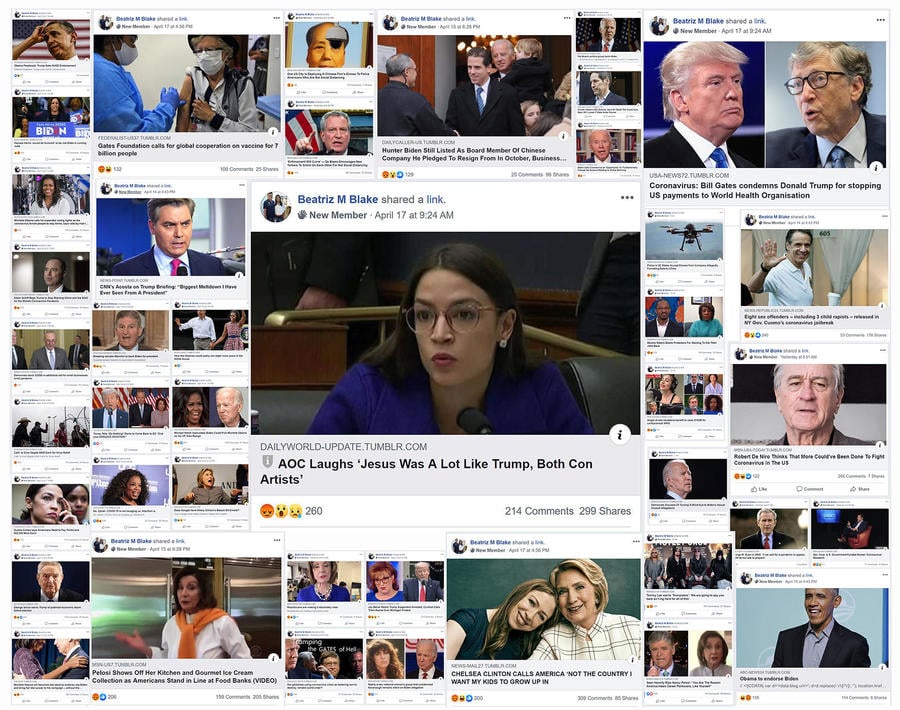 That gives us a picture of one website, but there are many more. In the illustration below, the original satire site Bustatroll.org is in the center with the signature Troll mascot in their logo, with a large "Rated S" for Satire. The rest of this sampling includes foreign click-bait plagiarists who have taken this Bustatroll story and are now spamming it into other groups with their own fleet of hijacked account spambots. Most of these websites trace back to the Pakistani clickbaiter investigated by Politifact.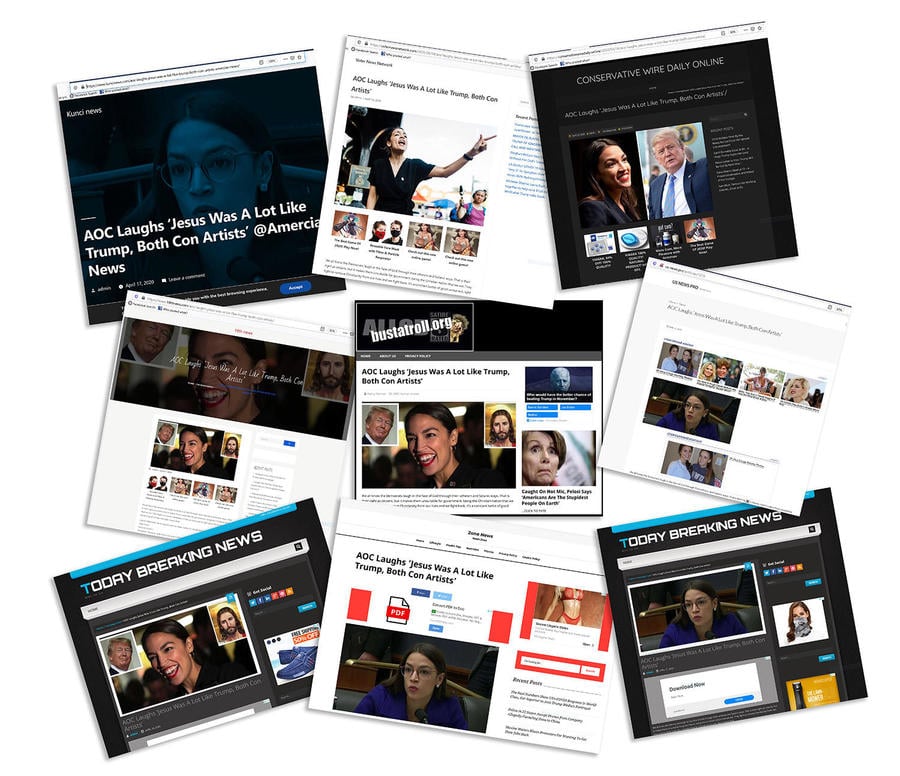 Clockwise from the upper right is:
conservativewiredaily.online (archived here)
us-news.pro (archived here)
newsrapter.com titled: Today Breaking News (archived here)*
zonenews-24.com (archived here)
newsrapter.com #2 (archived here)*
18thnews.com (archived here)
kuncinews.com (archived here)
voternewsnetwork.com (archived here)
Not pictured:
aoclaughsjesus.blogspot.com/2020/04/we-all-know-democrats-laugh-in-face-of.ht (archived here)
vnce.pro (archived here)
digital-world.co (archived here)

A copy of the Freedom Fictions fact check: mlatimes.com (archived here)

*Newsrapter has published the same article on the website twice, with slightly different photos and two different URLs. The website template theme for Newsrapter has changed since we took the screencaptures for the above illustration. Newsrapter -- titled "Today Breaking News" -- is now using the same template as conservativewiredaily.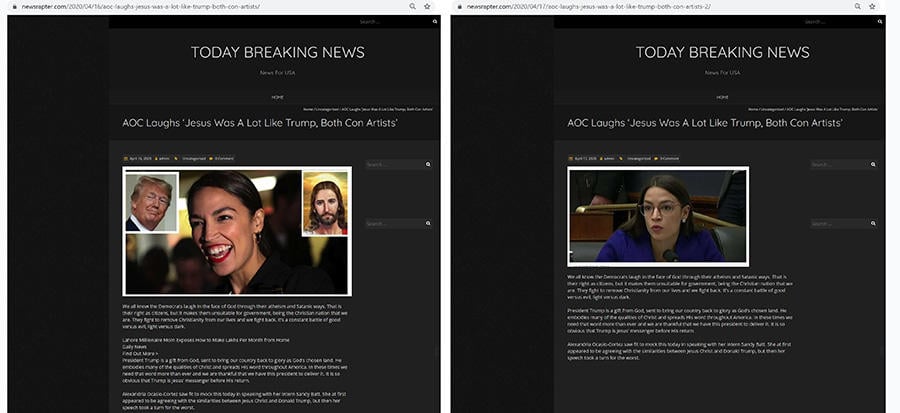 A Facebook page called "False Accusations" made one of their own when they, without irony, posted a screenshot of a post with headline and captioned it "Evil snowflakes". THECERVATIVEVRLDAILY12.TUMBLR would eventually have been redirected to Newsrapter if this wasn't just a screenshot of a post from somewhere else. Once again, the readers are deprived of the chance to pick up contextual cues about the website. Even Facebook's little information -- the "i" in the lower right corner of the post -- has been flattened and rendered useless by the screenshot.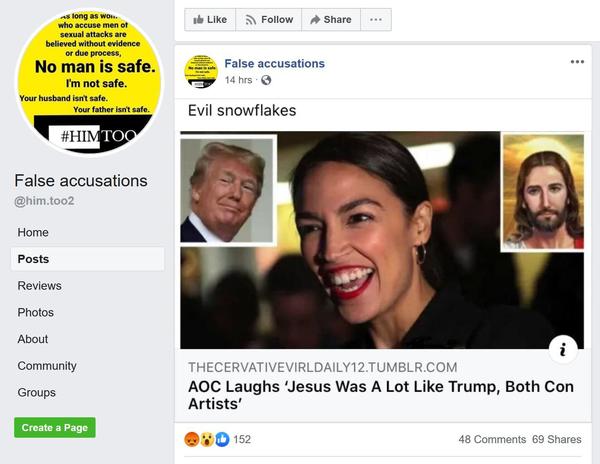 The way stories spread on Facebook is complex. Many people still do not understand that traffic to websites generates income for the owners of the websites. Without that basic understanding, they are not as cautious as they would be if they understood that their attention is a commodity, and that outrage makes them an easy mark.

Here is a video of Blair explaining how his process works:
If you are interested in learning more about Blair and the history of his sites, here is something to get you started:
STORY UPDATED: check for updates below. Yesterday Eli Saslow at the Washington Post wrote a fantastic article about Christopher Blair, a man from Maine who has been trolling conservatives and Trump supporters online for years and occasionally even made a living out of it.
If you see one of his stories on a site that does not contain a satire disclaimer, assume it is fake news. If you do see the satire disclaimer, it is, of course, also fake news.
NewsGuard, a company that uses trained journalists to rank the reliability of websites, describes bustatroll.org as:
A site that publishes false stories and hoaxes that are often mistaken for real news, part of a network named America's Last Line of Defense run by hoax perpetrator Christopher Blair.
According to NewsGuard, the site does not maintain basic standards of accuracy and accountability. Read their full assessment here.