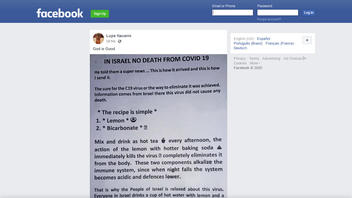 Is an Israeli recipe for a drink that is made from lemon and bicarbonate a cure for the novel coronavirus? No, that's not true. There is simply no proof for the claim that a recipe of just the two ingredients can beat back COVID-19, which has killed more than 7,000 in the United States and tens of thousands more across the world.
Recipes and diets have been persistent medical myths during the COVID-19 pandemic. This one claims that Israelis are drinking hot water with lemon and bicarbonate, and that the country has zero deaths. But this, too, is false. At least 39 people had died in Israel as of April 3, 2020.
The claim originated in a post (archived here) where it was published by Lupe Navarro on Facebook on April 2, 2020, under the title "God Is Good." It opened:
In Israel no death from COVID-19 he told them super news ... This is how it arrived and this is how I send it.
The cure for the C19 virus or the way to eliminated it was achieved. Information comes from Israel there this virus did not cause any death.
*The recipe is simple*
1. Lemon
2. Bicarbonate
Mix and drink as hot tea every afternoon, the action of the lemon with hotter baking soda immediately kills the virus completely eliminates it from the body. These two components alkalize the immune and system, since when night Falls the system becomes acidic and defenses lower.
This is why the people of Israel is relaxed about this virus. Everyone in Israel drinks a cup of hot water with lemon and a little baking soda at night, as this is proven to kill the virus.

I share with all my family and friends so that none of us get the virus. I leave it to your criteria.

Social media users saw this:
The recipe does not act in place of a vaccine or as a cure for COVID-19.
The people posting the recipe seemed to hope it could be the miracle they were looking for as the number of cases of coronavirus infections and deaths have skyrocketed around the globe.
This post stated simply, "Couldn't hurt......"
Depsite the contention that there have been no deaths in Israel, there have been. Haznet News reported 7,428 Israelis have tested positive for coronavirus, and 39 have died as of April 3, 2020.
On April 2, 2020, Factcheck.org also debunked the lemon and bicarbonate recipe as a "cure."
The World Health Organization is fighting back against the many claims of cures and preventative methods circulating on the internet:
To date, there is no specific medicine recommended to prevent or treat the new coronavirus (2019nCoV)."
The U.S. Centers for Disease Control and Prevention also noted that there is not a vaccine or a cure for coronavirus.
There is currently no vaccine to prevent coronavirus disease 2019 (COVID-19)."