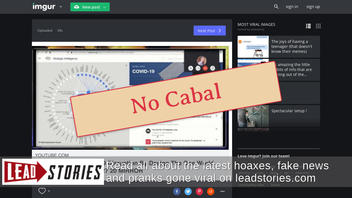 Is COVID-19 a plan by the World Economic Forum to create a worldwide fascist government? And in this world, will people be rationed 1.2 ounces per week of lab-created protein by a one-world government? No, these claims are not true. Together, the assertions are another example of conspiracy hoaxes that have taken hold since the novel coronavirus spread late last year from Wuhan, China, across the world.
Put simply, the World Economic Forum exists to boost every nation economically, including seeing countries through the coronavirus pandemic that has sent many economies spiraling, including that of the United States.
The claims surfaced in a video (archived here) posted by Celeste Solum on YouTube on March 30, 2020. The video opens, in part, with:
Our media is flooding the gates with the events of Revelation and prophecy. We are actually watching prophesy coming to pass before our very eyes."
Users on social media only saw this title, description and thumbnail:
PLEASE SUBSCRIBE by clicking the link below and be sure to tap the "Bell Notification" ???? so you are notified any time I upload a new video. ???? https://www.youtube.com/channel/UC5EJcBi6syfNf-YI9q0jdGw?sub_confirmation=1 Celeste Solum - "COVID-19: Disruption By Design - The One World Government Cometh" - Patron's Update 3/27/20 Please subscribe to our channel: https://www.youtube.com/diamondisc IMPORTANT LINKS: https://www.weforum.org/platforms/cov... https://intelligence.weforum.org/ https://www.weforum.org/platforms/ ************************************************* 2-PACK BOOK COMBO - http://bit.ly/2R47N0h ************************************************* "The Seven Thunders Revealed" Book (PDF Download) - http://bit.ly/2QGepmr "Electromagnetic Radiation Protection Solutions" Book (PDF Download) - http://bit.ly/2QFabvy https://www.patreon.com/shepherdshear... https://www.paypal.me/celestialrakiya https://shepherdsheart.life/ Video & Audio Production: http://www.diamondigitalmedia.com #covid19 #oneworldgovernment #celeste #DeborahTavares
Solum, who claims to have previously worked in sensitive U.S. government positions, said that service was meant for her to "glean information" to bring to people "for these days and these times."
She makes a host of assertions after viewing a video by the World Economic Forum. The WEF video on YouTube is captioned:
The World Economic Forum has developed its Strategic Intelligence capabilities to help make sense of the complex forces driving transformational change across economies, industries, and global issues.
In the video, the WEF uses a circular logo with radiating short lines to demonstrate its plan to improve human endeavors through technology. But Solum tells her viewers that the spiky circular design of the logo is the COVID-19 virus, and that "it is being used to inject, like snake venom, global governance into the world."
Also in her 32-minute video, she says that the global government will "protect the livelihoods of people within the system, the beast or the new world order." Solum also says this forum-led global domination will not allow us to eat groceries as we do now. Instead, it will ration us "1.2 ounces of a lab-created protein per week - no meat whatsoever - and 36 grams of carbs - no sugar - every 21 days."
Among the broader claims is this:
COVID-19 is being used to inject global governance into the world. This comes from the World Economic Forum. This is their COVID action platform to galvanize the global business community for collective - that's fascist - action."
But in reality, the WEF is the International Organization for Public-Private Cooperation and is "committed to improving the state of the world." The forum's video on YouTube describes ways to end world hunger and improve the environment, with climate activist Greta Thunberg as a guest speaker on "Averting a Climate Apocolypse."
Asked about Solum's claims, WEF spokeswoman Alem Tedeneke told Lead Stories:
The design on our video is not the COVID-19 virus, and it does not signify that the WEF has plans of any kind to enforce our will globally. The accusations of plans for a fascist world government are absolutely false. We hope to bring good into the world especially in these difficult times."
Lead Stories has already debunked the idea that a One World Order and 5G are behind the coronavirus.