Did Michigan Gov. Gretchen Whitmer ban the sale of American flags amid the COVID-19 pandemic? No, that's not true: The Democratic head of the Great Lakes state has not banned the sale of American flags. Supercenter stores, hardware stores and other places deemed essential in the state continue to sell American flags. There has not been a directive from Whitmer to stop the sale amid her stay-at-home order.
The claim -- accompanied by a false statement that potential anti-coronavirus drug hydroxychloroquine was banned in Michigan -- appeared in an article (archived here) where it was published by The Republic Post on April 12, 2020, under the title "Michigan Governor Gretchen Whitmer Bans Buying US Flags During Lockdown." The story read:
Crazed Democrat Michigan Governor Gretchen Whitmer prohibited big box retailers from in-person sale of seeds because according to her, food is non-essential.

'Crisis gardens' or 'victory gardens' were always encouraged during a time of war or a time of crisis to supplement rations and boost morale.

But the tyrannical governor of Michigan barred grocery stores and brick-and-mortar retailers from selling vegetable seeds.

In late March Michigan Democrat Governor Gretchen Whitmer limited access of doctors from prescribing the lifesaving drugs hydroxychloroquine and Z-Paks to save senior citizens in the state from Coronavirus.

Hydroxychloroquine and Z-Paks have are widely used by doctors the world over to treat the Coronavirus.

In total this past week alone, Governor Whitmer has banned packaged seeds, tiling, carpet, flooring... And US flags.
Here is how the story played on Facebook at the time of this writing: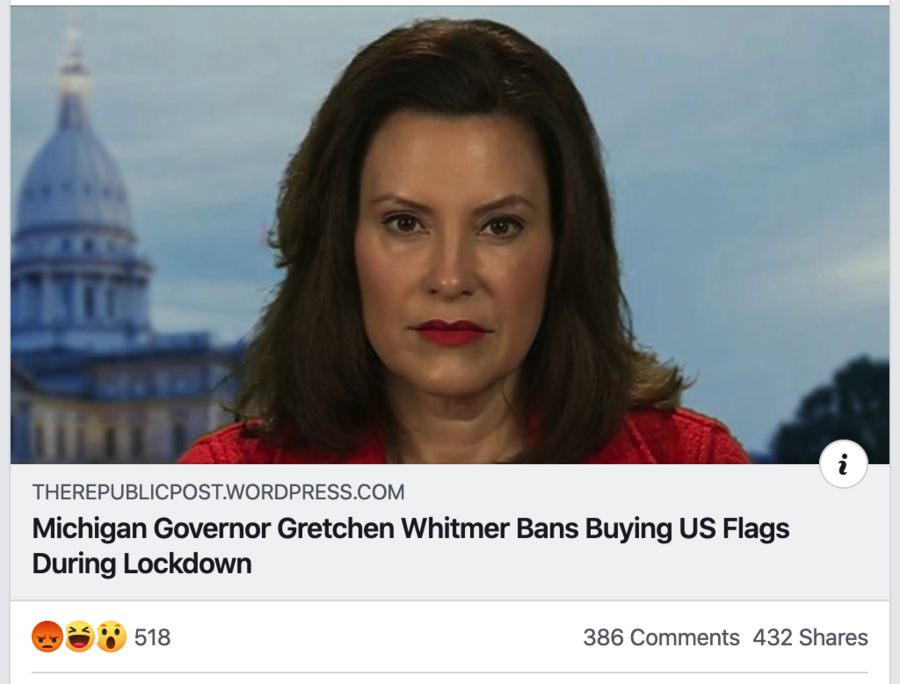 But Whitmer has not banned the sale of American flags in her state.
The Republic Post claimed in their headline that she had banned the sale of flags, but the story offered no evidence and buried the claim in the last sentence of the article.
Whitmer has closed all non-essential businesses in the state during the COVID-19 pandemic.
Hardware stores have been deemed essential operations, are they are open across the state and selling flags.
Lead Stories contacted several Ace Hardware stores in Michigan, and all of them had American flags for sale. The stores have shortened hours and were limiting the number of people inside during the coronavirus pandemic to protect staff and customers.
Thousands of American flags are also available for purchase on Amazon.com, and those are not banned by Whitmer.
A Twitter user posted a picture of American flags with caution tape around them at a Costco in Michigan, triggering many false stories and posts that the governor had banned the sale of flags.
No buying flags in MI. This is Costco.
No buying flags in MI. This is Costco.🇺🇸🇺🇸🇺🇸 pic.twitter.com/n5ouXjzJ4M

-- Pure Michigan Girl (@PureMichGirl) April 12, 2020
The Tweet quickly earned 2,300 shares and 2,200 likes.
Conservative outlets jumped on the tweet as proof that Whitmer was banning buying flag during the pandemic, which has claimed more than 23,000 lives in the United States as of April 13, 2020.
The CostCo in Traverse City, Michigan, is stocked up with American flags and customers are able to buy them, a store manager told Lead Stories on Monday, April 13, 2020. The manager had not heard of the claim that the governor had banned the sales.
The Republic Post's article also hit on Whitmer's changed stance on a controversial drug that has been touted as a cure for coronavirus symptoms.
On April 2, Whitmer reversed her initial instructions on the possible coronavirus treatment drugs -- hydroxychloroquine and Z-Paks (Zithromax) -- according to the Detroit Metro Times.
"I think that there is some great potential here amidst all of the sadness and hardship that we're going through right now," she said, after Henry Ford Health System announced they are conducting a large-scale study of the drugs for COVID-19 testing.
Whitmer's stay-at-home order to fight the coronavirus outbreak has restricted stores. They must only sell ""products necessary to maintain the safety, sanitation and basic operations of residences."
Michigan's The Bridge explained the rules of Whitmer's stay-at-home order.
Larger stores with more than 50,000 square feet must limit the number of customers inside at one time, allowing no more than four customers per 1,000 square feet of retail floor space. That means a Meijer with 100,000 square feet of floor space can allow a maximum of 400 customers inside at any one time.

Whitmer's order also requires large retailers to close carpet or flooring, furniture, garden and plant nursery sections, either by blocking them, placing signs in aisles, posting prominent signs or removing goods from shelves. Bottle return sections at grocery stores must also remain closed.
The Democrat has come under attack in recent weeks as speculation swirls that presumptive Democratic presidential nominee Joe Biden could pick her as his running mate against Republican Donald Trump.