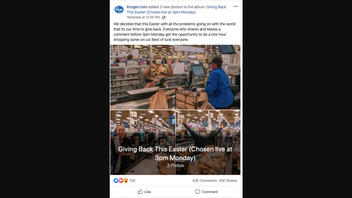 Did Kroger decide on Easter to give back to the community, during these hard times, and offer the opportunity for a one-hour shopping spree free of charge? No, that's not true: This is a scam that's been promoted by an unverified Kroger.com Facebook account, and it's been denied by the supermarket giant itself.
The claim originated in a Facebook post (archived here) purported to be published by Kroger.com (but actually not from the real Kroger grocery chain) on April 12, 2020, under the title "Giving Back This Easter (Chosen live at 3pm Monday)." It opened:
We decided that this Easter with all the problems going on with the world that its our time to give back. Everyone who shares and leaves a comment before 3pm Monday get the opportunity to do a one hour shopping spree on us! Best of luck everyone.
This is what the post looked like on Facebook at the time of writing: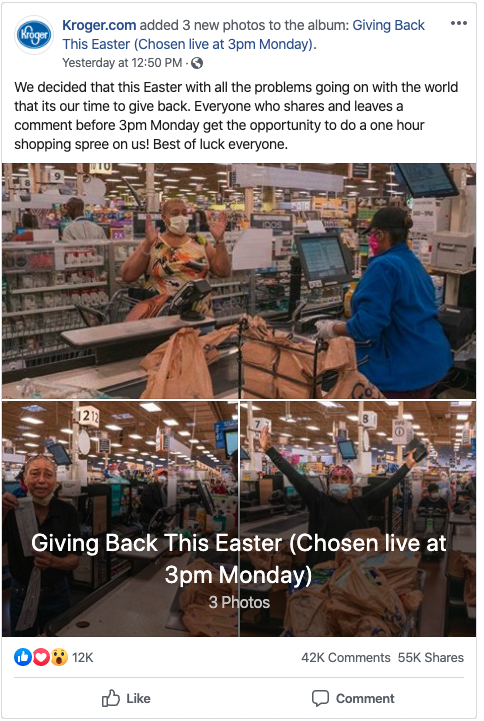 Then, after 3 p.m. came and went, the post changed. It now extends the deadline until 6 p.m. and it includes a website where people allegedly have to sign up to validate their entries. Here's how the post now appears on social media: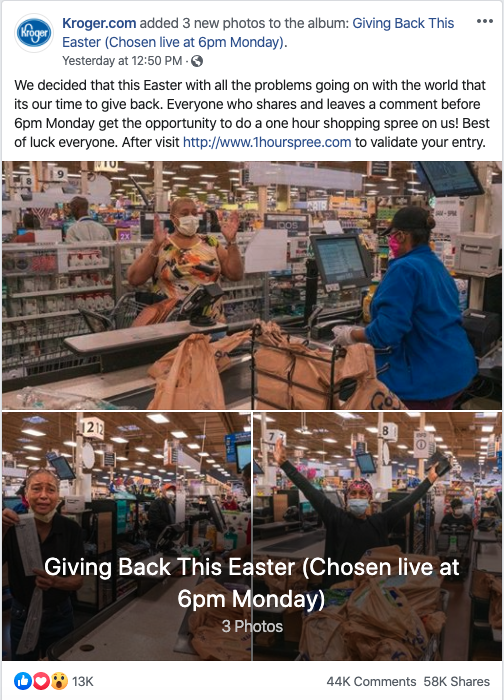 At the time of this writing, at least 58,000 people had shared the post and more than 44,000 had commented. "You guys ROCK!!!," wrote one commenter. "Wonderful way to help a family and serve the community," wrote another. "Wow .. thanks Krogers," said a third.
Excited shoppers may be holding their breath for a shopping spree opportunity. Sadly, they're going to have to keep on holding it because this is nothing more than a scam published by an unverified Kroger.com account.
Kroger issued a statement warning shoppers not to take the bait.
Here is the statement as shared by WBNS-TV out of Columbus, Ohio:
This is an unauthorized post that is not affiliated with or supported by the Kroger Co. The page advertising this scam isn't our page with the blue verified check mark. We recommend not engaging with this posting or providing personal information. We've shared this with our team, so they are aware of this page. To report the fraudulent post or page directly to Facebook, please follow the steps here.
This is not the first time scams like this have been promoted. Back in December, in the days leading up to Christmas, a fake Kroger.com page offered the chance for a full-year of free groceries. This incredible hoax of an opportunity prompted gushing replies like this one: "Merry Christmas! My Mom passed last year this time. My family has all decided to come to our house this year which I Love! I shop only at Krogers and could sure use help with Groceries!😊"
News stations at the time set out to set the record straight: