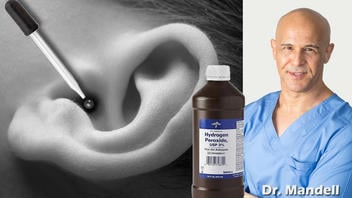 Will a few drops of hydrogen peroxide in the ear canal pass through the eardrum to the blood and fight off viruses, including presumably COVID-19? No, there is no medical evidence to substantiate the claim. The eardrum is watertight, and neither peroxide nor other liquids can penetrate unless it is punctured.
The claim surfaced in a video on YouTube on April 15, 2020, titled "Just a Few Drops...Boost Immune System to Fight Viruses with South Florida chiropractor Alan Mandell, DC" (archived here) which opened:
Our immune system is a 'reactive system' of white blood cells constantly on alert to keep invaders out. When our immune system is weakened, an invader can get through causing us to fall ill. This simple technique (using hydrogen peroxide) has been used originally by German Researchers in 1938 with great success helping the body's immune system to eradicate viruses that cause the flu and common cold.
Click below to watch the video on YouTube:
At 01:10 in the video, chiropractor Mandell says, "Back in the 1930s, German researchers were using hydrogen peroxide in the ear, putting it into the ear canal against the eardrum (tympanic membrane), and their theory is it's diffusing through the eardrum into the bloodstream which is ridding off [sic] and fighting the common cold, viruses, the flu. Over the years, because of what we call mainstream medicine, this has been ignored. But today, I can tell you that thousands of people are getting miraculous results."
He does not provide any specifics of those results in the video.
Dr. Mark Prince, an Ann Arbor, Michigan, ear, nose and throat specialist, debunks Mandell's claim. He told Lead Stories:
This does not sound plausible. Liquids won't penetrate the ear drum. In fact, it seals off the middle ear and prevents that from happening. Some drugs can be absorbed through the skin, but hydrogen peroxide is not one of them."
Mandell also advises using hydrogen peroxide frequently to dissolve deep ear wax. But hydrogen peroxide can be harmful to cartilage and skin, and WebMd warns to not use it to clean wax in the ears:
If the problem isn't an earwax buildup, but something more serious, peroxide can make the problem much worse."
Mandell claims that a sizzling or swishing sound in the ear is proof that the hydrogen peroxide is making its way against or through the eardrum. "You'll feel a sizzling. You'll hear that sizzling. That's the hydrogen peroxide working through against the eardrum." At 2:37 in the video, he states that hydrogen peroxide in both ears "can do magic for you."
But other medical sources say that sizzling sound is not hydrogen peroxide pushing its way through the eardrum. It also can be heard when applied to a cut in the skin or mouth. According to WebMd, hydrogen peroxide works by releasing oxygen when it is applied to the affected area. The release of oxygen causes foaming, which helps to remove mucus and clean the area.
Live Science states that the white fizzing foam of HP is actually a sign that that the solution is killing healthy cells, as well as bacteria. Putting drops of hydrogen peroxide into the ear canal can be harmful, Live Science explains. Hydrogen peroxide's oxidation also destroys healthy skin cells. This is why many physicians and dermatologists currently advise against using hydrogen peroxide to clean wounds, as it has been found to slow the healing process and possibly worsen scarring by killing the healthy cells surrounding a cut.
The American Society for Microbiology reinforces hydrogen peroxide's value as a general antiseptic. The article in the January 1999 issue of Clinical Microbial Review notes that the product comes in strengths from 3% to 90% and works well as a cleaner to kill molds, bacteria and some viruses on household surfaces.