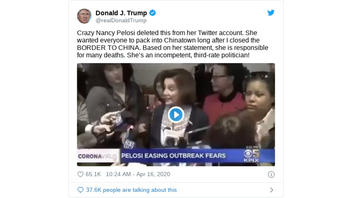 Did House Speaker Nancy Pelosi delete a February 24, 2020, video of herself from Twitter in which she encouraged people to visit Chinatown in San Francisco? No, that's not true: she never sent out a tweet of the video despite President Trump claiming she deleted it from her Twitter account. Trump tweeted out the clip via his own Twitter account while also calling the House Speaker "Crazy Nancy," and claiming that she is responsible for "many deaths" because she wanted people to "pack into Chinatown."
The claim appears a tweet (archived here) published by by President Trump on his @realDonaldTrump account on April 16, 2020. It read:
Crazy Nancy Pelosi deleted this from her Twitter account. She wanted everyone to pack into Chinatown long after I closed the BORDER TO CHINA. Based on her statement, she is responsible for many deaths. She's an incompetent, third-rate politician!"
This is what the post looked like on Twitter at the time of writing: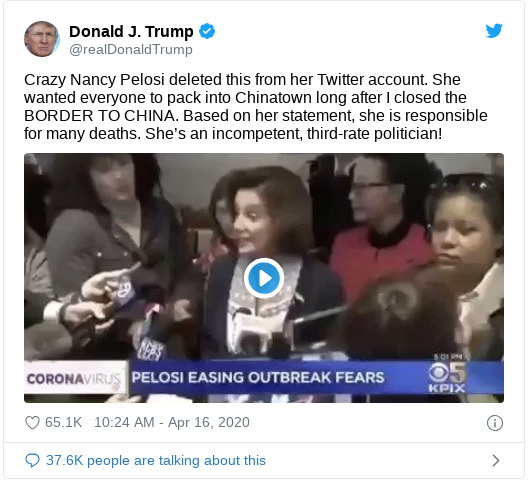 But the whole thing is likely an effort to promote the video -- and Trump's 2020 campaign. Brad Parscale, the campaign manager, was the first one to tweet out the claim about the video Wednesday night -- claiming on Twitter that "Nervous Nancy Pelosi" deleted it.
It seems Nervous Nancy Pelosi has deleted the video of herself in Chinatown on February 24 saying that fears of the coronavirus were "unwarranted in light of the precautions that are being taken here in the United States." She doesn't want Americans to see what she said then!

-- Brad Parscale - Text TRUMP to 88022 (@parscale) April 15, 2020
And Charlie Kirk, founder and president of Turning Point USA, and author of "The MAGA Doctrine," weighed in with this response:
It looks like Nancy Pelosi deleted this video of her in Chinatown on February 24th

Why could that be?

It's almost as if she doesn't want the American people to see it.

It would be a shame if this went viral so that EVERY American sees it

🤔pic.twitter.com/thpEHAmlBb

-- Charlie Kirk (@charliekirk11) April 15, 2020
Lead Stories has reached out to the Trump Campaign, Turning Point USA, and Gateway Pundit, another site that featured the video. We will update this story when we get a response. Most of them just claimed Pelosi had "deleted" the video without specifying when, where or how she supposedly did this. Only Trump's tweet explicitly mentioned that it happened on Twitter.
Pelosi's Deputy Chief of Staff Drew Hammill posted this tweet in reaction to Trump's post:
Fact check: We never posted this video. It's obviously local TV coverage of the Speaker visiting Chinatown in San Francisco three weeks prior to the shelter-in-place order. https://t.co/sVCqbkD0DF

-- Drew Hammill (@Drew_Hammill) April 16, 2020
Indeed, the video seems to have been taken from footage from KPIX5 doing a report on Pelosi's visit to Chinatown in San Francisco on February 24, 2020:
However there is no record of a tweet ever existing on Nancy Pelosi's Twitter account that featured the video in question. Politwoops, an automated service that records deleted tweets by politicians, has no record of any Nancy Pelosi tweet with a video from the claimed period. A snapshot of Pelosi's Twitter account taken by the Internet Archive three days after her Chinatown visit shows no tweet with the video either:

It does show this tweet, which is still up and which shows Pelosi at the Golden Gate Fortune Cookie Factory during her Chinatown visit, as reported by NBC at the time.
It was a pleasure to try my hand at making fortune cookies at the Golden Gate Fortune Cookie Factory (with a little guidance from owner Kevin Chan, of course).

The message inside?

"United We Stand." pic.twitter.com/3piGq4yKXq

-- Nancy Pelosi (@SpeakerPelosi) February 25, 2020
If Pelosi was trying to scrub the record of her Chinatown visit from her Twitter account, she would probably also have taken this tweet down.
Conclusion: there is no evidence Pelosi ever posted the video to her Twitter account, and there are no screenshots of the supposed tweet she deleted. Lead Stories also checked for mentions of the @SpeakerPelosi Twitter account on Twitter shortly after the video was supposed to have been posted, and we found no tweets that referenced any tweet with a video in it.
All of this appears to be an organized effort by the Trump campaign to attract attention to the Pelosi video. Claiming someone is trying to hide something is often the best way to get people curious about it.