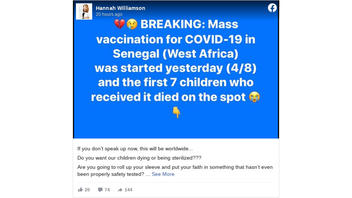 Did "mass vaccination" for COVID-19 start in Senegal, West Africa, and kill "on the spot" the first seven children who received it? No, that's not true: Senegal's health ministry says there is no truth to this story. Plus, a vaccine for COVID-19 doesn't yet exist.
The claim has been circulating on social media, appearing in Facebook posts like this one (archived here), which was published by Hannah Williamson on April 9, 2020. Here's what she had to say before sharing a meme with the false information:
If you don't speak up now, this will be worldwide...

Do you want our children dying or being sterilized???

Are you going to roll up your sleeve and put your faith in something that hasn't even been properly safety tested?

This isn't a conspiracy, this is real life y'all.

Please start thinking for yourself.
This is what the post looked like on Facebook at the time of writing:
This horrifying claim was investigated by Anne-Sophie Faivre Le Cadre, a Senegal-based reporter with Agence France-Presse. She debunked the misinformation in a fact-check piece titled, "Senegalese children did not die from a coronavirus vaccine (which does not yet exist)," which published on April 10, 2020.
Her story for the global news agency began with this blurb:
A Facebook post shared thousands of times claims seven children died in Senegal after being given a COVID-19 vaccine. This is false; scientists are still working to find a vaccine and Senegal's health ministry told AFP the incident never happened. The video in the post actually shows people gathering after they heard rumours that a door-to-door salesman was vaccinating locals.
The video referenced has appeared on YouTube in various posts, including this one. It shows a crowd standing outside a building, near a police car, and features a voiceover of a woman speaking in French. Here's how AFP described what she said:
"Scandal in Senegal," says a female voice commenting on the footage in French. "There's a guy who came to a house to vaccinate seven children against COVID-19. They dropped dead instantly".
A spokeswoman for Senegal's health ministry dismissed such claims. "There is no vaccine," she told AFP. "We have medical experts at the Institut Pasteur [a medical research institute] in Dakar working to create and certify a vaccine according to procedure. They will be completely transparent about their findings."
The rumor took root around the same time two French doctors discussed on television the possibility of testing a coronavirus vaccine in Africa, AFP reported. They were accused of racism and later apologized.
What evolved was a fake story about two men -- one Canadian; the other Senegalese -- who were arrested "in Senegal's capital Dakar for falsely claiming they were health ministry staff there to vaccinate children," the AFP story said.
Officials told AFP a Senegalese man was arrested, just briefly, after a March 26, 2020, misunderstanding in Dalifort, which is an area in Senegal's capital of Dakar. Here's what the spokesoman for the health ministry told AFP:
He never wanted to vaccinate people. He was passing by a house, and the resident's aunt started causing panic when she heard the word 'coronavirus'. A crowd of people gathered outside, thinking this man wanted to vaccinate people by force.
The police were called in, hence the police car in the video, and found nothing to suggest the man was there to perform vaccinations. They also never found a Canadian, AFP reported.
A spokesman for the armed forces ministry described to AFP what had transpired. Here's what the news agency reported being told:
There was just one man who was a Senegalese national selling cosmetics door to door. During the discussion, a member of the family asked him if he had any vaccines. He jokingly replied that he did. The aunt rounded up the whole neighbourhood. Officers attended and found only cosmetic products in the man's bag. The drama was caused by the fact he was wearing a health ministry t-shirt.
But by the time this truth was revealed, the fake story involving seven dead children had already circled the globe.