STORY UPDATED: check for updates below.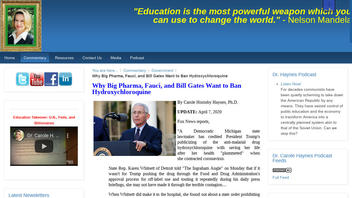 Do Big Pharma, Dr. Anthony Fauci and Bill Gates want to ban hydroxychoroquine? No, that's not true: In fact, not only is the drug not banned -- the federal government is actually conducting clinical trials right now to determine if hydroxychloroquine is effective in treating COVID-19.
The claim surfaced in an article (archived here) on the website of Carole Hornsby Haynes, who is not a medical doctor, originally published on April 3, 2020. The original story published on April 3 opened:
A malarial drug, hydroxychloroquine, is being used to treat COVID-19 worldwide with phenomenal success. Yet in America, it has been banned by governors and its effectiveness denied by Dr. Anthony Fauci and Big Pharma.
Later in the piece, it reads:
Certainly the U.N.'s World Health Organization, Big Pharma, Bill Gates, Dr. Fauci, and the world global medical complex that manipulate world health for power and profit will try to stop the use of a generic low cost drug for fast treatment of COVID-19. Their solutions are quarantine, vaccines, and new drugs. WHO has praised China and South Korea for their draconian quarantine measures yet ignore their use of chloroquine as an effective treatment for coronavirus.
To understand Haynes' approach to this issue, consider that she characterizes Fauci, Gates and Big Pharma as "New World Order" proponents on a mission to force vaccinations on the global community. Haynes, whose site says she has a doctorate in professional education from Memphis University, claims Dr. Anthony Fauci, director of the National Institute of Allergy and Infectious Diseases, has denied the effectiveness of hydroxychloroquinine as a treatment for COVID-19.
But Dr. Fauci has simply offered a scientific perspective -- saying there is no definitive proof right now that the drug is effective, and he has called for more testing. He told CNBC that Americans should not assume the drug is a "knockout" to prevent or treat COVID-19.
But President Donald Trump has spent weeks essentially promoting the drug as just that -- a potential cure or blockbuster treatment for the deadly virus.
As for Bill Gates -- his foundation is collaborating on a clinical study that will use the drug as part of a protocol to prevent COVID-19, in adults exposed to the virus that causes it.
Haynes claims that hydroxychloroquine has been banned by governors in the U.S., despite it being a "phenomenal" success around the world. But no state has banned the drug. Claims that it was banned by Michigan, New York and Nevada have been previously debunked by PolitiFact.
Facebook posts making such claims include this one about New York:
This claim that "Deep State director" Anthony Fauci and his co-conspirators are in cahoots to ban the use of hydroxychloroquine is simply not supported by any evidence.
(Editors' Note: Since this story was first published, the Food and Drug Administration has issued strong warnings against the use of chloroquine and hydrochloroquine after poisonings and even death from the drugs. On April 24, CNBC reported:
The Food and Drug Administration warned consumers Friday against taking malaria drugs chloroquine and hydroxychloroquine to treat Covid-19 outside a hospital or formal clinical trial setting after deaths and poisonings were reported.

The agency said patients taking the drugs for approved reasons, including malaria or to treat autoimmune conditions like lupus, should continue taking their medicine as prescribed.

The agency also said it became aware of reports of "serious heart rhythm problems" in patients with the virus who were treated with the malaria drugs, often in combination with antibiotic azithromycin, commonly known as a Z-Pak. It also warned physicians against prescribing the drugs to treat the coronavirus outside of a hospital.

"Hydroxychloroquine and chloroquine can cause abnormal heart rhythms such as QT interval prolongation and a dangerously rapid heart rate called ventricular tachycardia," the agency wrote in the notice. "We will continue to investigate risks associated with the use of hydroxychloroquine and chloroquine for COVID-19 and communicate publicly when we have more information.")
2020-04-24T22:19:02Z

2020-04-24T22:19:02Z

Updates story with warnings from the Food and Drug Administration about the dangers of chloroquine and hydroxychloroquine.