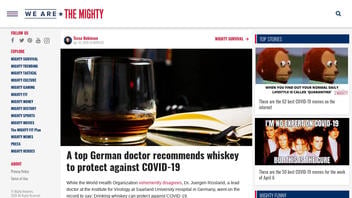 Did German virologist Jürgen Rissland seriously recommend drinking whiskey as protection against COVID-19? No, that's not true: A TV segment from German public broadcaster SWR did show Rissland jokingly making remarks about drinking whiskey and saying high-grade alcohol destroys the fatty outer layer of the virus. But later in the segment, he clarifies drinking alcohol obviously is not a panacea, and it would be impractical -- and dangerous -- to drink enough of it to get any sort of protection out of it.
The erroneous claim that he seriously made the recommendation went viral on several sites, including in an article published by We Are The Mighty on April 9, 2020, titled "A top German doctor recommends whiskey to protect against COVID-19" (archived here), which opened:
While the World Health Organization vehemently disagrees, Dr. Juergen Rissland, a lead doctor at the Institute for Virology at Saarland University Hospital in Germany, went on the record to say: Drinking whiskey can protect against COVID-19.

And that is definitely one report we can all get behind.

While appearing on "The Morning Show," Dr. Rissland was asked about whether or not drinking alcohol could kill any viruses a person may have ingested. "Yes, of course, that's true," Dr. Rissland responded. "And the higher the percentage of alcohol, the better it is. For example, if you are a whisky lover, then that certainly isn't a bad idea," he continued, while offering this bit of sage advice to pace yourself: "But of course you need to bear in mind that you can't do that every 15 minutes, that is something else to consider."
Indeed, as the article pointed out, the World Health Organization does not agree. They posted following advice on their site: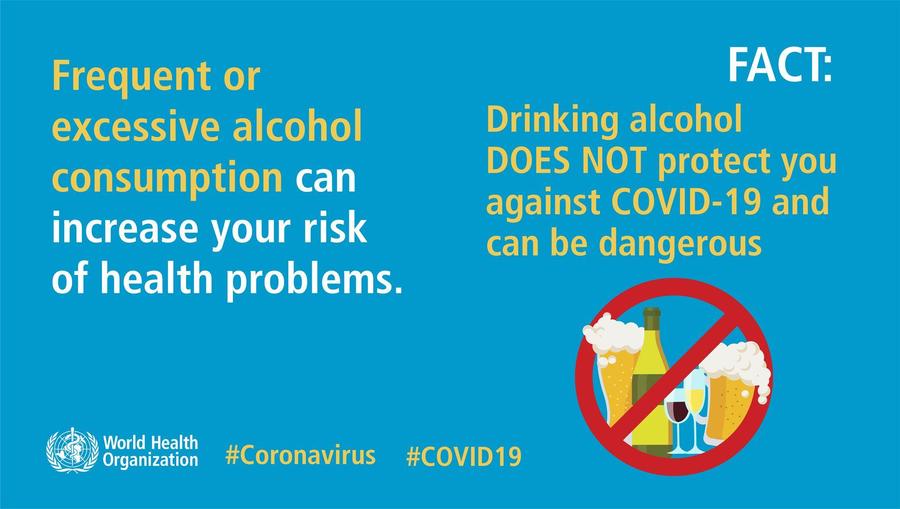 However, the article at We Are The Mighty also claimed, "Dr. Rissland didn't back down or attempt to clarify his remarks." That is definitely not the case.
Here is a video of the interview where he made the remarks, which was aired by German public broadcaster SWR on March 23, 2020, in an extra edition of their show "Rundum Gesund":
Here is a rough translation:
Presenter: "If I drink something every 15 minutes, I will wash all viruses down my throat, maybe even with an alcoholic beverage because they don't like that?"

Dr. Rissland: "Yes, of course that is correct, and the higher proof the alcohol is, the better it is. So if you are, for example, a whiskey-lover, then that is not a bad method at all. But of course it is obvious you can't do that every 15 minutes. On the other hand, with drinking in general, it isn't so much if you do it every quarter of an hour - but that you drink enough during the day, you know, you should drink between 1 and 2 litres per day, that is very sensible."

Presenter (laughing): "Did you just really recommend to our viewers to drink high-proof alcohol against corona?"

Dr. Rissland (also laughing): "I would like to say it can't hurt, but in the end, it is definitely not a panacea. For God's sake, you shouldn't get me wrong here. I just wanted to make the point that the virus is vulnerable to high-proof alcohol, because it has an outer layer made of fat, and high proof alcohol destroys the virus. And one would need to drink quite a lot to get any sort of protection from infection."

Presenter: "OK, so it wouldn't make sense. I might get rid of corona but I probably would end up with a destroyed liver."

Dr. Rissland: "Indeed."
(Emphasis added for clarity by Lead Stories)
To Lead Stories, the phrases "definitely not a panacea" and "you shouldn't get me wrong here" do sound like backing down and attempting to clarify. And it also appears Rissland's remarks about drinking every 15 minutes were about drinking enough water in general during the day - not about drinking alcohol every 15 minutes.