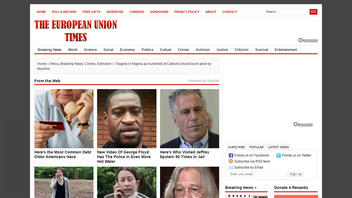 Does a gruesome photograph featuring rows of scorched bodies serve as evidence that Boko Haram militants in Nigeria massacred hundreds of Christians? No, that's not true: While the militant Islamic group operating out of Nigeria is guilty of plenty of atrocities, this image has nothing to do with Boko Haram, Muslims or religion in general. The hard-to-look-at photograph actually depicts people who were killed in a horrific oil tanker explosion in July 2010 in the Democratic Republic of the Congo.
The claim that this image was evidence of Muslim violence against Christians has circulated on social media and appeared in articles like this one (archived here) which was published by The European Union Times on January 3, 2013, under the title "Tragedy in Nigeria as Hundreds of Catholics found burnt alive by Muslims". It opened:
This is a brutal example of how far the struggle between Muslims and Catholics in Nigeria has reached.




Muslims are determined to impose their 'religion' all over Africa as well as in other continents and countries of the world. Islam has but one goal: rule the world at any cost!"
The truth behind this image was uncovered by Africa Check in a July 3, 2014, story titled, "Boko Haram 'massacre' image fake." Fact-checkers there culled news footage and images to find that fit-to-print versions of the image -- the bodies are covered by blankets or are in what appears to be body bags -- accompanied stories of an overturned fuel tanker that exploded, killing at least 230 people, including many who'd gathered in a bar to watch a World Cup soccer match. The background, including the distinctive building and uniforms of emergency personnel, matched up with the image that's gone viral.
While news media used the less graphic versions of the photo, the one showing charred corpses leaked and became fodder for social media disinformation.
It's been used to blame more than Boko Haram for atrocities. In this blog post, for example, the image is said to depict the plight and burned bodies of Rohingya Muslims in Myanmar.