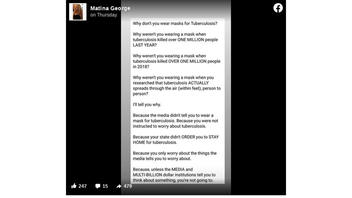 Should you ignore the warnings to wear a mask to protect against COVID-19 since the media and government are not also warning you to wear a mask to protect against tuberculosis? No, that's not true: COVID-19 is far more prevalent and deadly than tuberculosis in the United States. As of this writing, according to the U.S. Centers for Disease Control and Prevention, more than one million cases of COVID-19 have been reported in the United States since January 21, 2020 -- and more than 65,000 people have died. By contrast, using the most recent CDC numbers available, 515 people died from tuberculosis in the U.S., in 2017.
A widely shared meme asked why people have not been wearing face masks to protect against TB, even though it's a deadly disease. One version (archived here) was posted on Facebook on April 30, 2020. It opened with a demand for answers:
Why don't you wear masks for tuberculosis?

Why weren't you wearing a mask when tuberculosis killed over ONE MILLION people last year?

Why weren't you wearing a mask when tuberculosis killed OVER ONE MILLION people in 2018?

Why weren't you wearing a mask when you researched that tuberculosis ACTUALLY spreads through the air (within feet), person to person?

I'll tell you why.

Because the media didn't tell you to wear a mask for tuberculosis. Because you were not instructed to worry about tuberculosis.
This is what the post looked like on Facebook at the time of writing:
Another post takes it further, saying the media and "multi billion dollar institutions" are effectively trying to strip people of their freedoms.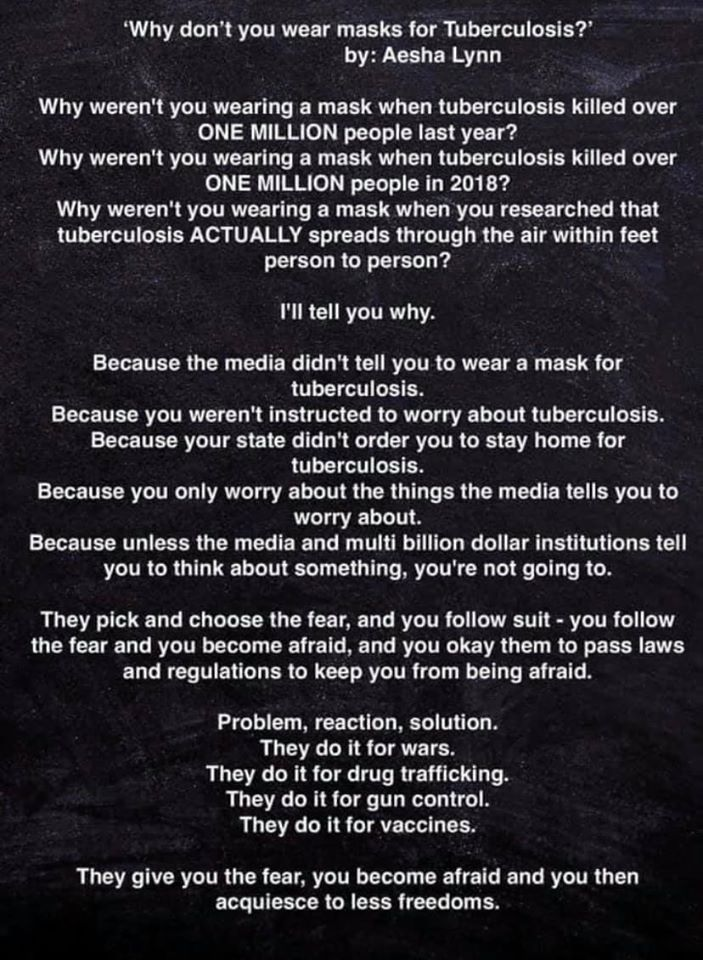 Neither meme makes it clear whether they are talking about U.S. or global numbers. So, we'll take a look at both.
The World Health Organization, indeed, reports that 1.5 million people died from tuberculosis around the world in 2018. And the group does call tuberculosis one of the top 10 causes of death worldwide. The CDC has yet to report 2018 death toll in the U.S. from TB, but cases were at the lowest levels since at least 1953, at 9,025 cases.
With that number of cases, it is impossible to see how one million people could have died in the U.S. from TB that year.
Globally, the WHO also reports that eight countries -- India, China, Indonesia, the Philippines, Pakistan, Nigeria, Bangladesh and South Africa -- accounted for 66% of the new cases in 2018, and the U.S. is not among them. In the U.S., again according to the CDC, there were 9,025 cases of TB in 2018 in this country.
Though the tallies aren't yet finalized for 2019, the CDC says preliminary numbers indicate there were 8,920 cases of TB in the U.S. last year.
Part of the meme is accurate. For example, it is true that both TB and COVID-19 can be spread person-to-person, through respiratory droplets, when an infected person, for example, talks, sneezes or coughs. Thus, the CDC guidance for everyone to wear masks.
But they not the same -- at all. TB is a caused by a bacteria, and COVID-19 is caused by a virus. There are effective drug treatments and a vaccine for TB. Meanwhile, laboratories and doctors around the world are in a desperate push to develop a coronavirus vaccine.
The statistics don't lie: the coronavirus is a much more deadly threat now than tuberculosis in the U.S., and this is particularly clear when you look at the numbers of TB cases for an entire year and compare them against COVID-19 cases for a matter of a few months.
Worldwide, there have been at least 239,350 coronavirus-related deaths since the outbreak in December 2019. The U.S. has the highest toll with at least 65,711 deaths.
In fact, COVID-19, the disease caused by the novel coronavirus, kills more people in a day in some cities in the U.S. than TB does in an entire year in the entire country.
As for the media, it is unclear which outlets or publications are being attacked here. But nearly all major outlets and publications, from conservative to liberal media, have reported on the seriousness of the crisis now being faced with the coronavirus.
The media is simply reporting the news, which includes CDC guidance -- not trying to manipulate or trick people -- when they advise the use of face masks during this pandemic.