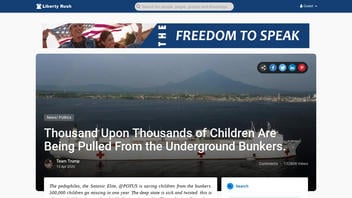 Have thousands of children been pulled from secret pedophile bunkers and underground cities in a massive rescue operation led by President Trump and Russian President Putin? No, that's not true: It is a false conspiracy theory unsupported by reality and similar to another Lead Stories previously disproved. The claims were made in a video recorded by a Canadian who also recently called U.S. Vice President Mike Pence "a monster" in a post where he shared another video accusing Pence of kidnapping, raping, and murdering dozens of children.
The video titled "NYC children freed underground tunnels Operation Mercy and Comfort" was posted on YouTube and is embedded in an article (archived here) published on April 11, 2020, under the title "Thousands Upon Thousands of Children Are Being Pulled From The Underground Bunker." The article opened:
The pedophiles, the Satanic Elite, @POTUS is saving children from the bunkers. 500,000 children go missing in one year. The deep state is sick and twisted. this is about to be Mainstream, but the Media is quiet on this. The media is talking about other things, but not nip in the bud.
In the video, Kevin Dunn sat in his car, smoking cigarettes and ranting nonsensical conspiracy myths that included the claim that President Trump has teamed with President Putin. The U.S. and Russian militaries were "taking out the head" of an octopus-like organization of satanic pedophiles that has ruled the world for three generations. He said the "Deep State" group includes Microsoft co-founder Bill Gates, 5G wireless companies, Lindsay Lohan and 200 other Hollywood actors and actresses, and former Canadian Prime Minister Stephen Harper. These are people who believe vaccines are safe and climate change is real, he said.
"We will have generations of prosecutions coming up," Dunn said. "All is going to be revealed. I can speak now because it won't endanger the operation." He alludes to the "hanging of Obama."
There could be up to 5 million children freed from the underground tunnels, he said. Already, 2,100 were rescued in March or April in New York City, he said. "The children are being released as we speak, you're going to have thousands of nurses telling the story," Dunn said. He predicted photographs of the rescues would become public by Easter. But Dunn continues to promise that photos of caged children are about to come out. "It's going to break your hearts when you see all of these child victims." No images have been released.
He added, "A lot of you are going to lose your minds cuz everything has been subverted, your government, your education, your medical mafia, everything."
The COVID-19 pandemic has just been a cover for the operation, Dunn suggested. Countries were in lockdown so the rescue operation could happen, he said.
Dunn refers to an incident involving actress Lindsay Lohan, which he said showed her kidnapping a child. "Lindsay Lohan was caught trying to abduct a child," Dunn says. But a video merely shows the actress appearing to be impaired and trying to take a homeless refugee family back to her hotel room. The 33-year-old actress has been developing a series of nightclubs and resorts in Greece since 2016. The October 2018 incident Dunn refers to has Lohan accusing a homeless couple of trafficking their children. The Washington Post reports that it ended, apparently, with Lohan getting hit in the face by the mother who may have mistaken her for an abductor.
Dunn says, "In the future, movies will be interesting ... you will go to a movie and you will learn something, because all the Satanic pedophile actors and actresses are going down. I don't want to go into the adrenochrome - that's all going to come out."
Dunn's reference to adrenochrome is about what Spinoff.com calls "the drug that doesn't exist":
Adrenochrome is a drug for the liberal elite of Hollywood made from actual human brain stem containing hormones from the adrenal gland. Hillary Clinton (allegedly) manufactures this drug by (allegedly) torturing children in a pizza shop (if you order a cheese pizza that's code). Tom Hanks is (yes, allegedly) addicted to Adrenochrome and he caught Covid-19 from the latest batch of tainted Adrenochrome that came through Celine Dion who is a high priestess from the Church of Satan.
One conspiracy theory around COVID-19 is that celebrities catch the virus from ingesting the blood of children along with hormones from young adrenal glands. That would supposedly explain one reason for kidnapping the kids.
An article about kids held underground, published in BeforeItsNews.com, also describes in vivid terms the condition of children allegedly used for adrenochrome ceremonies:
Traumatized children, some of whom have never seen the light of day, pregnant preteens, deformed babies, piles of little corpses whose bodies were apparently used for organ harvesting, children locked in cages, electro-shocked and traumatized in order to harvest their blood - Adrenochrome for the elites to drink - were being carried out of the tunnels by Marines.
Read our debunk of that myth here: Fact Check: Lady Gaga Did NOT Participate In 'Vile, Sickening' Blood Drinking Ritual Pertaining To 'Adrenochrome And Spirit Cooking'
Dunn supports his claim that millions will be freed from their cages based on his belief that 500,000 Americans disappear each year. The FBI's National Crime Information Center states that the 2019 end-of-year missing persons statistics count 87,500 active missing and unidentified persons, with youths under 18 accounting for 30,625, and those under 21 accounting for 38,500. Moreover, the FBI website states, "If a child runs away multiple times in a year, each time is counted as a separate missing child case. That impacts the yearly total."
The Canadian total of missing child reports is 40,425 for last year, according to the Missing Children Society of Canada. But of those, according to the RCMP, only 115 are "stranger abduction" cases each year, which means the child was taken by an unknown person. The rest comprise parental abduction in custody cases, familial abductions and runaways.
Timothy Holmseth is another conspiracy theorist who posted about rescuing thousands of children from tunnels in New York on April 25, 2020. He wrote:
"Top CEOs of companies. Your royal families, your politicians, your famous music artists, your favorite Hollywood heroes are the predators... Because the people that are responsible for these atrocities are people we vote to put in power, people we idolize in the movie or music industry."
Dunn's claim about the rescued children, like Holmseth's, comes with no photographic proof, gives no names of rescuing officers or how many were deployed, doesn't specify how many bunkers were raided in which cities, and doesn't give the names of the guilty or the numbers of arrests.
Lead Stories debunked those previous allegations of rescues from underground locations in an article titled Fact Check: Military Did NOT Rescue Over 35,000 'Malnourished, Caged Children' Out of US Tunnels.
Whenever you see a story online about children being rescued from some vile and evil conspiracy, here are some questions you should be asking yourself:
Who is publishing the claim?
Is a specific time and location given?
Is there photographic or video evidence?
Are the victims and rescuers named?
Is there any official confirmation?
If there really was a "secret operation", what would that imply?
How does this particular story stack up against these questions?
Author
The author is neither a member of law enforcement in the USA nor an eye witness to the event he is purporting to be actual. He has no firsthand knowledge of any rescues in New York City. He ran for elected office (and lost) in Alberta, Canada in 2019. He acknowledges that his wife thinks he's "nuts."
If you check his Facebook timeline, you'll find a post in which he accuses Vice President Mike Pence of raping and murdering dozens of children.
Mike Pence will not be the next vice president. He will be put down like the monster he is. His wife too.

Posted by Kevin Dunn on Friday, May 1, 2020
Time and location
Dunn repeats previously debunked rumors about a New York City raid that purportedly freed thousands of children from tunnels. Media outlets in NYC have no reports of rescues. Dunn doesn't give locations, dates or times, although his video surfaced in April. He said the operation would be concluded in two weeks.
Photographic, video evidence
There is no photographic, video or audio evidence of any rescues. This rumor travels solely by word of mouth.
Names Available
Victims and rescuers are never named, and numbers of victims and rescuers are not given. There is no record of numbers of arrests or names of those arrested for pedophilia and kidnapping.
Official confirmation
Dunn does not offer the type of law enforcement or military branch involved in the rescue. By avoiding that information, he makes it impossible for anyone to confirm or deny the rescue rumor.
What if this was a secret operation?
What if all the missing information and lack of details can be explained away because of operational security reasons and the need for secrecy? In that case there are several more things to consider:
How difficult would it be to keep an operation this size a secret? Impossible. Law enforcement has to notify Child Protective Services in a case like this.
How likely is it nothing would leak?

He said "thousands of nurses" were involved. It would not be reasonable to believe none of them have leaked it.
Don't most soldiers, cops, paramedics etc.have helmet cams, body cams or cellphones these days?
Why don't the victims step forward? Or their parents?
Why do we never hear about the perpetrators who have been killed/arrested? Wouldn't people notice if they went missing?

How likely is it a huge organization with top-notch security and an incredible ability to keep secrets would choose to use Dunn to spill or leak all the details?
Why can't such an organization set up their own YouTube channel or WordPress blog if they want to communicate with the world?