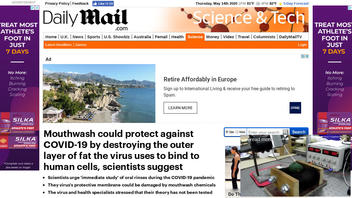 Does research prove that commercial mouthwash could protect against COVID-19? No, that's not true: the effectiveness of gargling with mouthwash on killing the novel coronavirus is "under researched," according to British scientists who suggest it should be explored as a COVID-19 preventative. Headlines on stories reporting about their analysis may lead readers to think "could protect" means "does protect," but doctors don't yet know if it does.
The story appeared first in the journal Function, published by Oxford University Press, and then was reported in an article (archived here) on The Daily Mail site, published on May 14, 2020, under the title: "Mouthwash could protect against COVID-19 by destroying the outer layer of fat the virus uses to bind to human cells, scientists suggest." It opened:
Mouthwash has the potential to protect against COVID-19 infection by killing the coronavirus before it can infect human cells, according to a new report.

Coronaviruses belong to the class of 'enveloped viruses,' meaning they are covered by a fatty layer that is vulnerable to certain chemicals.

A team of international researchers say mouthwash could destroy the outermost layer or 'envelope' of the virus, preventing its replication in the mouth and throat.

The scientists say there is an urgent need to test the effectiveness of mouthwash in trials, although there is currently no clinical evidence that it would be successful.
The scientists said previous research on "enveloped" viruses -- including coronaviruses -- backs their suspicion that mouthwash could help stop the spread of COVID-19. They reviewed widely available mouthwash components, including ethanol, chlorhexidine, cetylpyridinium, hydrogen peroxide and povidone-iodine, to see if they could destroy the lipid "envelope" of the coronavirus, and stop it from replicating. They also researched whether existing mouthwash formulations would do the same thing. Their conclusion: Several mouthwashes "deserve clinical evaluation," but there "many questions":
Many questions need to be addressed in relation to whether oral hygiene could represent a viable approach to dampen transmission of SARS-CoV-2, and research is required to address this.
While there should be no harm in regular gargling, you should not depend on it to protect you from COVID-19. The World Health Organization says there is no evidence that using mouthwash will protect anyone from spreading the coronavirus.
The bottom line -- as even the scientists who are pushing for research admit -- there's no proof that mouthwash will work to kill the coronavirus, and more study is needed.