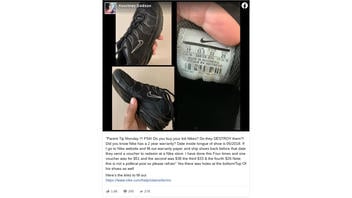 Does a Nike warranty allow customers to return worn shoes within two years? Yes, but there is a catch: A post that has gone viral gives secret tips about how to return worn Nike children's shoes and seems to be backed up by the shoe giant's own warranty policy but with a specific caveat -- the company says the shoes may be returned for a refund only if they "develop a material or workmanship flaw" and not just regular wear and tear by active children.
The claim went viral as a post (archived here) where it was published by Facebook on May 4, 2020, under the title "Parent Tip Monday !!! PSA!" It opened:

"Parent Tip Monday !!! PSA! Do you buy your kid Nikes? Do they DESTROY them?! Did you know Nike has a 2 year warranty? Date inside tongue of shoe is 05/2018. If I go to Nike website and fill out warranty paper and ship shoes back before that date they send a voucher to redeem at a Nike store. I have done this Four times and one voucher was for $51 and the second was $38 the third $33 & the fourth $26 Note: this is not a political post so please refrain" Yes there was holes at the bottom/Top Of his shoes as well
This is what the post looked like on Facebook at the time of writing:
This claim about the warranty policy from Nike, the world's largest footwear manufacturer, is partially true.
Many happy shoppers responded to the message about the Nike return policy hack, which raked up an enormous 27,000 shares on Facebook within one day of posting.
The return hack was also posted here, and raked up 8,800 shares and also here, where it earned 15,000 shares.
Nike confirmed its return policy to LeadStories that is detailed on the corporate website, noting that for 30 days after purchase shoes can be returned "for any reason."
The company's warranty does allow customers to return purchased shoes within two years -- if they "develop a material or workmanship flaw." It does not specifically say "children's shoes."

DO NIKE SHOES HAVE A WARRANTY?
We stand behind all of our shoes and gear. If your Nike shoes or apparel develop a material or workmanship flaw within two years of the manufacture date, we want to get you back in the game.
According to the Facebook post, the shoes can be returned before two years of purchase based on the date on the inside of the tongue of the shoe.
But the Nike warranty qualifies that, saying if its item has "developed a flaw" within two years after purchase it can be returned. The company famous for its slogan "Just Do It" explains its broader 30-day return policy:
If you believe your item is flawed, and it's within 30 days of your purchase, you may simply return it to us for a full refund. Remember, you may return Nike purchases for any reason, worn or not, for up to 30 days. For Nike.com purchases, please see "How do I return my Nike.com order?" for your return options (and if you want to try to exchange the item, you'll need to give us a call). For Nike store purchases, you'll want to take your item back to the store you bought it from.

The link provided on the Facebook page is the same one Nike links to on their corporate website for returns https://www.nike.com/help/claims/terms.

Many commenters noted on the Facebook page that they have been returning worn shoes for years.

"Been doing this for years."
"This is definitely true, I never had to pay since all my problems with the shoes were defects."
Here is a YouTube video describing Nike's "fairly generous return policy" that was posted in 2017.
The Facebook post claims they received vouchers for decreasing amounts when they sent the shoes back.
I have done this Four times and one voucher was for $51 and the second was $38 the third $33 & the fourth $26."
The Nike website does not specify an amount that will be refunded but notes it will be the same as the purchase price.
If your product is deemed to have a material or manufacturing flaw, you will receive a Product Voucher for the amount you paid for that product."