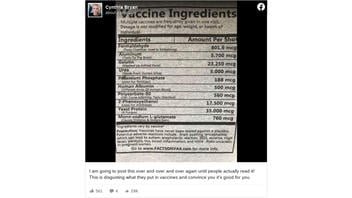 Are vaccines made of dangerous levels of formaldehyde, aluminum and other substances that are toxic to the brain and threaten to cause infertility, diabetes and more? No, that's not true: the levels of those ingredients are minute and new vaccines are tested on animals and humans, including comparing them to placebos, to prove their safety before they are approved for use.
An old anti-vaxxer meme circulating on social media presents what appears to be a horrifying mix of ingredients. The meme appears in posts like this one on Facebook (archived here), published on April 26, 2019, under the title "Vaccine Ingredients." It opened with these words:
Multiple vaccines are frequently given in one visit. Dosage is not modified for age, weight, or health of individual.

Ingredients Amount Per Shot

Formaldehyde 801.6 mcg
(Toxix-Chemical, Used In Embalming)

Aluminum 5.700 mcg
(Toxix To The Brain)
The meme went on to list other substances and concluded:
Precaution: Vaccines have never been tested against a placebo. Potential adverse reactions include: brain swelling (encephalitis) which can lead to autism; anaphylactic reaction, SIDS, eczema, High fever, paralysis, tics, bowel inflammation, and more. Risks uncertain in pregnant women.
This is what the post looked like on Facebook at the time of writing:
It is true that multiple vaccines are often given in one doctor's visit because they safely can be, according to the Centers for Disease Control and Prevention. It is also true that vaccine doses are not modified according to age, weight or health because clinical trials purposefully include all sorts of people to ensure safety and effectiveness across the board.
The way in which the "ingredients" are described in this meme would scare anyone. Gelatin, for example, is "Mashed Up Animal Parts." Formaldehyde is "Toxix Chemical, Used in Embalming." And urea is "Waste from Human Urine."
Lead Stories reached out to L.J. Tan, chief strategy officer for the Immunization Action Coalition, to help us dissect and understand this meme. The Immunization Action Coalition, according to its website, is a nonprofit organization that works with the CDC:
to increase immunization rates and prevent disease by creating and distributing educational materials for healthcare professionals and the public that enhance the delivery of safe and effective immunization services. The Coalition also facilitates communication about the safety, efficacy, and use of vaccines within the broad immunization community of patients, parents, healthcare organizations, and government health agencies."
Tan, the former director of medicine and public health at the American Medical Association, holds a Ph.D. in microbiology and immunology and has spoken around the globe on topics "ranging from vaccine financing to risk management in vaccine safety to emerging infectious diseases," according to his bio, which outlines plenty of additional credentials. In a few short words: Tan knows vaccines.
What he doesn't know is where the originator of this meme got his or her information. The meme tells people to go to www.FACTSONVAX.com for more information, but that website does not exist. And the descriptions of the ingredients are questionable, including the fact that yeast protein is dubbed "A Fungus," which "actually it's not," Tan laughed.
Tan guessed that the ingredients on this list were plucked from various vaccines a child might get before age 2 and, when lumped together, they "sound awful." But they don't all exist in all vaccines, nor are they all present in any one vaccine, he said. And this list lacks context and includes quantities that are, in fact, miniscule.
"Those numbers are micrograms. They're not even milligrams," he said. "They're really small numbers." [One microgram or mcg, by the way, is equal to one-thousandth, or 0.001, of a milligram or mg.]
Many of these same ingredients, Tan added, show up in the water we drink, food we eat and everyday products we use like hand lotion. If we don't have anything to compare it to, 801.6 mcg of formaldehyde sounds terrifying.
The truth about formaldehyde, according to ChemicalSafetyFacts.org, is this: It is "a simple chemical compound made of hydrogen, oxygen and carbon. All life forms - bacteria, plants, fish, animals and humans - naturally produce formaldehyde as part of cell metabolism."
Tan directed us to further details provided by the Vaccine Education Center at the Children's Hospital of Philadelphia. On a page dedicated to formaldehyde, the center states that the quantity of formaldehyde in a 2-month-old infant's blood is "about 1,500 times more than the amount an infant would be exposed to in any individual vaccine." Also included as proof of formaldehyde's safety in vaccines is this: "Quantities of formaldehyde at least 600 times greater than the amount contained in vaccines have been fed safely to animals in drinking water."
As another example, let's look at aluminum, which Tan said exists in breast milk and, even more so, in baby formula. In the first six months of life, he said, a breastfeeding baby ingests about seven milligrams -- or 7,000 mcg -- of aluminum, far more than what a baby would get in a vaccine. Then there's yeast protein: a slice of bread has 5.9 grams of protein, or 5,900,000 mcg, which dwarfs the amount in a vaccine.
Understanding that the amounts are unncessarily frightening in the meme, we then asked Tan to tell us why vaccines would need any of these ingredients in the first place. He explained that ingredients like those listed in the meme are used to help preserve and stabilize vaccines. Gelatin, for example, "stabilizes the vaccine components so they don't deteriorate and break down in storage and handling," he said. Urea, a human protein, is an emulsifier, Tan said, to help bring and "hold things together." Aluminum, Tan said, is an adjuvant that works to "improve the immune response" in individuals receiving the vaccine.
The CDC adds that adjuvants (substances to enhance the body's immune response) including "aluminum salts, such as aluminum hydroxide, aluminum phosphate, and aluminum potassium sulfate," have been safely used for decades and "help vaccines work better."
Without getting into each ingredient on the meme, Tan's point was that every component in a vaccine is intentional and necessary. The ingredients in a vaccine are all there when a vaccine goes through rigorous testing and phases of trials before it gets approved. Clinical trials, it's also worth noting, include 80,000 subjects covering a broad spectrum of the population -- which shoots down the meme's warning that vaccine dosages are "not modified for age, weight, or health of individual," Tan explained.
"That's true of most pharmaceutical products," he said, pointing to Extra-Strength Tylenol as an example. It doesn't matter if you're 25 years old and 120 pounds or 80 years old and 250 pounds. If you have a headache and you're an adult, you take two pills and don't question the dosage.
That's only possible, Tan said, thanks to the high standards required for safety and effectiveness.
As for the warnings at the bottom of the meme, Tan had this to say about the fact that vaccines are not "tested against a placebo." Placebos are inert substances -- saline injections would be one example -- randomly used in studying test vaccine effects on a group of subjects. For vaccines that are known to work and are being improved upon, a placebo is not necessary, nor is it ethical, Tan said. "You cannot not give the vaccine to somebody because it will save their lives," he said. An awaited COVID-19 vaccine, on the other hand, will be tested against a placebo vaccine because it's new, Tan continued.
Lastly, the list of potential adverse reactions on the meme -- including brain swelling, autism and paralysis -- are "cherry-picked," Tan said, from the inserts in vaccine packages to protect manufacturers against liability. Think of it like the end of television commericals for a drug on the market, in which the voiceover actor rattles off all the possible things that could possibly go wrong -- no matter how far-fetched or unlikely those outcomes would be.
Responding to memes like this one is an ongoing battle for experts like Tan, a frustrating distraction in their work to save lives.
"We now live in an environment where real news is branded as fake news, and fake news is somehow legitimized," he said. "And the fact-checking standards of the average American has really gone to nothing."
It's for that reason that he encourages people to do their due diligence before blindly sharing a post on social media. Often memes like this one about vaccine ingredients get shared "in echo chambers" among like-minded individuals, he said, but for people who are willing to think before sharing, he encourages them to do some research and visit websites like the Vaccine Education Center, the CDC or his organization, the Immunization Action Coalition.
This meme, by the way, is not a new one. It's been around long enough to be made into a T-shirt. And other fact-checking outlets, including this one from Reuters, have debunked aspects of it, too.