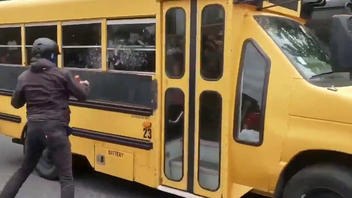 Did anti-fascist activists linked to the Black Lives Matter movement attack and smash the windows of a bus for "mentally disabled kids?" No, that's not true: The video shows left-wing protesters chasing and hitting a bus carrying right-wing activists who were fleeing after a confrontation in Portland, Oregon, in the summer of 2019. "Demonstrators dressed in black and masking their faces hurled mayonnaise and smashed windows of at least one shuttle bus carrying right-wing activists," according to The Oregonian/OregonLive. There were no children involved.

The claim appeared in a video clip posted on YouTube (archived here), on June 27, 2020, and was titled "Antifa Attack Short Bus for Mentally Disabled Kids." The post opened:
The mentally disabled attacking a bus for the mentally disabled. #BLM and #Antifa are truly doing the lord's work.
Click below to watch the video on YouTube:
This video shows a scene that was shot and published by The Oregonian on August 17, 2019. What transpired in Portland that day was a scheduled rally organized by members of the Proud Boys, a far-right neo-fascist group, that was overwhelmed by counterprotesters. The clash was described in an article titled, "Portland protests: 13 arrested as police declare civil disturbance." This is how that article began:
Right-wing activists and those protesting their presence converged Saturday on Portland's downtown waterfront in a much-anticipated confrontation that captivated a nation inflamed by rising division and resentment, with even President Donald Trump entering the fray.
The Oregonian video, showing the same incident and same participants from a different vantage point, was published on YouTube with this title, "Group of protesters bust window of bus said to be carrying Proud Boys." The video included a slate over the footage specifying where and when the scene unfolded:
Portland Protests -- August 17, 2019
SW Harvey Milk St. and Natio Pkwy
And the post opened with these words:
Most of Portland was left unscathed after rival protesters converged on the city's waterfront in a tense but relatively uneventful face-off.
The video published the day of the actual incident 10 months ago can be seen here: