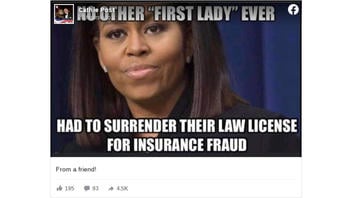 Did Michelle Obama have to surrender her law license because of insurance fraud? No, that's not true: The former first lady's law license is valid, she's never been subjected to disciplinary action and she's on "voluntary inactive status," a spokesperson for the Attorney Registration & Disciplinary Commission (ARDC) of the Supreme Court of Illinois told Lead Stories.
The claim that she had to surrender her law license has appeared in a meme shared on social media in posts like this one (archived here), which was published on Facebook on June 29, 2020 under the title "From a friend!" The meme, featuring an image of the former first lady, included this language:
NO OTHER "FIRST LADY" EVER HAD TO SURRENDER THEIR LAW LICENSE FOR INSURANCE FRAUD
This is what the post looked like on Facebook at the time of writing:
The meme cited no source and gave no information beyond the 14-word false claim.
A search on the Illinois ARDC website, found by going to the "Lawyer Search" prompt and typing in the Obama name, shows that Michelle Obama, formerly Michelle Lavaughn Robinson, was admitted as a lawyer on May 12,1989. She last registered in 1993, and her current status reads: "Voluntarily inactive and not authorized to practice law." The record also shows that there is neither a "public record of discipline" or "pending proceedings" attached to her name.
Lead Stories reached out to Illinois ARDC to confirm Obama's status and received this written statement from Steve Splitt, a spokesperson for the organization:
Michelle Obama holds valid law license in Illinois. She has never been disciplined or the subject of a disciplinary proceeding in Illinois, and she was never required to "surrender" her law license. Ms. Obama is currently on voluntary inactive status as an Illinois lawyer.
She's not the only Obama whose status as a lawyer has been saddled with misinformation. A bogus claim that former President Barack Obama "surrendered his license back in 2008 in order to escape charges he lied on his bar application" has also made the rounds and been refuted according to his record on the Illinois ARDC website and a report from Reuters Fact Check.