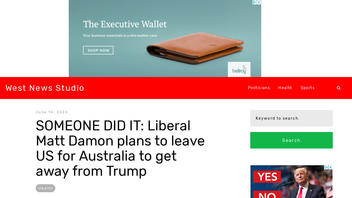 ---
Is actor Matt Damon planning to leave the United States for Australia to get away from Donald Trump? No, he's not: That's a two-year-old rumor that has been debunked but still keeps circulating. His spokesman denied Damon was moving in 2018.
The old claim reappeared as an article published by West News Studio on June 14, 2020, (archived here) with the heading "Someone Did It: Liberal Matt Damon plans to leave US for Australia to get away from Trump". It opened:
"Drum roll, please... The first celebrity in Trump's America to go away [sic] the states is ... Matt Damon.
Damon is reportedly packing up his family and heading to Australia because he's had enough of President Donald Trump and his administration.
The 47-year-old actor reportedly purchased a replacement property in Byron Bay, New South Wales, Sydney's Sunday Telegraph reported although the actor is denying this is often thanks to Trump."
Users on social media only saw this title, description and thumbnail:
The story cited a non-existent report from the New York Daily News "Page Six" column as the source:
A friend of the actor told Page Six that Damon has been vocal about his displeasure with Trump's policies which the move will haven't any effect on future projects. "Matt's saying the move won't impact his work - as he will visit wherever his projects are shooting," claimed a source. "He's also telling friends he wants to possess a secure place to boost his kids."
There is no such Page Six report. The most recent reference to Damon in that column was on June 6, 2020, in an article titled Ben Affleck, Matt Damon visit Breonna Taylor memorial with their families. It noted he was in Los Angeles for a tribute to a woman killed by police in Kentucky.
The fake news of Damon's departure has been popping up mostly on pro-Trump websites that publish conspiracy theories, like FALSHPOST.
Two years ago, Snopes.com reported that this rumor was swiftly debunked by the actor's representative.
The Damon rumor gained traction after it was printed in the March 15, 2018, New York Post gossip section, Page Six. The article included a denial from Damon spokeswoman Jennifer Allen. She told The Associated Press that while Damon had visited Australia a lot recently, he had not bought a home there. Allen said, "He's not moving out of the U.S."
But the rumor/sound bite was too good not to repeat. On the same day FOX News credited the March 3, 2018, Sydney's Sunday Telegraph with claiming that Damon had purchased property in Bryan Bay, New South Wales, next door to a home owned by Australian actor and co-star Chris Hemsworth.
Damon denied any such purchase.
Nevertheless, under a smiling, attention-getting photo of Damon, the Boston Globe repeated the story in 2018 -- but with one line sniping at the Page Six story:
At least that's what the New York Post is reporting. The problem is, it's not even remotely true, according to Damon's publicist."
Fast forward to March 23, 2020. SCE News used language identical to that of the earliest posts in 2018.
Drum roll, please... The first celebrity in Trump's America to leave the states is ... Matt Damon.
On June 14, 2020, the rumor was back on FALSHPOST American Real Politics web page (flashpost.pro) that reprinted the 2-year-old Damon rumor word-for-word. And just when you think a rumor is tired enough and old enough to die peacefully, here it comes again. Up it popped on June 15, 2020, on yet another web page, uznewswire.
The Damon rumor has been inserted into a number of hijacked South African Facebook accounts by a hacker who goes by the name Dashikashi. The victims' acccounts have been compromised, and they are being added to American political groups: ReOpenOC, Barron Trump, QAnon, FOX News Live, and President Trump Fans. The South African women who are the victims can't get control of their Facebook accounts. Dashikashi posted the same Damon link into at least 10 different groups on June 15 within seconds of each other.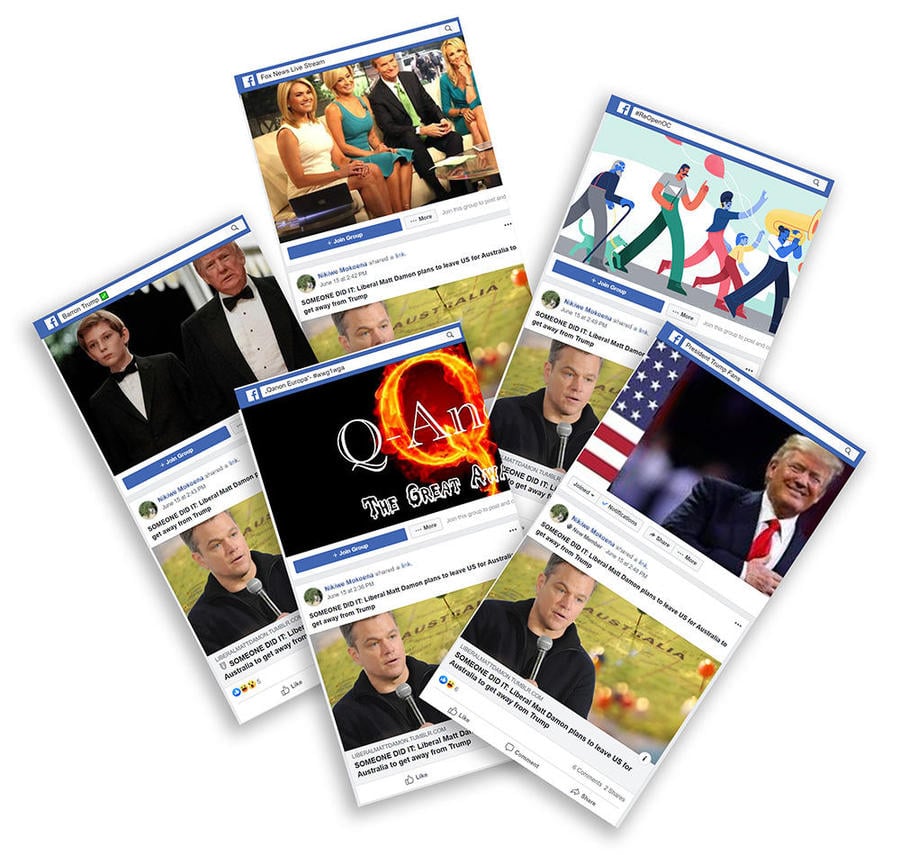 Matt Damon currently resides in Los Angeles, People Magazine reports, at his real home after a month in Ireland, in coronavirus quarantine with his family. The Damons arrived in Ireland in early March to work on Ridley Scott's new movie, "The Last Duel," and waited out the quarantine period there. Damon's wife, Luciana Barroso, and their three younger children were with him in Ireland, and not in Australia.