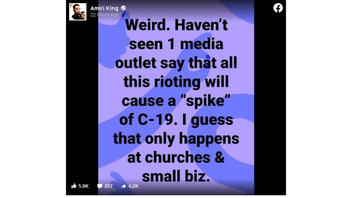 Have no media outlets questioned if all of the protests in the wake of George Floyd's death could cause a spike in COVID-19 cases? No, that's not true: The concern about the lack of social distancing and wearing of face masks has been raised in broadcast and online reporting on the protests that have occurred across the United States starting in the last week of May, 2020.
The claim appeared as a meme (archived here) shared on Facebook on Sunday, May 31, 2020. It read:
Weird. Haven't seen 1 media outlet say that all this rioting will cause a 'spike' of C-19. I guess that only happens at churches & small biz.
This is what the post looked like on Facebook at the time of writing:
(Source: Facebook screenshot taken on Mon Jun 1 16:36:59 2020 UTC)
A web search showed many media references to the potential for these protests to result in a surge of COVID-19 cases. Here are some examples of recent media coverage:
Minnesota Public Radio devoted a four-minute segment to the topic (listen here) on May 28, 2020, titled, "Update on COVID-19 in MN: 967 dead; Floyd protests may drive spread."
The Star Tribune from Minneapolis, in an article titled "Protests could trigger virus surge in Minnesota as deaths hit new high" (here) wrote on May 28, 2020:
Health officials warned Thursday that mass protests over police brutality could exacerbate the spread of COVID-19 in Minnesota and trigger a surge in an outbreak that has had a disproportionate impact on minorities.
Inside Edition on May 29, 2020 (here), "Protesting Crowds Could Pose COVID-19 Surge: Health Officials":
Forbes, in an article titled "Experts Fear Minneapolis Protests Will Trigger Spike In Coronavirus Cases" (here) quoted Minnesota Health Commissioner Jan Malcolm from the Thursday press briefing the following day, on May 29, 2020:
I'm understanding the forecast is for very large protests this weekend, with a lot of people coming in from across the state and around the country and gathering in large groups... That's almost sure to have an impact on furthering spread.
The New York Post also reported (here) on May 29, 2020:
George Floyd protests could spark coronavirus surge in Minnesota
NBC published an article with video titled, "Protests could cause catastrophic setback for controlling coronavirus, experts say" (here) on May 31, 2020. It included this quote from the mayor of Atlanta:
The Wall Street Journal on May 31, 2020 with video (here):
Protests Over Death of George Floyd Threaten a Jump in Coronavirus Cases
Newsweek on May 31, 2020 (here):
Nearly 1,400 Arrested in Protests, Stoking Fears of Second Coronavirus Wave in U.S
Fox News on June 1, 2020 with video (here):
Health officials worry about second coronavirus wave after George Floyd
Washington Post on June 1, 2020 (here) :
Live updates: Officials warn that protests could set off second wave of coronavirus infections