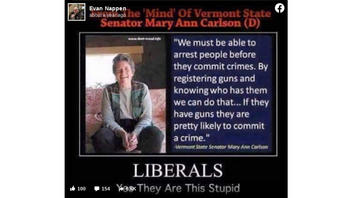 Did former Vermont state Sen. Mary Ann Carlson say that people who have guns "are pretty likely to commit a crime" and they should be arrested "before they commit crimes"? No, that's not true: The quote contradicts confirmed statements from Carlson, who was voted out of office in 1994, and she has denied she ever said it. The quote first appeared in a pro-gun rights blog in 2002 and has been repeatedly debunked by fact-checkers.
This bogus quote has reappeared in a meme (archived here) that was titled, "From The 'Mind' of Vermont State Senator Mary Ann Carlson (D)," and shared on Facebook on May 19, 2019. The meme read:
We must be able to arrest people before they commit crimes. By registering guns and knowing who has them we can do that... If they have guns they are pretty likely to commit a crime.

Vermont State Senator Mary Ann Carlson

LIBERALS
Yes They Are This Stupid
This is what the full post looked like on Facebook at the time of writing:
(Source: Facebook screenshot taken on Sun May 31 15:47:22 2020 UTC)
Carlson, of Arlington, Vermont, served three two-year terms in the the state senate, according to her bio: 1989-1990, 1991-1992 and 1993-1994.
An article in the New Haven Register from January 7, 2013, included reflections from her on the loss of her legislative seat. The piece, titled "Vermont lawmakers eye changes to state gun laws in wake of Newtown shooting," began this way:
State lawmakers plan to challenge Vermont's permissive gun laws in the upcoming legislative session, but any attempt to restrict firearms or ammunition is likely to be met with opposition steeped in a history and culture emanating from before statehood."
Carlson shared how she had "experienced the backlash of Vermont's strong gun culture after introducing legislation in 1994 that would have restricted semi-automatic weapons and required gun registration in Vermont," the newspaper reported. She lost the next election and believed "her bill played a role" in that loss.
"I think probably the NRA came after me," she told the New Haven Register. "There was a bumper sticker out that said, 'guns and ammo yes, Carlson no.'"
The story continued, saying:
Carlson and other sponsors were looking to keep firearms out of the hands of people who should not own them, she said. She still believes that 'many incredible people who have guns use them responsibly' and those responsible gun owners could help create restrictions that would prevent gun violence.

'I wish that the ... people who use guns responsibly would speak out so people who use guns irresponsibly can't just go out and buy a gun and the next day use it,' Carlson said.
But this sort of thinking about "many incredible people who have guns" was in no way reflected in the fake quote being attributed to her. The first time that quote seems to have appeared was on an out-of-date site called "JB's RKBA Cafe" (JB standing for Joe Brower; RKBA being the acronym for Right to Keep and Bear Arms). In a documents archive, Brower offers a link to quotes from "The Enemy." Carlson's fake quote, with no attribution telling readers where Brower got it, appears on the "Quotes from the Enemies of Freedom" list, last revised on June 1, 2002 -- about eight years after she left the senate.
Her supposed words later appeared in a Texas online forum for discussions about firearms in February 2007. A site called The Truth About Guns included it in a July 27, 2014, piece titled, "Seriously, No One Wants to Take Your Guns," in which it lists alleged quotes from people who appear to want to take away people's guns. Carlson's made-up quote then was highlighted in March 2015 on a reddit page for a discussion about firearms. And, along the way, it's made appearances on social media.
According to Snopes, which debunked this quote claim back in March 2015, Carlson had this to say in response to a local political blog in 2003 that debated the truth behind the quote:
I definitely did not say what was quoted. As an advocate for civil liberties I am not out to arrest innocent folks! Several years ago I sponsored a bill in the Vermont legislature to ban certain assault rifles. Previous to that almost 10 years ago I sponsored a bill advocating a seven day waiting period before someone could purchase a hand gun. As a general statement, I am a person opposed to using violence to solve problems. Thank you for letting me know what libelous words were used in my name."
Lead Stories could not independently find this response from Carlson and reached out to her for comment. We did not, however, hear back before publication. If we do get a response, we will be sure to update this story.
That said, even pro-gun advocates in Vermont have acknowledged the quote is fake. A group called Gun Owners of Vermont, described on its website as "Dedicated to a no-compromise position against gun control," confirms that Carlson never uttered these words. In a document titled, "Gun Owners of Vermont: VT Gun Rights in the News," the group calls such claims an "INCORRECT rumor."
The document linked to a truthorfiction.com story about this claim, and shared this description in 2016:
The INCORRECT rumor about former VT Senator Mary Ann Carlson is still making the rounds on the internet.
She DID introduce gun control legislation, she DID make many anti-gun comments, but she DIDN'T say what the meme says..."
In case the meme is taken off Facebook, this is it: