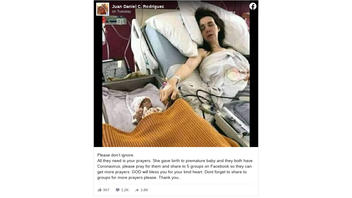 Did a woman give birth to a premature baby and they both have coronavirus? No, that's not true: This photo predates the 2020 coronavirus outbreak. The photo shows a grieving mother holding the hand of one of her premature twin daughters who was stillborn on June 21, 2018. The story of what happened was told in several articles published in late 2018.
The claim appeared as a post (archived here) where it was published by Juan Daniel C. Rodriguez on June 16, 2020. It opened:
Please don't ignore.




All they need is your prayers. She gave birth to premature baby and they both have Coronavirus, please pray for them and share to 5 groups on Facebook so they can get more prayers. GOD will bless you for your kind heart. Dont forget to share to groups for more prayers please. Thank you..
This is what the post looked like on Facebook at the time of writing:
(Source: Facebook screenshot taken on Fri Jun 19 15:35:06 2020 UTC)
A reverse image search for the photo brought up many results as this story was featured by many publications in late November and early December of 2018. The Sun wrote an article (here)(archived here) titled, "AGONISING GOODBYE I spent 14 days with my dead baby girl - and even took her for walks in the pram." The story explains the circumstances of the twins' premature birth and the grieving process of the family. The article contains photos of the family with stillborn baby Jessica and her twin sister Bella. It opened:
THE agony on Emma Woodhouse's face as she gently holds the hand of her dead baby girl is indescribable.

The 27-year-old, from Lancaster, suffered an unexplained placental abruption at 29 weeks and was rushed in for a C-section on June 21. Jessica tragically died but her twin sister Bella survived.
Lead Stories reached out to Emma Woodhouse for comment. She replied:

I feel like there should be legal action taken against people who do this, not only is it stealing pictures and telling lies but it is causing further grief to families who have been through enough already. It makes me worried for the world my children are growing up in that there are people in the world who would do that. People taking the pictures from a family already going through unimaginable pain for their own financial gain adds a new grief on top of what we are already going through. "
Explaining Emma's story clears up the question of what is going on in this photo. But why? This is a much more complex question that requires an understanding of the ecosystem of attention and web traffic.
Juan Daniel C. Rodriguez is a click-baiter, but rather than run his own websites where he would collect revenue from ads shown to the people who visit, he works in an affiliate program where he will be paid according to how much traffic he can send to the publisher's website.

His personal Facebook profile has 892,347 followers. This gigantic audience is necessary for this to be profitable. This profile is a business and the curated content is designed to appeal to some of the most basic human emotions like fear, pity, sadness, disgust, curiosity, shame and lust. For the audience who might feel reluctant about indulging in this offering, the vaguely Christian good intent offered is reassuring. A welcoming image of Jesus is right below all of Juan's social media links. There is no shortage of mentions of God and prayer throughout the profile.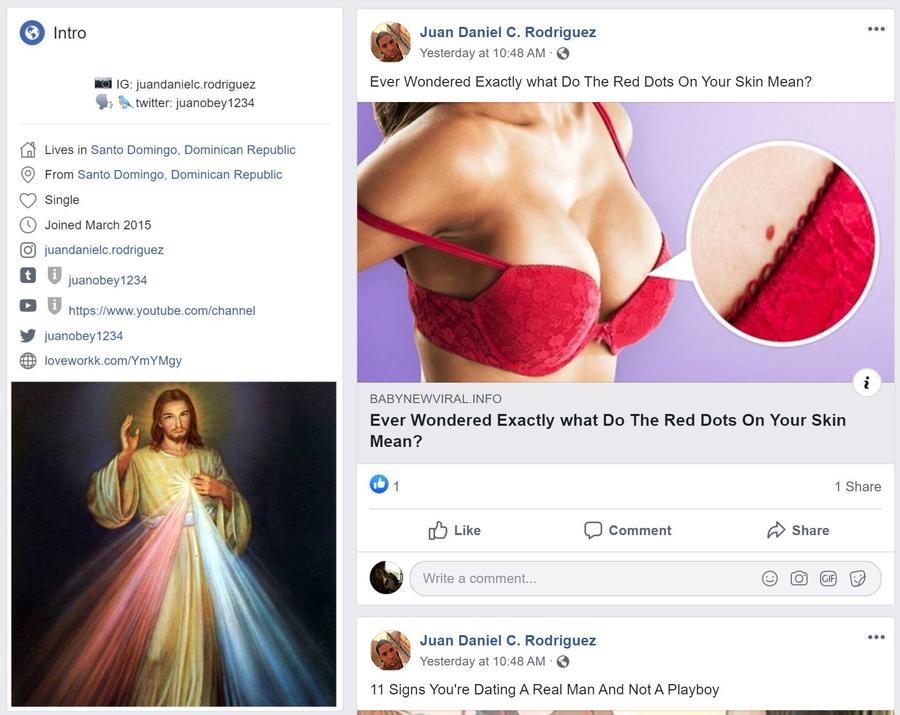 Although the blue checkmark isn't visible in the newer circle format of Facebook's profile pictures, Juan's picture features a fraudulent blue verification check from the time when the avatars were square. These thumbnails, (we have pixelated them for the privacy of the children) show just a small portion of the archive of human suffering in stolen images that can be found on the "Photos" tab of Juan's profile.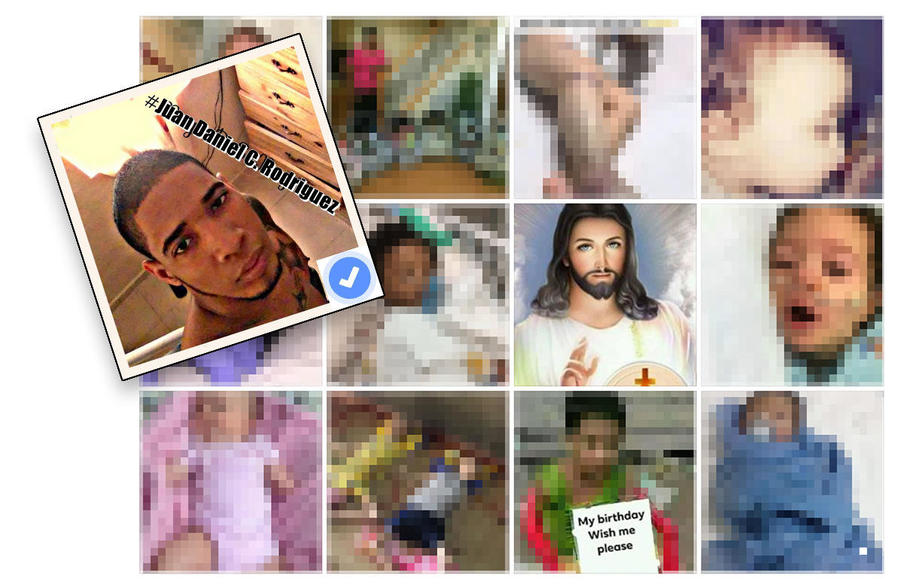 Juan Daniel C. Rodriguez' timeline consists of two types of posts, like-farming and click-baiting, each has a specific purpose. The like-farming posts contain fabricated stories about the people in the photos, most of them are children. Many of the urgent prayer requests are attached to photos that have been circulated for years, and birthday wishes are typically associated with shaming people who might scroll past without sharing. Juan has a special tactic that engages the mission-oriented audience, his posts sometimes contain instructions to share the post in groups- or he gives a specific number of groups to put the post in as a target to strive for. Here are some examples of captions taken from the like-farming posts:
If you do not have a bad heart you are going to share this in 5 different groups and we can do a prayer chain do not ignore God sees everything 🙏😔💔

You are Heartless If You Don't Like And Type Amen

The doctors did what they could
For this angel, God is now in the hands. Parents are not asking for much, just prayers, if you can help, share in the groups you know that other people are praying too, leave a behavior amen with a lot of faith that
God is going to do a miracle ...
💔 ____ Share 🙇

47 years of bad luck if you ignore👍❤️🤞

Don't cry anymore mommy, I'll be an angel of God 😇
Pray for my daughter and if you have a good heart share to make a big chain of Prayer.
My God can do everything!

Nobody gave him even 1 Like, Amen & Share ❤️.


Prayers for Hector, has a problem with the kidneys and heart, pass to any group you know for people to pray.
God bless you too if you do.
Don't ignore 🙏 pray for him 😢
The purpose of the like-farming posts does not have anything to do with the pictures or prayers. Every post that is sent out will carry with it Juan Daniel C. Rodriguez' name which is a tiny subtle advertisement. Enough people will be curious about where a post came from that they will click on his name to see what else he has posted. There at his profile they will find the tantalizing collection of content.
For every four like-farming posts of a sick child, Juan's timeline contains about 20 links to a click-bait article. All of the current links on Juan's timeline point to the same website, babynewviral.info -- that link takes the visitor momentarily to babynewviral.info but before the page is able to load it redirects to otherfeeds.com. That website can best be described as a "chumbox." The term is explained in a June 2015 article from the Awl (here), "A Complete Taxonomy of Internet Chum."
Pausing the redirect process we see what is actually displayed at the babynewviral.info website: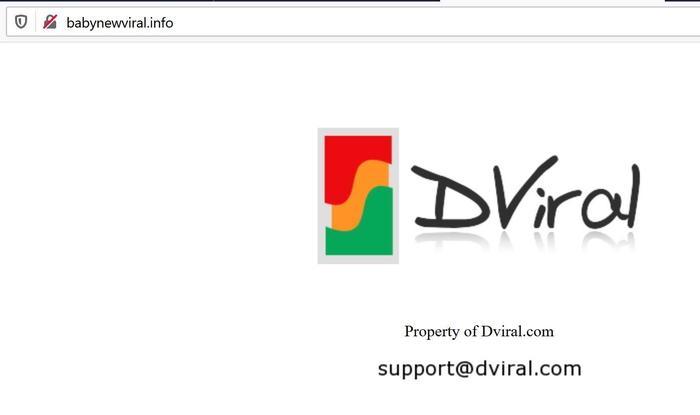 The website Dviral.com (here)(archived here) self-titled, "Highest Paying Social Affiliate Network" on the Whois website record (here) explains:
We are paying the Highest possible rates at the moment With Dviral you will get maximum out of your traffic Dviral has paid 30 Thousands US Dollars within few months since the launch of the network.

AUTO PAYMENTS

There is no compromise on payments they are managed manually leaving no error behind & no need to request for your money and wait in line each month there is automatic payments on payment date, at this moment we pay via Paypal, Payoneer and bank transfers.

GREAT REACH

The combination of our hand written viral articles on the recent topics and Our premium Domains Genrate the best reach possible, Articles are updated on daily basis giving publishers a very large list to chose from according to their audience.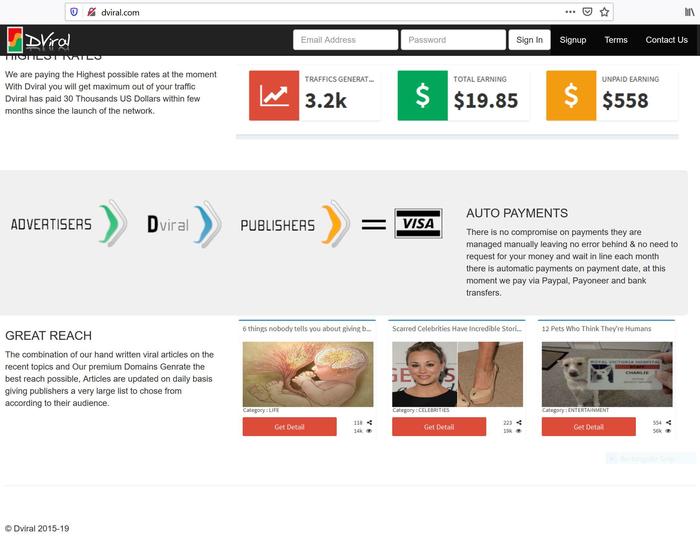 To summarise how this player is taking a chain of attention and turning it to income:
Stolen photos of sick children are captioned with attention grabbing stories and instructions to share. The captions also have built in prayer requests that will artificially inflate the engagement metrics of the posts through commenting. This boosted engagement has the effect of causing Facebook's algorithm to place the posts higher in people's feeds. This gathers even more engagement.
The posts of sick children spread out across facebook through sharing and some traffic is brought back to the timeline where the visitor will be exposed to the tantalizing clickbait affiliate links. They may follow the profile where the posts will now be sent directly to their own newsfeed. The publisher, (Dviral) who is earning money from the advertising displayed on the website, will keep track of how much traffic the affiliate (Juan) is generating for them and will issue a payment according to the program.